The Grand Rapids Griffins started to tear away from their western conference counterparts over the last couple of weeks going on a seven game winning streak. The spoils of which resulted in a division lead and good for second place currently in the west.
That streak saw it's end on Wednesday on the road as Milwaukee came out on top 2-1. Milwaukee is now 2-0 against the Griffins this season.
Losing a winning streak on the road isn't uncommon but Grand Rapids gathered five of those wins on the road. Considering the Griffins are 2-2 in the friendly confines of Van Andel Arena, winning on the road was a habit the Griffins have had going for them this season.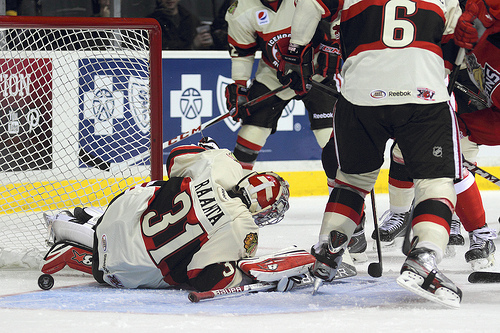 The star players of Grand rapids, and some future stars of Detroit, were on display during the streak. Some notable stats:
Gustav Nyquist: Four goals, six assists, 10 points
Tomas Jurco: Four goals, five assist, nine points
Ryan Sproul: Two goals, six assists, eight points, +7 rating
Calle Jarnkrok: Four goals, two assists, six points
Thomas McCollum: 5-0 (five starts), 2.20 GAA, .927 save percentage
Of other not, the Griffins beat up on Rick DiPietro, who's fall from grace has seen him land in Charlotte on a PTO, by a score of  5-2. More impressive though was the offensive showcase put on by Grand Rapids in Hamilton against the bulldogs during game seven of their winning streak. The Griffins won 6-1, our of the goals scored by Grand Rapids were scored in the second period in a gap of just 1:13. In fact, the first three were more impressive by the numbers being scored just 33 seconds apart.
This may be a record, though the AHL record book does not recognize three goals scored by the same team currently. For combined teams Worcester and Springfield combined for three goals in 20 seconds, the current record listed. For two quickest goals by the same team, the Griffins mark of 10 seconds scored by Jarnkrok and Callahan in the Hamilton game is bested by the record of three seconds set last year by Abbotsford in a game against Toronto, goals scored by Steve McCarthy and Ben Street, both shorthanded.
The Griffins get back to work on a potential new winning streak Friday night at home against the Rockford Icehogs. The next day they go on the road to play the Chicago Wolves. Two big divisional games coming up, the winning streak mentality will probably be on the back burner. The Griffins have no time to get down on their woes against Milwaukee, and if Jeff Blashill's AHL coaching record is any indication, he'll have his guys ready to go for two tough rivalry games this weekend.
Zak DeBeaussaert is a Grand Rapids Griffins writer for THW. A broadcasting junior at GVSU, he can also be found on thefarmclub.net where he writes for the Detroit Red Wings and Chelsea FC. You can occasionally hear his voice calling club sports games for the Grand Valley State Lakers on WCKS: The Whale Radio (whaleradio.org)