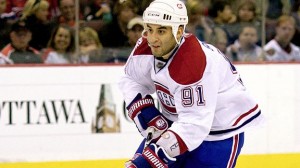 Forty games into the regular season, the Montreal Canadiens find themselves in 8th place in the Eastern Conference of the NHL with 45 points, thanks a 21-16-3 record.  If you look at that record at face value, I think it reflects the talent level on this club and the tooth-and-nail dogfight the Habs will be in over the final 42 games of the regular season as they look to secure a playoff spot.
If you extrapolate those numbers, the Canadiens will fall well short of the 99 points that General Manager Pierre Gauthier had his sights set on, at the start of training camp.  At this rate, they'll be hard-pressed to climb into the mid-90s, in terms of point production.  Last season, the Canadiens clawed their way into post-season play with 88 points.  That's NOT going to cut the mustard, this year.
Here's a player-by-player assessment of the Habs as they prepare to turn the page on the first half of the season (in the order of point production.)
Tomas Plekanec:  A solid two-way contributor who has earned his paycheck.  I'd like to see him get closer to a point-a-game clip than the 32 points he has picked up in 39 games. But this durable, hard-working performer brings his "A" game on most nights.  The proof will be in the pudding, at playoff time.  A-
Michael Cammalleri: Twelve goals in 39 games has to be classified as a disappointment for the player who should be leading this team in scoring: by a long shot.  Prone to defensive lapses in the neutral zone, Cammalleri must bring a more consistent effort to the rink.  However, he always a threat to score whenever he fires the puck.  C+
James Wisniewski:  Short term, the guy gets an A. Exactly what the doctor ordered when Gauthier acquired him from the Islanders.  However, based on only a handful of games as a Hab, we'll give him an incomplete, for the time being.
Brian Gionta: The Captain overcame a slow start and has become one of the more consistent offensive performers on this team.  With 14 goals so far, he could hit 30 by the time all is said and done this season, a solid number for him.  B+
Andrei Kostitsyn: The enigmatic Kostitsyn started off the season like a house-afire, but his production has tailed off dramatically.  On pace for a 20-goal season, which is not going to cut it.  He is playing his way out of Montreal, at this rate.  C-
Scott Gomez.  Having endured yet another slow start, Gomez is quietly beginning to pile up the points this month (okay, maybe "piling up" is stretching things a bit.)  His production will forever be linked to his fat salary.  Truth is, he's a 60-point performer on a good day.  C-
Roman Hamrlik:  A solid citizen who is prone to defensive lapses.  He can contribute offensively, now and then.  Hamrlik is no spring chicken, and his minutes are going to have to be managed if he's going to avoid burning out down the stretch.  C+
Benoit Pouliot: Another frustratingly inconsistent performer who looked his best earlier this season while playing with Jeff Halpern and Mathieu Darche.  Prone to long lapses of lazy hockey, he had a terrific game against the Thrashers on New Year's Eve. How about more of that??? C-
Jeff Halpern: Proving to be a solid off-season acquisition.  Scored some big goals at the start of the season, but his offensive contributions have tailed off.  C+
Jaroslav Spacek:  Wildly inconsistent play this season.  He plays well in stretches and plays badly in (long) stretches.  He hasn't been having his finest hour of late.  Then again, you could say that of the entire team for the month of December.  Not nearly the offensive contributor he should be from the point.  D+
Mathieu Darche: Has earned every single second of ice time.  Put him in front of the net, and good things happen, which is how he has earned his time on the power play.  He gets an "A" for effort, alone.
PK Subban: Rarely, in recent seasons, have I seen Habs' fans more polarized than during Subban's recent benching  He's capable of bringing a crowd to its feet.  He's also capable of simply trying to do too much on his own, to the detriment of the team.  C+
Travis Moen: Sorry, I'm not impressed.  Putting him on the first line will never make Moen a first-line player.  And he doesn't bring nearly enough sandpaper and grit to the lineup.  A major disappointment since coming over as a free agent.  D+
Josh Gorges:  A solid, stay-at-home performer who has emerged as one of the leaders on this team.  Some defensive breakdowns of late but, again, he's not alone.  B+
Alexandre Picard: A very steady performer along the blueline through the end of November, exceeding expectations. However, his lack of foot speed has become glaringly apparent and is now fighting for ice time.  C
Lars Eller: Clearly, not ready for prime time.  Was effective as a third/fourth-line performer at the beginning of the season, but is out of place as a top-six forward.  Could probably use some seasoning in Hamilton.  But as the player who came over to the Habs in the Jaroslav Halak trade, and all of the expectations that go along with that, the Canadiens will never sent him to the 'Dogs.  C-
Max Pacioretty: The recent Bulldogs' call-up gets an incomplete at this time, but he is making a strong case for himself.  Turns out that full-time minutes in Hamilton WERE more valuable to him than sporadic, fourth-line minutes with the big team.  Brimming with confidence, which is key for him.
Andrei Markov: Incomplete.
Tom Pyatt: Tons of effort, but is fighting for third/fourth-line ice time.  If he had any kind of touch around the net, he'd be dangerous. C.
Yannick Weber: Incomplete.  Making the most of his ice time with the big team after spending most of the season in Hamilton.  Good wheels, great shot, and his defensive game has improved.  Lack of size and presence in front of his goalie hurts.
Hal Gill:  He doesn't always look pretty out there and will never be mistaken Zdeno Chara, despite his size.  He's fine when he works within his game.  C.
David Desharnais: Incomplete, but will finally get a shot a proving he belongs.
Carey Price:  Ah yes, Carey Price.  Terrific start to the season, when he always gave his team a chance to win, which they did, more often than not.  His play through October and November was extraordinary.  In December, he was merely ordinary.  Playing monster minutes with Alex Auld merely an afterthought, at this point.  B.
Team Grade:  B-
Veteran radio broadcaster Abe Hefter is the voice of morning sports on the Andrew Carter Morning Show on CJAD 800 and cjad.com. He also takes your calls on the Montreal Canadiens post-game show on CJAD and can be found tweeting at @hefteronthehabs.