The Edmonton Oilers host the New Jersey Devils on Thursday, marking the return of Taylor Hall to Edmonton for the first time as a player since being traded to the Devils this past offseason.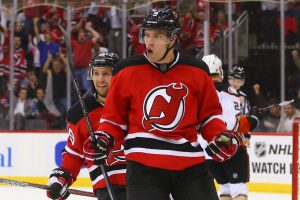 Hall arrived in New Jersey in exchange for defenseman Adam Larsson in an unexpected move that sent shockwaves across the world of hockey on June 29. The news came minutes from when the Montreal Canadiens and Nashville Predators swapped superstar blueliners P.K. Subban and Shea Weber, and the Tampa Bay Lightning announced they'd re-signed captain Steven Stamkos to an eight-year contract extension.
Hall, who was drafted by the Oilers first overall in the 2010 NHL Entry Draft, did not hide his disappointment with being traded by the team where he'd spent the first six seasons of his career. He'd played 381 games and tallied 328 points in an Oiler uniform before the move.
"I was a little bit shocked," said Hall about the trade soon after he learned the news, according to Robert Tychkowski at the Edmonton Journal.
"You hear rumblings, but when it happens you're a little bit shocked. But I'm excited for the challenge and excited to join a team that wants me there."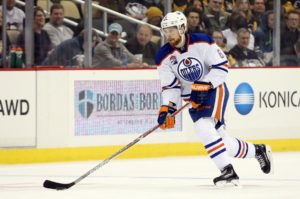 Hall has tallied nine goals and 16 assists in 32 games and is tied for the team lead in scoring with Travis Zajac, despite missing 10 games due to injury.
Larsson has tallied seven points in 42 games and is one of the reasons why the Oilers are sitting in third place in the Pacific Division at this point in the season.
The city of Edmonton is a special place for Hall, who spoke about his return with Jim Matheson at the Edmonton Journal, in a story published on Wednesday.
"I honestly don't know what I'll feel," said Hall, according to Matheson. "I think I'll get a good applause … in the past when guys have come back and played they've always been gracious to them. I don't think it'll be any different. That's the kind of people that are here in Edmonton. I really enjoyed my time here and the way they treated me."
Hear from Taylor Hall, Blake Coleman, Karl Stollery and Coach Hynes before the puck drops in Edmonton. https://t.co/4e8nbzV6a0 #NJDvsEDM pic.twitter.com/DhE5RTO7kj

— New Jersey Devils (@NJDevils) January 12, 2017
Benn Return to Stars
The Dallas Stars are set to receive some help on offense as they will welcome back captain Jamie Benn to the lineup when they take on the Detroit Red Wings on Thursday, the Stars announced.
Jamie Benn and Patrick Eaves are both good to go tonight. #DETvsDAL pic.twitter.com/6IlYhq3ocT

— Dallas Stars (@DallasStars) January 12, 2017
Benn has been out the past four games while he recovered from a foot injury and the Stars managed to go 2-1-1 in that span. The rarely injured forward has compiled 10 goals and 24 assists in 38 games this season and is second in scoring behind Tyler Sequin who has 41 points in 42 contests.
Patrick Eaves is also expected to be in the lineup after suffering a minor injury against the Anaheim Ducks on Tuesday. However, Stars blueliner Jamie Oleksiak's hand injury is a bit more serious and he's expected to miss a couple of weeks.
Jamie Oleksiak will be out a couple of weeks with a hand injury, according to Lindy Ruff. pic.twitter.com/4g01fkw5Zu

— Dallas Stars (@DallasStars) January 12, 2017
Laine Will Not Travel with Jets
Winnipeg Jets rookie Patrik Laine will not travel with the team for a three-game road trip, according to TSN's Sara Orlesky.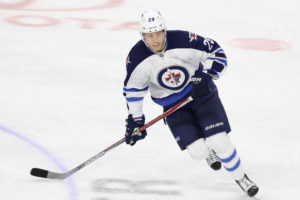 Laine has been out of the lineup with a concussion since taking a hard hit from Buffalo Sabres defenseman Jake McCabe on Jan. 7.
The Finnish forward's 37 points in 42 games pace all rookies and his 21 goals are tied with Toronto Maple Leafs center Auston Matthews for all first year players. Laine and Matthews were each named to the 2017 NHL All-Star Game in Los Angeles on Jan. 29, but Laine's status leaves his availability for the game up in the air at this time.
It's not currently known when he will return to game action for the Jets but don't expect to see him on this three-game road trip from Jan. 13 to Jan. 16.
Odds and Ends
— Toronto Maple Leafs head coach Mike Babcock isn't the biggest fan of the bye week for NHL teams which is mandatory this season as part of an agreement between the league and the NHL Players' Association after the players agreed to institute a new 3-on-3 format for the All-Star Game last season.
Mike Babcock on the Leafs' bye week: "I'd rather have 4 less back to backs, but that's the way life is."

— Dan Rosen (@drosennhl) January 12, 2017
— The Tampa Bay Lightning's Social Media Team jokingly tweeted about the new logo of the National Football League's Los Angeles Chargers, who will begin playing next season after previously playing in San Diego — which shares a lightning bolt in the "LA" and the blue and white color scheme of the Lightning. The tweet went viral online and has been shared over 57,000 times!
*checks mentions*
*squints*
*clears throat*

for the record, us & the @dodgers are just friends https://t.co/jBoJhZlYVD

— Tampa Bay Lightning (@TBLightning) January 12, 2017
— The Carolina Hurricanes played a practical joke on defenseman Ryan Murphy on Thursday — packing his entire SUV with styrofoam peanuts!
https://twitter.com/JustinFaulk27/status/819609090989191168