The last 40 minutes of game four on Tuesday night can be summed up in one word: boring. It was so boring that reruns of Coronation Street on CBC would have done a better job of keeping viewers awake.
Unless you were a Flames fan, that is.
After taking a two-goal lead into the first intermission, Bob Hartley had his Flames sit back, plug up the neutral zone and get in the shooting lanes. They collapsed around goalie Jonas Hiller like they all had magnets in the back of their pants, drawing them in towards the net.
It was ugly, suffocating, and hard to watch. Yet it was very effective.
Game four showed why the Flames have been winning this year despite their horrific shot-differential. Aside from their third period heroics, their ability to get in the shooting lanes and collapse around the net has limited the amount of goals against.
Kris Russell broke an NHL record for the most shots blocked this year. The Calgary Flames also blocked more shots than any other team during the regular season.
The dump and chase strategy didn't work for an older, less aggressive Canucks team under John Tortorella last season, but a very similar scheme is working for the Flames this season.
Hartley's Hounds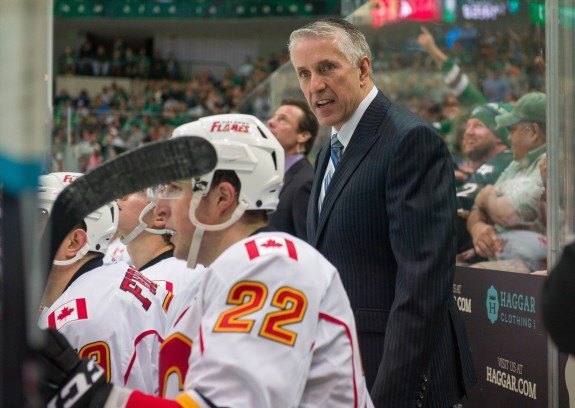 In my last article I discussed the significance that Hartley and Willie Desjardins have had on their teams this season. Hartley led an overachieving Flames team into the playoffs, while Desjardins had the third-most wins as a rookie coach in the NHL with 48 victories.
Through four games of this series, Hartley certainly looks like the more effective coach. He has his team playing aggressive hockey and all four lines are contributing to some capacity. The top line has been quiet, but they have still contributed on the powerplay
Although the top line has been almost non-existent at even-strength, he has motivated some of his depth players such as David Jones and Michael Ferland to step up in this series. That line, along with Matt Stajan, has arguably been the Flames best line so far.
The addition of Sam Bennett to the lineup was a risky move by Hartley, but it has paid off more than anyone could have imagined. He has been a force out there and his addition to the lineup has helped make Hartley look like a genius.
He also looks loose in every press conference as if his team has nothing to worry about. With everyone ruling them out before the season even started, they should keep playing like they have nothing to lose.
Desjardins' Deficiencies
Hartley's success hasn't been mirrored by Desjardins. The coach's reputation has almost turned 180 degrees over the past four games. The change has been so drastic that Vancouver's sports radio station, TSN 1040 had a poll question on Wednesday that asked "Is Willie Desjardins the biggest reason the Canucks are getting schooled by the Flames?" As of Wednesday evening, 64% of listeners believed that was the case.
Vancouver's success this season has been attributed to Desjardins and his four line attack. After Burrows and Richardson were ruled out of game four, that apparent depth seemed to disappear.
https://twitter.com/Cloutiers5Hole/status/590712563563913216
The Sedins' and still getting chances, and Horvat's line is still playing with some intensity, but Bonino's line has dried up like a prune sitting in the sun. That's one dried up prune, but it's been drying up ever since Bonino vacated the scoresheet in December. The third line is a revolving door with Richardson being replaced by Linden Vey.
That blame can't all be shouldered by Desjardins, but his decision to put both Vey and Brandon McMillan in the lineup over Sven Baerstchi was questionable. It was also expected that Vrbata would play with the twins since Burrows was out, but instead Hansen ended up on that line. Breaking up the successful combination of Hansen, Horvat, and Kenins was a risky move and it didn't pay off in game four.
Nux lines at practice: 22-33-36; Baertschi-13-17; 20-27-21; 41-53-51. Extra: Vey. No Richardson or Burrows. #Canucks

— Elliott Pap (@ElliottPap) April 22, 2015
Desjardins has reacted quickly by penciling in Baertschi for game five on a line with Bonino and Vrbata. They had success during the last game of the regular season when Baertschi potted two goals. Desjardins is hoping they can recreate the same success, but it may be too little too late for the Canucks.
KPU Journalism Graduate. Trevor has been writing for The Hockey Writers since October 2014. He has contributed articles related to the Ottawa Senators, Vancouver Canucks, and other issues/stories regarding the game of hockey. Trevor currently lives in White Rock, B.C.