Guest post by Sean Hartnett for The Hockey Writers:
Unless you're a dedicated fan of the Boston Bruins – odds are you probably despise agitating winger Brad Marchand.
He'll do whatever it takes to win and often goes far beyond the line of what's acceptable in the code and spirit of the game. I'd imagine if you took a poll among hockey diehards and opponents, Marchand's "likeability rating" would probably register somewhere between Patrick Kaleta and Sean Avery levels.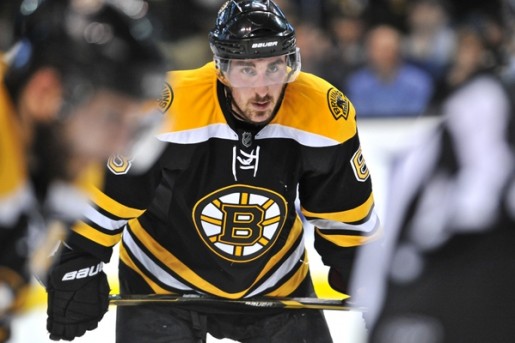 Individuals who know how to get under the skin of opponents are "a dime a dozen" in the NHL, but Marchand is a rarity. He not only knows how to throw opponents off their game, he has the instincts to produce key plays in clutch moments with his poise in late-game and overtime situations.
That's what separates Marchand from the guys who make a decent living in the NHL by only bringing agitating qualities to the table. Marchand is so much more than an agitator. He's a highly-effective two-way player that makes his mark all over the ice.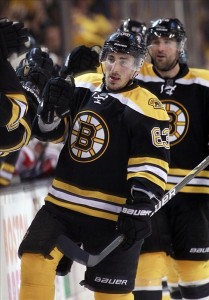 Marchand's fingerprints were all over the Bruins' Game 3 double overtime victory over the Pittsburgh Penguins on Wednesday.
In the third period, Marchand tripped up Penguins' winger Chris Kunitz – prompting Kunitz to retaliate and earn a slashing minor. Both men took a seat in the penalty box, but Marchand would do it over again and again because that's the kind of guy he is. He likes being the enemy, he likes getting in the head of opponents.
Then, in double overtime – Marchand used his underrated vision to find Patrice Bergeron for the redirection goal that gave Boston a 3-0 lead in the series. The Marchand and Bergeron connection have been a reliable producer of timely goals for the Bruins throughout the playoffs.
"Bergy drove hard and had a guy on him and managed to get his stick in the right place and March made a great play," Bruins' head coach Claude Julien said after Game 3. "He was extremely patient. He could've got rid of that puck a little bit earlier, but he waited for Bergy to get in position before he slid over."
He's known affectionately as "The Rat" and "The Noseface Killah" among Bruins fans. Both nicknames sum up entirely what Marchand is about. Marchand is a pest and he's also able to deliver killer blows to the confidence of rivals with his clutch play.
Like him or loathe him, it's hard to argue against Marchand's effectiveness. The Bruins appear bound to continue dancing into the Stanley Cup Finals and Marchand played a big, big part in their journey.
---
Sean Hartnett covers the NHL and New York sports for WFAN.com and writes for various hockey outlets. He is a fully-credentialed columnist, covering the Rangers and Devils throughout the season and playoffs. You can follow Sean on Twitter — @HartnettHockey
---
Josh is a life-long hockey fan. He grew up as a fan of the New York Rangers, but thanks to their general mismanagement and years of mediocrity, has developed a great appreciation for every team across the league.
He's been writing about hockey on various sites since 1995. In addition to his work at The Hockey Writers, he also keeps tabs on the referees over at ScoutingTheRefs.com.