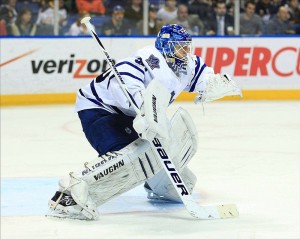 Looking at the final outcomes of their first five games, you could get the impression that this may be a bit of a yo-yo season for the Toronto Marlies.   Last October, through five games, the Marlies were 4-1 and were coming off a huge, Ricoh Centre overtime win over the Rochester Americans.  Things were looking good for a team hoping to make it back to the playoffs.  Top Center Prospect, Joe Colborne had ten points through the first five games.
Through 5 games this year, the Marlies are 2-2-0-1 and are coming off a shootout loss to the Grand Rapids Griffins.  Not a bad start at all for Dallas Eakins and his AHL Finalist Marlies.  If you've seen the action, you could make the argument that they should have five wins.  They have endured two lopsided victories, two blowout losses and the aforementioned shootout loss.  However, in all three of their losses, the Marlies held pronounced shots on goal leads, but weren't able to capitalize on their chances.  They also dominated the pace of play.  In the last game in which they hung on to get a point, the Marlies were playing a Sunday afternoon game which was their third in three nights.  They were facing Griffins team who was lying in wait and they almost pulled it off.
Another Jekyll and Hyde weekend
In case you missed it, have a look at my summary of their opening weekend here
In weekend two, the Marlies and Bulldogs split a home and home in which each game featured a blowout for the home team.
On Friday, the Marlies were smoked by a 4-1 score.  Jake Gardiner was the lone goal scorer for Toronto despite managing 40 shots on goaltender Robert Mayer.  Mayer, in his third Bulldog season shut the door.  For the Bulldogs, it was Louis Leblanc leading the way with a pair of markers on goaltender Ben Scrivens.
Then on Saturday, live on Rogers Sportnset, and in rebounding Fashion, the Marlies skunked Hamilton by a score of five to zip.  Activated for the first time on the season, power forward, Kenny Ryan potted his first two of the season, while newly acquired Keith Aucoin had three assists.  Coach Eakins told 'Leafs TV' that Ryan got the call, for being the hardest working forward in practice.  Scrivens got the night off and it was Jussi Rynnas in goal stopping all of Hamilton's thirty-one shots for his first win and first shutout on the season.
Round three goes tonight
When the puck drops tonight, it will mark the third time that these teams have played in eight nights.  This game features a battle between two teams who have combined for 119 minutes in penalties in 120 minutes of hockey.  Without the distraction of the NHL and its gazillionaires, the AHL has stepped up and proven itself to be a very capable replacement.   I for one, am hungry for hockey and can't wait to tune in.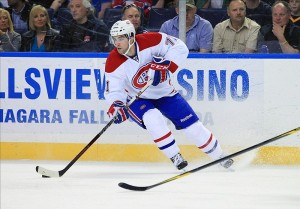 For Hamilton, Louis Leblanc is out with a high ankle sprain that he suffered in last friday's game against Toronto.  The Bulldogs are trying to get back in the win column following a pair of losses.  A player to keep an eye on is former first rounder, Jarred Tinordi who at 6'7, 212 pounds should be able to dominate down low.
For Toronto, it is unclear who will get the call in net.  Per coach Eakins, Ben Scrivens is this team's number one goalie, but he expects that 'third string' Mark Owuya is chomping at the bit for his chance.  Jussy Rynnas who has helped the club to three points in their last two games, is the likely starter.  Additionally, defenseman Paul Ranger is likely to get back into the lineup.  Will Brad Ross get a chance? Stay tuned.  If it's your first game of the season, you'll remark quickly that the defensive tandem of Mike Kostka and Jake Gardiner may be one of  the best tandems in the AHL.  Through five games, they lead the Marlies in points with five and four points respectively.
In 2011-12, the Marlies took the season series, eight games to four.
The Hamilton Maple Leafs
As the Marlies head to Hamilton, there are a few former Maple Leafs to make note of.  Their head coach is former Toronto Maple Leafs defender Sylvain Lefebvre.
Coach Lefebvre spent fourteen seasons in the NHL with Montreal, Toronto, Quebec/Colorado and the New York Rangers.  His two years in Toronto were in years in which the Leafs made the semi finals under the leadership of Pat Burns.  In his two seasons, Lefebvre was a no nonsense, stay at home blue-liner who led the team with a +41.  Although Lefebvre wasn't know as a fighter, he could surely throw punches.  The below features Lefebvre and Rob Brown who is definitely not know for throwing them.  Have a look.
the Bulldogs also feature former Toronto Maple Leafs forward Darryl Boyce, and former draft pick Greg Patteryn.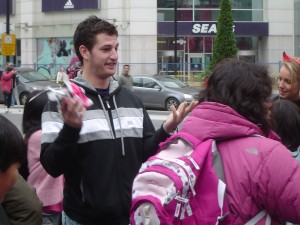 One of the hardest working fourth liners, Darryl Boyce was acquired by the Columbus Blue Jackets last season via the waiver wire close to the trade deadline.  A former Marlies' player without a place to play this season and with no NHL team to hook up with, Boyce signed a contract with the Hamilton Bulldogs in hopes to potentially get on with the Montreal Canadiens if a season does get started.  Through four games, Boyce has added two helpers.  It's safe to say that Boyce was not brought to Hamilton to light the lamp, but the experience and leadership he brings with him are sure to help the Bulldogs come back from a poor season a year ago.
Greg Patteryn was a throw in by Toronto in the Mikhail Grabovski trade.  However, Pateryn is still climbing the depth charts.  After spending four seasons with the University of Michigan, the 6'3, 215 pound former fifth round draft pick is looking to stick in Hamilton.
Marlies Road Trip
In anticipation for tonight's game, the Marlies week has consisted of a day off on Monday, a skating day with Barb Underhill on Tuesday and a couple of hard practice days on Wednesday and Thursday.
Tonight is the only game of the weekend and marks the first of an eight game road trip.  As such, the Marlies should not pull any punches.
Next weekend the Marlies will travel to Abbotsford for a two game set with the Abbotsford Heat, a team that the Marlies eliminated in last year's Calder Cup Playoffs.
Twitter: @StonemanStephen | Email: stoneford@yahoo.com | Stephen's archive
For every Maple Leafs article on THW, follow @THW_MapleLeafs  on Twitter
Stephen is a writer for thehockeywriters.com covering the Toronto Maple Leafs and other Hockey Matters. Stephen attended Canadore College in North Bay, Ontario where he studied Broadcast Journalism and covered local sports for both Radio and Television. This included news coverage for the OHL's North Bay Centennials. In his personal time, Stephen blogs for his several fantasy hockey leagues.