Henrik Lundqvist has built a memorable career out of masking the flaws of his defense. This season is no different as the now-36-year-old has same workload he did a decade ago and a tanking roster that is among the league's worst in shot shares. His historic back-to-back, 50-save wins during last week's West Coast road trip are a microcosm of the season and his career and serve as a reminder that the New York Rangers roster is more capable of competing for a top-five draft pick than a playoff spot.
Historic Workload for Lundqvist
For the first time since Gump Worsley did it in 1963, Lundqvist won consecutive games after making 50 saves last week. A couple of road wins — capped by a third straight victory with rookie Alexandar Georgiev in net — at the end of February and in early March is usually a great sign for teams fighting for a playoff position and this team, despite the message from management that a tank was coming, is just five points out of a playoff spot with 16 games to go.
More telling than the wins is the fact that the Rangers surrendered more than 50 shots and were outshot nearly two-to-one against both the Vancouver Canucks and Calgary Flames. During the three-game win streak, the Rangers were outshot 143-88.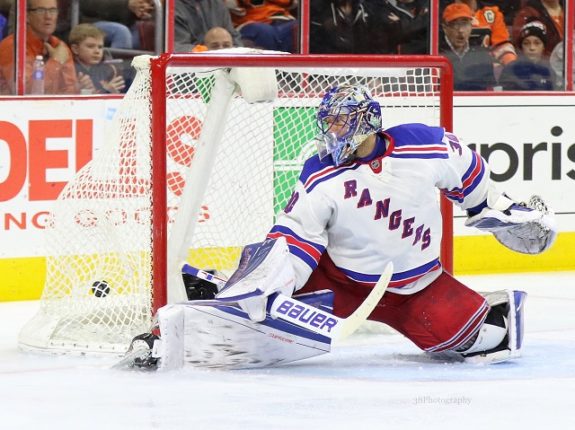 By and large, those types of inhuman efforts are why the Blueshirts were sellers at the trade deadline. Ironically, the team's poor play helped reinforce how great Lundqvist is, especially at this age. In 53 starts this season, he ranks second in the league in shots faced and total saves, while facing at least 40 shots a career-high eight times. His previous high for facing at least 40 shots in a season was six games in 2015-16, and he only faced at least 40 shots five times in a season one other time. Surrendering shots is a red flag more than a death sentence but for the Rangers, shot volume is only the beginning.
Lundqvist Faces High Danger, Not Just High Volume
Goaltenders who face a high volume of shots can often translate that into a high save percentage if the team in front of them is responsible and keeps shots to the outside. This year, however, that has not been the case for Lundqvist who, despite his stellar play, only has a save percentage (SV%) of .916.
The Rangers have expected goals-against numbers near the bottom of the league not because of the volume of shots that they surrender but the quality. They're tied for 30th in total high danger chances against and, relative to the league average, perform poorly in the most dangerous areas of the defensive zone. That was never more true than against the Canucks when the Rangers consistently failed to protect the slot.
People were curious about the VAN-NYR game last night, so here it is. Giving up five Royal Road passes to the Canucks is impressive. #Canucks #NYR pic.twitter.com/Vw1B1PruQk

— Corey Sznajder (@ShutdownLine) March 2, 2018
The five completed "Slot Passes" represented above are plays that generally result in the grade-A scoring chances, something the Rangers have struggled to prevent all year. They've struggled in this area because of ineffective back-checking, puck watching, turnovers, etc. but, regardless, Lundqvist has been relied on to make these saves routinely. In games like those against the Canucks and Flames, he may be able to cover up for defensive lapses but in the long term, it's a losing recipe.
Skjei and the Young Defense Are Exciting but Unreliable
The Rangers' young defense, anchored by second-year defender Brady Skjei, is undoubtedly fun to watch; John Gilmour is among the league's elite skaters already, Neal Pionk is competitive and fiery in his own end, and Anthony DeAngelo has picked up his play since landing a full-time role.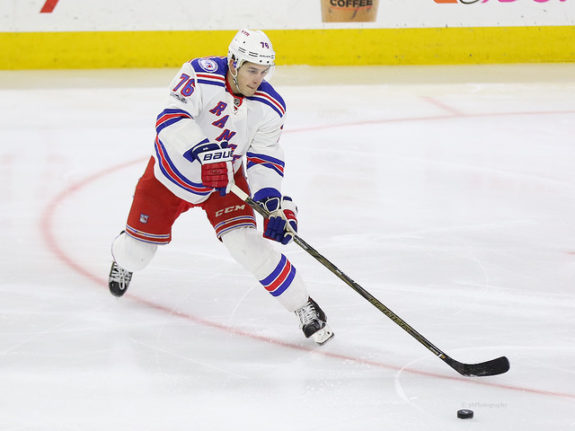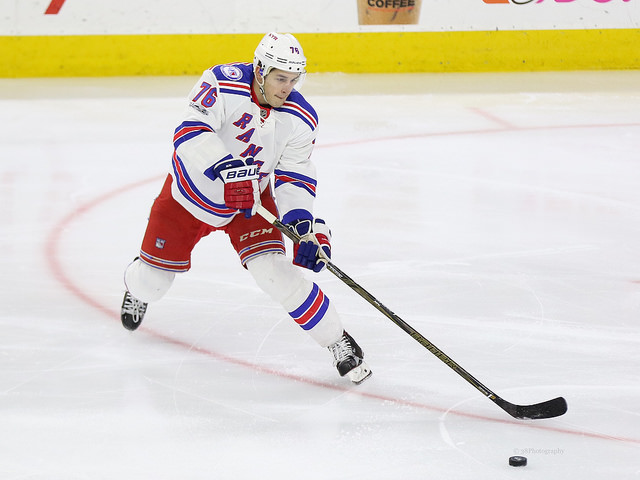 But what none of the youngsters has shown is a proclivity for shot suppression. While the Rangers weren't particularly good early in the season, they've become worse since Ryan McDonagh last played. In the 16 games since his injury and subsequent trade, the Blueshirts have only held opponents to fewer than 30 shots twice and surrendered more than 40 four times.
Lundqvist has been in net for three of those contests, posting a miraculous .946 SV% and Georgiev, in his NHL debut, posted a .950 SV% in a 38-save performance against the Montreal Canadiens. Moving forward, gap control, neutral zone positioning and defensive awareness will have to be emphasized for this group to develop.
Premier goaltending notwithstanding, the current version of the Rangers is not a competitive one and the seven-game losing streak provides far more insight than the three-game West Coast sweep. What it told us — or at least reinforced — is that Lundqvist remains an elite goalie, capable of winning games on his own and covering up for defensive ineptitude. But, as we've seen time and time again, that is not a long-term solution and, if New York's rebuild is to be a successful one, they'll need to build a roster that can compliment The King rather than lean on him.
An Upstater and long-time Rangers follower, I've been writing about the Blueshirts off and on since college. My earliest memory is playing as the Rangers on NHL '95 for SNES, and, inconveniently, started watching as a kid right after the 1994 Cup. I look to find a balance between analytics and eyeballs, and wish it was easier to write about board play.