With Team Canada's dramatic defeat of Sweden on Wednesday night, they propelled themselves to the Hlinka Gretzky Cup semifinal as the top seed in Group A. This pins them against a United States squad who were shell-shocked by an overall deeper team in that of the Russians, who routed the Americans by a score of 8-3 on Wednesday.
Coming in, Canada was favored not just for their placement within their group compared to Team USA (who sported a second-place finish in Group B), but because of the dominant fashion in which they have played. There is also the red, white and blue team who pales in comparison to the Canadians. Team USA finished with a 2-1-0 record with some strong victories of their own, but they had a number of weaknesses throughout the first stages of the tournament – weaknesses that the Russians were able to exploit.
Canada's Road to the Semifinals
Team Canada has looked like men amongst boys since the drop of the puck on opening night. Their 10-0 victory over Team Switzerland aside, the Canadians have had the overwhelming majority of possession in each of the three games they played during the round-robin stage of the tournament. It has almost seemed easy for them – they won nearly every 50-50 battle and were able to maintain control of the puck despite opposing defensemen hurling stick checks and hits at them whenever they could.
You would think the Canadians were sporting an All-Star team, and in many ways, they have been. They feature a squad of players destined to become first-round picks. Among their point leaders are Alexis Lafreniere (6), Ryan Suzuki (5), Justin Barron (5), Peyton Krebs (4), Matthew Robertson (4), Josh Williams (4), and Kirby Dach (4). Lafreniere has been getting most of the attention as he is considered a likely first-overall pick come the summer of 2020. His flashiness and scoring capabilities combine for quite the show on social media:
Team Canada takes their first lead of the game courtesy of Alexis Lafrenière. #HlinkaGretzkyCup pic.twitter.com/43zNgmJw7M

— TSN (@TSN_Sports) August 9, 2018
Dach has been highlighted for his play-making ability. In fact, he penned a secondary assist on Lafreniere's goal above. But it goes far beyond the three assists he registered during the early stages of the tournament – it seems as though he has the puck on a string, slinging it through high-traffic areas to set up a teammate. Dach's agility has allowed him to reel in defenders without worry as he's been able to easily spin off of them to find one of his fellow Canadians.
Suzuki inked four assists in the preliminary round which has also earned him praise for his play-making skills. His speed is one of his main assets, and it seems he has been able to cash that attribute in for production. Justin Barron has also been impressive as a defenseman. Not only was he solid in his own zone through the first three games, but he chimed in with five assists – another of which have been a result of quarterbacking from the blue line as opposed to leading a breakout. He's been able to sniff out teammates down low and jump in on the action to manufacture cross-crease opportunities.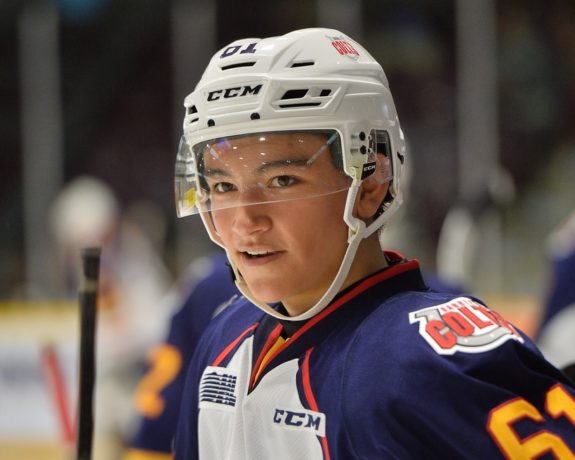 If there was one sore spot for the Canadians, it came in their latter two preliminary games. They allowed both Slovakia and Sweden to mount comebacks in the third period. Though Canada was able to halt these comebacks with timely goals in the third period, they just barely got out of Group A undefeated. They beat Slovakia 4-2 on Tuesday and inched out Sweden by a score of 4-3 on Wednesday. Team USA could very well find themselves down in the semifinal contest so a come-from-behind victory could be an avenue the Americans are forced to take against the Canadians.
It seems as though every player on Team Canada has chipped in defensively and offensively. In fact, all but two skaters on the Canadian squad have registered at least one point – the exceptions being Michael Vukojevic and Braden Schneider who are both blueliners. This isn't just a club of individual stars-to-be, but players who have bought into the fact that they are a team and that they all need to contribute in every zone. They finished with a record of 3-0-0 which has sent them to the semifinals.
USA's Road to the Semifinals
Team USA is the story of an underdog. Some sports journalists don't expect the Americans to medal. Their 6-0 win over the Czech Republic coupled with a 6-2 win over Finland made for a solid start to the tournament but their embarrassment in the loss to the Russians was humbling, to say the least.
The light at the end of the tunnel is that USA's backup goaltender, Derek Mullahy, was in net for the tilt against Russia – saving their starter in Dustin Wolf for the semifinals. Mullahy made 47 stops on 55 shots; a great effort against a lethal team. It's safe to say Team USA's play in their own zone wasn't up to snuff as they allowed their net to become easily hunted. This is partially to blame for the Americans' sluggish performance.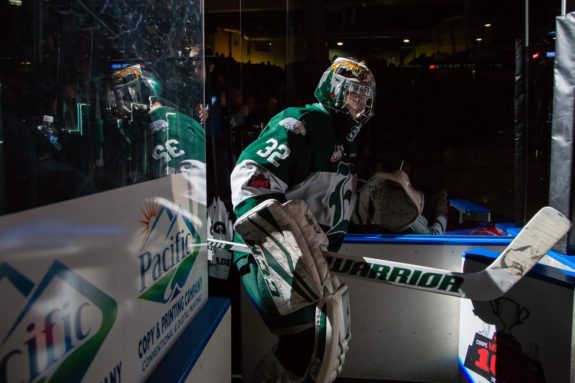 Wolf, on the other hand, has capitalized on strong team defense. He registered 52 saves on 54 shots and was credited with the shutout on opening night. That's a save percentage of .963 and an average of just one goal against per game. Team USA will likely require Wolf to come up with a magical performance on Friday night.
All but one of Russia's goals came at even strength, so something certainly needs to change if the Americans plan on surviving the Canadians in five-on-five play. It's actually surprising that the Russians were unable to put up double-digits. Team USA took six penalties during the matchup, giving Russia prime opportunities to run up the score. This has been a consistent theme for the Americans – they have handed the opposition a whopping total of 19 power plays over the course of their three round-robin games. Their penalty-killing unit has been up to the challenge, only allowing two goals. However, that trend needs to be halted if they plan on surviving Team Canada who has scored on 25-percent of their 12 power plays.
There is light at the end of the tunnel embodied by the Americans' well-rounded scoring thus far. Only three skaters have failed to come up with a point. Four of their players – Robert Mastrosimone, Luke Toporowski, Grant Silianoff, and Josh Nodler – have registered four points each, the former two potting three goals across the three games.
.@rmastro9424 scored the first of 3️⃣ U.S. goals in the second period. #TeamUSA heads to the final frame trailing Russia 4-3. #HlinkaGretzkyCup

Catch the 3rd here >> https://t.co/AbtVYjyZTD pic.twitter.com/hFkYttcIix

— USA Hockey (@usahockey) August 9, 2018
John Farinacci has been another impressive forward who has a goal and two assists thus far. Team USA's top line, which consists of Silianoff, Farinacci, and Mastrosimone, has been the squad's most lethal unit. They have combined for 11 points in three games and are expected to come up big against Canada if the Americans intend to find themselves in the gold-medal match on Saturday.
Team USA's key to a victory over the Canadians will be to stay out of the penalty box. The squad's first line will have to lead the charge in terms of their offensive production, but the depth will also have to step up and chime in with goals of their own. The Americans will also need to tighten up their team defense which was sorely lacking against Russia. Perhaps their loss to the latter is a blessing in disguise – hockey teams are known to have rebounded from a big loss with an extra pep in their step. Look Team USA to come out flying against Canada on Friday to keep their gold-medal dreams alive.