Sharks or Pens?
The day is finally upon us. The Stanley Cup final goes tonight from Pittsburgh, and there's no shortage of storylines in this one. On the one side, you have the Sharks, perennially chokers, great teams that couldn't get over the hump, finally on the verge of the ultimate goal. Joe Thornton and Patrick Marleau are four wins away from their first championship, and no doubt that's a huge motivating factor for the entire team. They know full well how difficult it is to get to this point, and they have no intention of squandering this opportunity.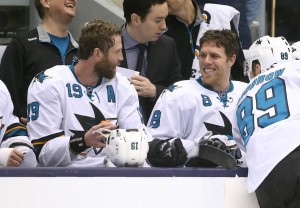 Unlike the Pens, the Sharks have the benefit of being fully healthy, but the pressure is squarely on them. Judging by the collective predictions, San Jose are the heavy favorite. They have passed all the tests so far, but will a team that so often folds when it matters most buckle under the weight of this momentous moment? I will say this. These Sharks look different. They play different. They aren't the team of old that found ways to lose. San Jose is deep at every position. Their top players are their best players right now. They're clicking on all cylanders. They look unstoppable.
But what about the Penguins? A group of cast-offs, a team saddled with expectations for many years but has failed to live up to the hype. A team dead in the water until a coaching change, and new philosophy completely transformed this squad. Like the Sharks, this isn't the same Pens team that we've known in recent years. They have adopted a resiliency that we haven't seen from them since winning the Cup in 2009. Sidney Crosby's leadership has been questioned time and time again, yet here they are, standing at the door.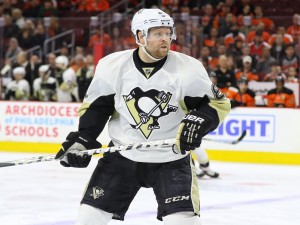 The core of this team has won before, but make no mistake. The motivation is as high as its ever been. Pascal Dupuis, a dressing-room favorite and heart and soul guy, was forced to retire earlier this season due to health issues. He's been around every step of the way. And don't forget team owner Mario Lemieux, who has never abandoned the Penguins since the day he was drafted, possibly selling the team. This could be his last rodeo. Crosby acknowledged both men in his media day interview. How about guys like Phil Kessel, Nick Bonino and Justin Schultz, deemed no longer needed by their former teams, now having the chance to win their first Stanley Cup.
The Pens will miss Trevor Daley, who fractured his ankle against Tampa Bay. Can their defence hold up against the immensely talented Sharks? Can the Pens penetrate a deep defensive corp on the other side? Will Matt Murray continue his superb play? The Sharks look to be the favorites in this match-up. It's no wonder most experts are choosing them to win. I am leaning that way as well. But don't count the Pens out. They've surprised us so many times, perhaps there's one more in store.
Analysis: [Post-Gazette], [Sault Star], [National Post], [CBC], [Toronto Star], [Globe and Mail]
In other news…
The London Knights are Memorial Cup Champions. [Calgary Herald]
What kind of changes are ahead for the Carolina Hurricanes? [News Observer]
Who is the favorite to win the World Cup of Hockey? [The Hockey News]
Is Matthew Tkachuk on the Oilers radar? [Beer League Heroes]. Should he be? [Edmonton Journal]
Who will be the next Kings captain? [LA Times]
Now that Tampa's season is over, they have some big decisions to make. [Lightning Shout]
And finally, Kevin Stevens' story serves as a precautionary tale. [Boston Globe]