One of the NHL captains has hung up his skates. Learn more about Bryce Salvador's story and everything else going on in the NHL:
Salvador wrote a goodbye post on The Players' Tribune. [The Players' Tribune] Salvador only played in 15 games last year because of injury. [The Hockey News] The seasoned veteran has aspirations of becoming an NHL executive. [NJ.com] The Devils' captain had extreme trouble with dizziness. [New York Post] Salvador was a memorable Blues defenseman before joining the Devils. [Bleedin Blue]
For those wanting to read more about Salvador, here are some favorite The Hockey Writers posts about Salvador.
Honored to have started my career as your partner @AMacInnis2. Thank you. #freakingnhl #partner #mentor https://t.co/592OgCNwaL

— Bryce Salvador (@BryceSalvador) September 3, 2015
Andy Greene should be the next captain in New Jersey. [In Lou We Trust]
Cory Sarich is hoping to return to the NHL after a bike accident. [Puck Daddy]
Reports suggest that Patrick Kane and the Blackhawks have not discussed his no-movement clause. [The Score]
Jack Eichel has a great new deal with a card company; what does this mean? [SI.com]
Upper Deck is banking on Connor McDavid's cards being a top seller. [Globe & Mail]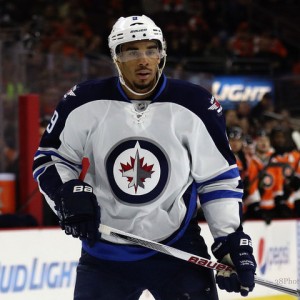 Evander Kane won his girlfriend back thanks to a clever billboard. [
Huffington Post
]
A closer look at the return of the EASHL to the NHL series. [Bleacher Report]
The KHL's Pavel Medvedev scored a lacrosse-style goal. [CBS Sports]
Paul Stastny still has a lot to prove to the St. Louis fans. [Today's Slapshot]
Johan Franzen is taking a different approach at recovery from his concussion. [HockeyBuzz]
Red Wings prospect Pat Holway is giving up lacrosse to focus on hockey. [The Enterprise]
If the Fantastic Four were Sharks players, here's who fits the bill. [Fear The Fin]
I am a former NHL media member and reporter for the St. Louis Blues, working for various media outlets. Currently, I am an NHL News Writer and Editor for The Hockey Writers. I live in St. Louis and work as a freelance copywriter in numerous industries.