For the first time since the 2006-07 season, the Boston Bruins failed to qualify for the Stanley Cup playoffs, setting off a whirlwind offseason in which first-year GM Don Sweeney picked apart his roster in the hopes of resurrecting a franchise with perennial championship aspirations. Despite recording 41 wins and 96 points, the Bruins could only muster a fifth-place finish in the competitive Atlantic Division, the same division in which they posted a league-best 117 points the year before.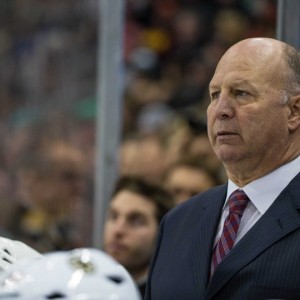 Claude Julien, the winningest coach in Bruins history, returns for a ninth season behind the bench and will be tasked with molding an aging core with a promising pool of young talent. With an elite goaltender between the pipes in Tuukka Rask, the success of the season will undoubtedly come down to how the team performs in front him.
If the club plays to their potential, they could be legitimate contenders in the Eastern Conference. If not, they run the risk of missing the playoffs for consecutive seasons, a feat that could result in further personnel changes and uncertainty in Beantown.
2014-15 Record: 41-27-14 (5th in the Atlantic Division)
KEY ADDITIONS:
F Matt Beleskey
F Jimmy Hayes
D Matt Irwin
F Zac Rinaldo
KEY LOSSES:
F Gregory Campbell
D Dougie Hamilton
F Milan Lucic
F Daniel Paille
F Carl Soderberg
F Reilly Smith
FORWARDS:
Projected lines:
Brad Marchand-Patrice Bergeron-Jimmy Hayes
Matt Beleskey-David Krejci-Brett Connolly
Loui Eriksson-Ryan Spooner-David Pastrnak
Zac Rinaldo-Joonas Kemppainen-Max Talbot
Patrice Bergeron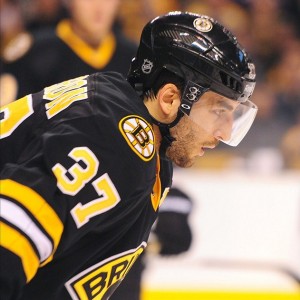 Entering his 12th season in Boston, Bergeron is the heart and soul of the Bruins offensive corps. Although he has scored over 200 NHL goals, it's what he has done without the puck that makes him so valuable. He is a three-time Selke winner as the league's best defensive forward; his most recent coming this past season in which he also led the B's in scoring with 55 points in 81 games. Averaging over 18 minutes per game, Bergeron is usually on the ice when it matters the most, including on the power play and penalty kill units. That being said, the success of the upcoming campaign will surely rest partially on his shoulders. Will the 30-year-old once again be up to the task?
David Krejci
The injury bug derailed Krejci's 2014-15 campaign, just one year removed from a 50-assist, 69-point season that saw him on top of the leaderboard with a plus-39 rating. A good portion of Milan Lucic's past success can be attributed to Boston's 2004 second round pick, a theme the Bruins brass hope will continue with newcomers such as Matt Beleskey. Krejci is a playmaker, and with over 400 career helpers, the hope is that he can ignite Beleskey's game, much like Ryan Kesler did in Anaheim during last spring's Stanley Cup playoffs. Having a healthy and productive Krejci down the middle could equal serious trouble for opposing defenders and netminders.
[optinlock id="1″][/optinlock]
Matt Beleskey
Although the 27-year-old Windor native only has 57 career goals, he was one of the most sought-after free agents in the Class of 2015 after a 22-goal campaign in which he added an additional eight tallies while helping the Anaheim Ducks reach the brink of the Stanley Cup Final. With a likely bump in ice time resulting in the opportunity to play meaningful minutes as part of Boston's top-six, Beleskey figures to easily surpass last season's 32-point total, his current career high. While his five-year, $19 million deal was less than what most thought he would sign for, he nonetheless will need to perform as one of the team's top forwards, especially as he slides into the role filled by the departing Lucic, one of Boston's premier contributors in season's past.
Brad Marchand
Marchand, a fan-favorite, is one of Boston's focal points on offense alongside of Bergeron. Coming off of a 24-goal season, the gritty left winger has shown the ability to be a difference maker in the game's biggest moments. Take for instance his two-goal performance against Philadelphia last season in the thick of the playoff race in which he tied the game late in third period and then buried the overtime winner just minutes later. Although his production wanes from time to time, it's moments like that the Bruins brain trust have come to expect. If the 5-9, 183-pound Marchand can come up big in more contests than not, the Bruins will most likely be in prime position in the Atlantic Division.
DEFENSE:
Projected pairings:
Zdeno Chara-Zach Trotman
Dennis Seidenberg-Torey Krug
Kevan Miller-Adam McQuaid
Zdeno Chara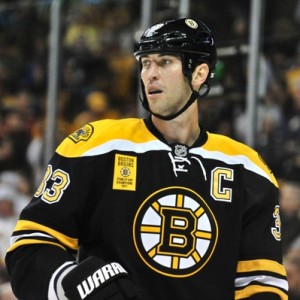 For one of the first times in his Bruins career, the team captain was hit with a mixture of injuries and inconsistency, a combination that called into question whether or not the aging defenseman was on the downslope of his career. For a team with question marks on the blue line, it will be imperative for the 6-9, 255-pound defender to have a bounce-back season. Chara will be depended on to play heavy minutes and contribute offensively, which typically has come with ease considering he owns one of the hardest shots in the league. If he fails to do so, not only will his status as an elite defenseman be in question, the Bruins return to the postseason may be on hiatus as well.
Dennis Seidenberg
Along with Chara, Seidenberg's poise and consistency were major factors in aiding the Bruins to multiple Stanley Cup Final appearances in last handful of years. However, despite playing in all 82 games last season, Seidenberg looked uneasy on his skates after a recovery from knee surgery in 2013-14. For the first time in his Boston career, he posted a negative plus/minus rating and failed to move the puck with ease as has been the norm. While an elongated summer afforded Seidenberg extra time to heal, he must come out of the gate ready to go. A second, straight lackluster performance could see the seasoned vet switching uniforms as Sweeney continues to build out for the future.
Torey Krug
At just 24 years of age, Krug is one of the bright spots on the Bruins blue line. In just two full seasons, he has already scored 26 goals and 81 points while primarily playing on the third defensive pairing. Although coach Julien has given Krug an increase in minutes over the last few seasons, it stands to reason that he could reach a new career high this year as the loss of Dougie Hamilton might bump him to a top-four spot. Can the Michigan State alum rise to the occasion?
Adam McQuaid
Aside from Chara, Seidenberg and Krug, Adam McQuaid is the only Bruins defenseman from last season with bonafide NHL experience. A former second round pick of the Columbus Blue Jackets, the Charlottetown native will be relied upon to provide steady play in his own end and make Rask's life a bit easier by stepping in front of shots when able, something he has done over 400 times in his career. With Krug continuing to emerge as an offensive focal point on the blue line, it would make sense for McQuaid to be penciled in as the fifth defenseman, although he does have a level a familiarity playing next to Seidenberg. Add Zach Trotman, Kevan Miller and newcomer Matt Irwin to the mix and we could see numerous pairings before it's all said and done.
GOALTENDING:
Simply put, this is Rask's team. The 21st pick in the 2005 NHL Draft is one of the best goaltenders in the league and owns a career goals against average of 2.17 to go along with a 0.926 save percentage and one Vezina Trophy. While Jeremy Smith is the likely backup, it won't necessarily matter as Rask will be in the crease for most of the team's games, a concept that has yet to prove cumbersome for the 28-year-old Finland native. With Rask in goal, the team will have a legitimate chance to rise through the standings in the Eastern Conference. If he does his part and the crew in front of him does theirs, the Bruins will place themselves in contention.
BREAKOUT PLAYER:
Ryan Spooner 
The duo of Ryan Spooner and David Pastrnak hit the ground running last season and managed to put up decent numbers while primarily playing with Lucic. While 2014 first round pick Pastrnak is the more well-known prospect, Spooner is capable of supplying similar output while remaining versatile as the coaching staff determines where he best suits their needs. Working on his 200-foot game, Spooner is turning into a well-rounded forward capable of lighting the lamp while also jumping into the defensive zone if/when needed. Spooner is talented enough to make a difference on special teams as well as 5v5 play. Will he be talented enough to help guide the Bruins back in to the postseason?
PLAYER WITH THE MOST TO PROVE:
Brett Connolly
Whether assuming a top-six role or top-nine role, Connolly will be out to prove that the multiple second-round picks that Boston paid for his services at the trade deadline were worth it. After all, he fractured his hand just a few days after the deadline and was only available to play in the team's last handful of games when the second wild card spot was slipping away and eventually went to the Pittsburgh Penguins. An injury-free season should help Connolly easily surpass his previous career high of 17 points. Connolly proved that he was a rock star in junior hockey by scoring 86 goals in 144 games while eventually being taken sixth overall in the 2010 NHL Draft. He even found success in the AHL by tallying 31 goals in his one and only season. If the 6-2, 181-pound winger can regain his scoring touch at the NHL level, the Bruins will have yet another young gun to add to their growing list of talent for the future, a future that Bostonians hope begins with the 2015-16 season.
SEASON OUTLOOK:
The Bruins head into the 2015-16 NHL season with a mix of veterans and less experienced players that have been hand-crafted to try and return one of the league's most storied franchises to the playoffs. If the club can remain healthy and play as a cohesive unit in front of their elite goaltender, they have the ability to not only make the playoffs but advance once there. If on the other hand they get bit by the injury-bug and the defense is unable to rebound from last season's poor showing, Don Sweeney may have no choice but to become a seller at the trade deadline and continue to build the foundation for what will one day be a perennial championship-caliber club.
To continue the discussion, leave a comment below or follow me on twitter @healedbyhockey
---