Just in case you haven't seen Tomas Hertl's forth goal last night.
So exactly who is this 19 year wunderkind who just put himself in Calder Trophy contention? [Rant Sports]
Hertl's fabulous night wasn't the only notable to emerge from the Rangers/Sharks. Rick Nash took a hit that may or not be a concussion. [Newsday]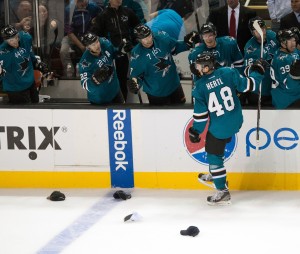 Remember when the return of Tim Thomas was a great story for the Florida Panthers? Yeah that didn't last long. [NESN]
In other goalie redemption story news, Marc-Andre Fleury has allowed just three goals in three games and was named the NHL's third star of the week. But he doesn't get bad until the playoffs, so this is not really news. [Pensburgh]
Did you know that the Hurricanes still pay some of Jussi Jokinen's salary? Paying a player to score goals and beat you. What a novel concept. [CBS Sports]
Young Olli Maatta is making an impact on the Penguins blueline. [Trib Live]
Ryan Nugent-Hopkins return to the lineup made a big impact for the Oilers, well once the third period rolled around and they actually started playing. [Edmonton Journal]
New Flyers coach Craig Berube won his first game behind the bench. [NJ.com]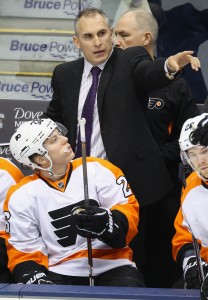 Times are tough for Peter Laviolette. But he'll still get a silver medal as an assistant coach for Team USA at the Olympics. [Marketwatch]
John Tortorella and shot blocking are going to be synonymous forever. [The Province]
Is it already time to fire Torts? [PITB]
His team played the New Jersey Devils and won. Apparently the game was a big deal. Something to do with the goaltenders. [Globe and Mail]
The Maple Leafs lost yesterday. Does that mean they won't win the Stanley Cup now? [The Star]
This explains Patrick Roy losing his mind after his first game. [National Post]
The Minnesota Wild might be without Nick Backstrom. Again. [NHL]
And finally, we take a break from the fighting in hockey debate and return to the spin-o-rama in a shootout debate. [Hockeybuzz]
Marcy, a former hockey player, is a hockey correspondent on CTV News and TSN radio. She began her career as a Sports Journalist in 2009 and has been part of The Hockey Writers since 2010, where she is currently a senior writer and editor.