Rankings:
Minnesota
Boston College
Clarkson
North Dakota
Wisconsin
Cornell
Boston University
Mercyhurst
Harvard
Minnesota-Duluth
The Round-Up
It was an interesting weekend for the Gophers as they stumbled out of the gate a bit, finding themselves tied at one apiece with Colgate headed into the third on Friday night. Two goals from Rachael Bona gave Minnesota a 3-1 win. They followed it up with an 8-3 victory on Saturday, but that first game was definitely an early wake-up call. Colgate got on the board first in both games, but the good thing for the Gophers is they were able to stay composed enough to win. Goaltending also held up fine, and that first game has got to be a confidence boost for Amanda Leveille and the team as a whole.
Boston College got off to a fine start this weekend, beating Maine 5-1. The game was never really in doubt as they outshot the Black Bears 44-19. Haley Skarupa was a force up front, scoring two goals and adding an assist; she'll have to be the engine to the Eagles' offense in Alex Carpenter's abscence and based on her play against Maine, she's ready for that role.
Clarkson earned a big sweep over a tough conference foe in St. Lawrence. The Saints were without goaltender Carmen MacDonald, which hurt, but the Golden Knights deserve plenty of credit. St. Lawrence's offense had a tough time establishing anything consistent, and the Knights were able to keep Rylee Smith off the scoresheet. They got contributions once again from a number of players; that will bode well for them as the season goes on.
North Dakota's offense was also on display as they swept Lindenwood with 5-1 and 6-1 victories. They put up 51 shots on Friday and a whopping 75 shots on Saturday in two dominant efforts with all four lines rolling. Freshmen Gracen Hirschy and Halli Krzyzaniak showed just how much of an impact they can make on the blue line when it comes to moving the puck and being active offensively. As Brad Schlossman points out, UND's defense put up 52 shots on goal over the weekend, and 27 of those came from Hirschy and Krzyzaniak. Freshman forward Susanna Tapani also looks like a great pick-up so far; she had a goal and six points against the Lions.
The Badgers earned some WCHA points right away as they swept Minnesota State with a 3-0 victory and a 5-1 victory. Though that first game was pretty closely-contested, they were able to get the job done defensively and keep the Mavericks off the board in order to ensure the win, which is a good early sign. On Saturday their offense kicked in as they put up 37 shots on goal and scored five times, including twice shorthanded, which is great news for their special teams. A good penalty kill will help Wisconsin immensely this year as they become more defensively-oriented.
With a 4-3 overtime loss to Ohio State, Mercyhurst has now dropped two of their first three games of the season, which is definitely concerning. Make no mistake, the Buckeyes are a good squad, but that's two middle-of-the-pack WCHA teams now that have beaten the Lakers. Mercyhurst has had problems getting their offense going at times; they didn't score until the third period on Saturday. There's no need to panic yet, as there's still plenty of time for the Lakers to get it together, but they've had issues executing all over the board so far which has raised some questions.
Minnesota-Duluth had a great first showing at home, beating Connecticut 7-0 and 6-1. That, coupled with Providence splitting with Union on the road, bumps the Bulldogs up to 10th for me. The offense as a whole was on very much on point, as they put up 59 shots on goal on Friday and 51 on Saturday. UMD was also able to silence the Huskies, yielding just the one goal and giving up only 36 shots on goal all weekend. There were encouraging individual performances for the Bulldogs as well, as Jenna McParland, Jamie Kenyon, and freshman Ashleigh Brykaliuk all made their presence felt.
Three Stars of the Week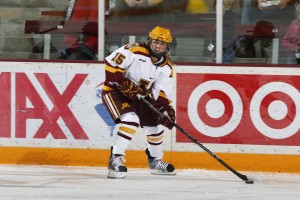 1. Rachael Bona, Junior, Forward, Minnesota: With four goals and seven points, Bona was fantastic all weekend for the Gophers. She also almost single-handedly kept their win streak alive on Friday, as she broke a 1-1 third period tie and then tacked on a shorthanded goal to go with it.
2. Erin Ambrose, Sophomore, Defense, Clarkson: She scored a hat trick against St. Lawrence on Friday night, and if that's not impressive enough for a defenseman, keep in mind that it was her second of the season. She now has six goals and nine points in three games so far this year.
3. Taylor Kuehl, Junior, Forward, Ohio State: Kuehl netted the overtime winner for the Buckeyes to help Ohio State upset Mercyhurst on the road and kick off their season with a big win.
Play of the Week
This shorthanded beauty from Wisconsin junior forward Brittany Ammerman:
Gabriella is now in her third season of covering NCAA and international women's hockey for The Hockey Writers. She is the founding editor of At Even Strength, a website dedicated to providing full-time coverage and analysis of women's hockey. She is currently working towards a degree in Communication at the University of North Dakota, and is also interning with UND Athletic Media Relations. She can be reached on Twitter (@gabfun) or via e-mail (gfundaro10 [at] gmail [dot] com).