It's not just a matter of skill and merit that dictates when a prospect makes it to the NHL. It's also dependent on how the rest of the roster has taken shape. Just take the Montreal Canadiens as an example.
Down to the Wire
The Habs officially have 22 of 23 spots filled on their roster page. Meanwhile, the widely cited ~$8.5 million in projected cap space they have has taken the Peter Holland signing into consideration, effectively pre-determining the team's opening-night roster two months in advance.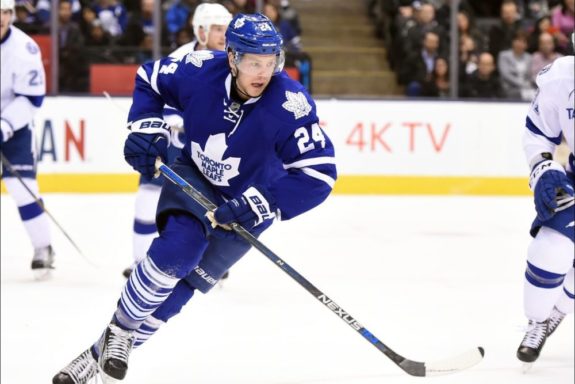 Obviously, training camp will have a lot to say about where Holland ends up, but so will the terms of his contract. He's on a two-year deal that pays him an average of $675,000 per season and turns into a one-way contract in 2018-19. The 26-year-old is essentially a veteran at this point, having last played in the American Hockey League in 2013-14.
He may not be an everyday kind of player at this juncture, having never so much as scored 30 points in a single season, but he has to be considered for a roster spot nonetheless, which brings up an interesting and important question. If he makes it, who doesn't?
The 23 aforementioned spots exclude the likes of Michael McCarron, Jakub Jerabek, Nikita Scherbak, Daniel Carr, Jacob De La Rose and, perhaps most importantly, Charles Hudon. Which of the above have legitimate arguments to make the 2017-18 edition of the team? In a way, none of them do. Waiver wire rules do on their behalf.
Jerabek Has a Shot
Of the prospects mentioned above, only Scherbak, McCarron and the newly signed Jerabek can go through waivers untouched. So can Charlie Lindgren, Zachary Fucale and Michael McNiven for the record, but, assuming the goaltending position is locked in as is, let's move on.
Only three of the team's most-NHL-ready prospects being waiver-exempt is a problem. It's actually a bigger one than you might think, because, in Jerabek's case, waivers are almost irrelevant.
While he's not a shoo-in to make the team, the team's lack of depth on defense on the left side will make a compelling case for him to get every opportunity to succeed. His European "escape" clause also does.
Jakub Jerabek is protected by a european assignment clause if he can't make the team in Montreal.

— Renaud Lavoie (@renlavoietva) May 2, 2017
Assuming he ends up as a Hab, one of the team's current eight on-roster defenseman will likely have to be demoted. Joe Morrow, who has to go through waivers instead, is the likeliest candidate. He may have a one-way contract himself (Jerabek doesn't, for the record), but so does everyone else currently projected to comprise the team's blue line. With just 65 NHL games played, Morrow is the most expendable.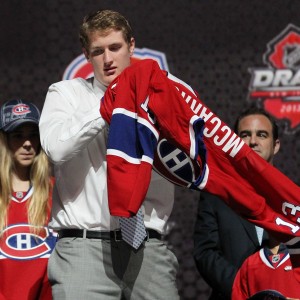 McCarron, who is coming off a season during which he made 31 appearances in a Habs uniform, may fall victim to a numbers game a result. Regardless of how he fares in training camp, he'll likely have to settle for whatever opportunities arise as a call-up in a bottom-six role due to injuries.
Meanwhile, Scherbak, with just three NHL games to his name, is a safe bet to stay most if not all of the season with the Laval Rocket. He would likely flourish only with top-six ice time in Montreal, and, should a star get injured, it stands to reason only someone on the roster at the time would be promoted and reap the benefits of such an unfortunate situation.
The Not-So-Big Three
That leaves the question of what to do with the likes of Carr, De La Rose and Hudon. Even though it can be argued that he had little to do with it and he was simply a victim of circumstances and the team's depth on the wing, Carr took a notable step back last season.
His six-goal rookie season in 2015-16 was considered somewhat of a success, because those came in 23 games, putting him on pace for over 20 goals over a full season. While he scored the same nine points in 2016-17, they came with him having played 10 more games. He also only tallied two markers (less than 5 over 82 games).
As a result, between the three of them, Carr is probably the likeliest trade candidate as a soon-to-be 26-year-old that hasn't yet established himself as a regular NHLer. It wouldn't be for much and would just serve to not lose him for nothing, all the while giving him a chance to move on with his career.
Of course, De La Rose or Hudon haven't established themselves either, but circumstances are slightly different. They are 22 and 23 years old respectively. While De La Rose's games played have dwindled over each of the last two seasons from 33 in 2014-15 to just nine in 2016-17, his defensive play is still top-notch and he projects as a possible bottom-six option for head coach Claude Julien.
De La Rose could legitimately challenge for a roster spot. However, even though he has a one-way contract, he was only re-signed for this season, indicating the team may have soured on him. In other words, he will probably have to go through Hudon to get it.
Hudon the Top Habs Prospect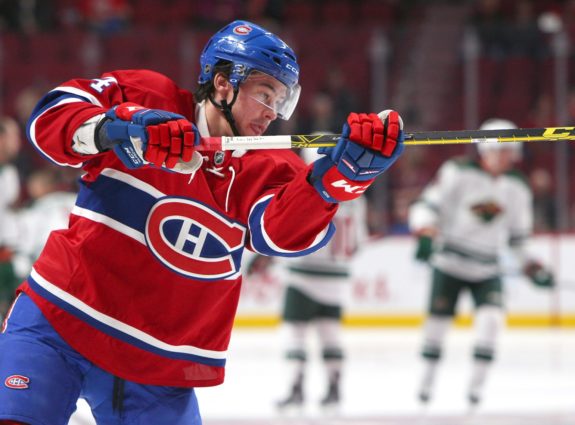 While Hudon has the least NHL experience (six games total) between him, De La Rose and Carr, he's also the most talented, having become a perennial scoring threat in the AHL. It remains to be seen if he can successfully and consistently translate that skill level to the NHL, though. Now's the time to find out.
That's at least in part deductive reasoning. If Artturi Lehkonen, who's one year younger, can vault himself into a fringe top-six role with the Habs from out of nowhere, Hudon theoretically can to. Granted, Lehkonen has a European assignment clause too, but it's also in part due to general manager Marc Bergevin himself hinting at Hudon having a future in Montreal after he traded away Sven Andrighetto to the Colorado Avalanche last season.
"We felt comfortable moving Sven because of what we believe players like Charles Hudon can do for us down the road." – Marc Bergevin

— Canadiens Montréal (@CanadiensMTL) March 1, 2017
Andrighetto infamously went on to score 15 points in his 19 games with the Avalanche last season. So Bergevin would ideally want Hudon to go on to enjoy some success as well, so as to make his acquisition (and re-signing) of Andreas Martinsen seem less foolish than it was. Coincidentally, Martinsen would have to be one of the odd men out for both De La Rose and Hudon to make the team.
All due respect to the enforcer, but he's the least qualified member of the forward corps currently, and has the least amount of upside between him and the two youngsters. If the Canadiens are serious about rewarding merit, Hudon is the best bet to send him or Holland packing for Laval. Martinsen's also the only one who wouldn't be a big loss were he to be picked up off waivers.
Something has to give in other words. It's about time it's the Canadiens giving a shot to their young players.