Tim Murray took over the Buffalo Sabres General Manager position just over two years ago.  He's spent the last two seasons finishing the breakdown and rebuilding of the roster.  Only ten players remain on the current roster from when Murray took over in January 2014.  This season is the first full season of a roster that features the future cornerstones of Murray's franchise vision.  With his fingerprints all over the roster we can begin to evaluate how he's done so far.
Free Agency
Over the past two offseason's Murray has been a player in free agency, but no blockbusters.  Of this first class of free agents Moulson may be the biggest black eye. Murray brought back the former New York Islander after he was traded off the roster at the trade deadline.  Moulson was expected to be top six forward and leader for the youth on the roster.  Unfortunately things have not gone as planned for Moulson.  In only his 2nd season of his 5 year contract, the 32-year-old hasn't scored in his last 4o games.  Murray is now stuck with the 5 million dollar cap hit for another 3 seasons.  He'll need to work some magic to get out of that deal.
This past offseason Murray only made two free agent signings in Carlo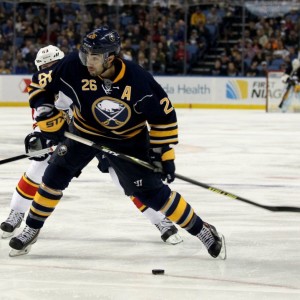 Colaiacovo and Cody Franson.  Colaiacovo has spent the season as the clubs extra defenseman as expected.  Franson on the other hand has his short comings as a defenseman, but has given the Sabres what they hoped for on the offensive side.  He's provided 16 points from the blue line through 53 games and has helped improve the power play.
All in all Murray hasn't been that involved in the free agent market.  We'll see if that changes this summer as he looks to help his team get to the next level in the rebuild.  Overall I would give Murray a 'C' in free agency so far.
Draft Picks
In his two years as GM, Murray has had an easy time selecting a player in the 1st round.  In 2014, Sam Reinhart was the expected pick at 2nd overall and in 2015 the job got even easier with the selection of Jack Eichel 2nd overall.
Outside of the first round, Murray has added some promising prospects to the system.  2014 2nd round pick Vaclav Karabacek has the talent to be a productive NHL player in a few seasons.
This past draft the Sabres selected two blue liners who have a bright future ahead of them.  Second round pick Brendan Guhle turned a lot of heads in training camp this past summer.  The Canadian born defenseman could be part of the Sabres roster as soon as next season if he has another training camp showcase.  Along with Guhle, 4th round pick Will Borgen showed of his potential for team USA during the World Juniors a few weeks ago.
Eichel and Reinhart are obviously the crown jewels of Murray's two draft years and to this point they've worked out very well for the Sabres.  Reinhart will be compared to Calgary Flames forward Sam Bennett, but both have had successes so far in their early career.  I'd give Murray a 'B+' in his two drafts.  We'll see if his later draft picks develop into anything down the road.
Trade Market
In his two year tenure as Sabres GM, Murray has completed 15 trades involving 41 NHL players or prospects and 16 draft picks.  The Buffalo General Manager has picked up a reputation of being a dealer and he'll openly admit he's ready to make a trade at any time.
Murray has used the trade market primarily to first breakdown and then rebuild his roster.  His first move was trading of former face of the franchise Ryan Miller along with Steve Ott.  At the end of the day Murray ended up with prospect William Carrier and a 1st round pick in 2015, 3rd round in 2016 and a 2nd round pick in 2017 after he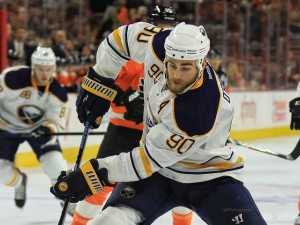 flipped Chris Stewart the following season.
The major deals that Murray will be judged on are the three big trades he's made recently.  The first was the blockbuster with Winnipeg involving Evander Kane, Zach Bogosian and Tyler Myers as the main pieces.  I'd call this deal a draw so far as both sides are happy with what they've received.
The Ryan O'Reilly trade looks to be an absolute robbery right now.  Both O'Reilly and Jamie McGinn are having excellent seasons with the Sabres.  I still like what Nikita Zadorov can develop into for Colorado and JT Compher can alter the narrative of this trade when he arrives in the NHL.
The trade that I would declare as Murray's biggest blunder so far is the Robin Lehner deal.  A 1st round pick for a goalie in today's NHL is just silly in my opinion.  Lehner has missed a lot of this season with an injury and has played well in his return.  With that being said I'll just never be able to get on board with that move.
In the big 3 trades I would say Murray has a 1-1-1 record.  This upcoming deadline and offseason will be big for the Sabres GM.  The team is improved over last season, but not at the level that many have expected.  Buffalo could find themselves alone in last place in the league again if things don't fall their way in Tuesday nights games.  If the Sabres do not make a significant move in the standings next year the seat under Murray could begin to get hot.  I think through two years he has the Sabres on the right path, but it's time to start to see the results on the ice.
Also read: Eight's a Crowd 
Chad DeDominicis was born and raised in Buffalo, NY. Chad is currently a Buffalo Sabres contributor for The Hockey Writers. He is an avid sports fan and is passionate about the game of hockey. Chad works hard to share creative and quality content with his readers.