Washington Capitals defenseman Taylor Chorney has been a full-time NHLer since joining the Capitals in 2015 but has found himself battling for a permanent spot in the lineup
Considering Washington has had a lot of depth on defense over the last few seasons, and with the acquisition of Kevin Shattenkirk in March, Chorney was limited to just 18 games last year, where he registered a goal and five points and was a plus-8. Coming into this season, though, there are a lot of spots on the Washington blue line up for grabs, and he is just one of many players who could fill the void left by Nate Schmidt, Karl Alzner and Kevin Shattenkirk.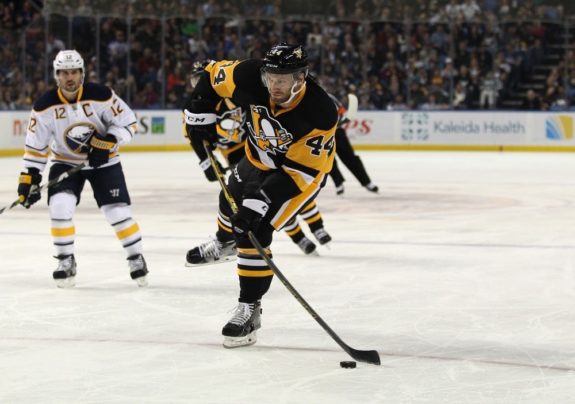 Because the 30-year-old blueliner didn't see a lot of ice time last year, he said he hit the ice sooner than he usually had in previous offseasons, and also worked on elevating his game.
"I tried to get on the ice a little earlier than I had in previous years, just cause I didn't play a lot of games last year, so I kind of wanted to stay as sharp as I could," Chorney said. "I didn't need to take a lot of time off away from the rink."
Taylor Chorney – Cracking the Lineup
Though earning more ice time is a goal, Chorney said he doesn't concern himself with where he will fit in on paper. Instead, he focuses on whether or not he will actually get to see game action with the Capitals, as well as how he can better serve his teammates.
"To me, it's not necessarily who I'm playing with or depth chart… you want to play as much as possible," Chorney said. "I just want to be a part of the lineup and be a part of the team, and wherever they see me fitting in, I'll be comfortable with that. I just want to go out there and be a part of it this year, and hopefully be able to make an impact."
When it comes to cracking the lineup, however, the Thunder Bay, Ontario, native has a lot of advantages. He has a ton of experience at the NHL and AHL level, and also serves as a positive voice and a mentor in the locker room. Not only that, he is a strong skater and he can make solid passes and jump up on the rush when needed.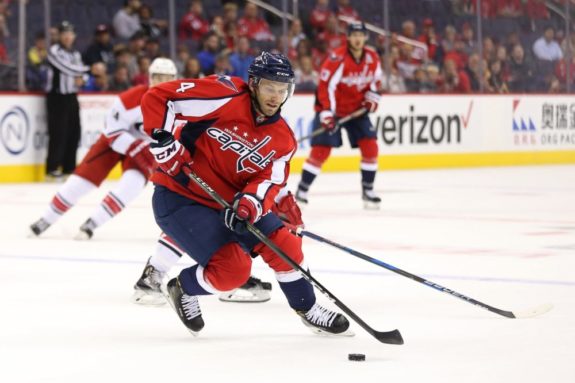 Still, he will have to face some competition, especially from the younger players vying for roster spots. With prospects like Christian Djoos, Madison Bowey, Lucas Johansen and even Connor Hobbs ready to prove their worth and try to earn a spot at the NHL level, Chorney will have to bring more to the table and show that he can step up to the plate and make a difference right off the get-go.
The 6-foot-1, 193-pound defenseman has made himself a physical presence and isn't afraid to throw his weight around. He'll also block shots when he can, and doesn't shy away from shooting the puck. While he does need to work on maintaining puck possession and avoiding turnovers, he does give a strong effort whenever he earns a spot in the lineup with the Capitals.
Overall, despite the fact that making the top four and getting the chance to play with some of Washington's big-name blueliners are definitely in the back of Chorney's mind, he is choosing to work on factors of his game within his control and not look too much into where he will end up.
"Somebody's got to play there, so it's a heck of an opportunity to be able to play with a guy like [John Carlson] and it'd be a sweet deal to be able to do that," Chorney said. "But at the same time, I'm just trying to focus on my game and kind of let the chips fall."
'The Ultimate Teammate'
Taylor Chorney may not have suited up in too many games for the Capitals last season, but that doesn't take away from the impact that Chroney has on his teammates. Off the ice, he acts as a leader and a role-model, and as someone that Braden Holtby –one of Chorney's close friends and biggest advocates – deserves more recognition.
"He should [be in the lineup]," Holtby said. "He's been the ultimate teammate the last couple of years and works as hard as anyone, and when he's in, he plays extremely well… I think everyone will see what kind of d-man he is and what kind of player because he's very good and very effective in what he does. Guys like to play around him because he's such a good teammate and works hard and sets a great example."
Holtby also mentioned that he believes Chorney is "definitely going to take on a bigger role" this season, simply because of his work ethic and ability on the ice.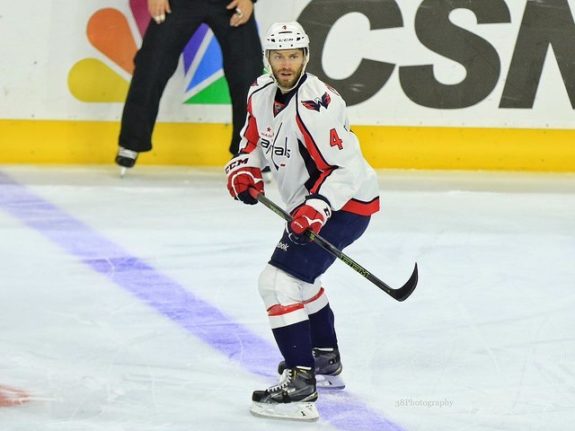 "For me, it's kind of just trying to be a professional every day," Chorney said. "I think last year, it was difficult not being able to play a lot, but at the same time, I'm thankful that I'm here and that I've played a lot of games in the American Hockey League and to be able to be a full-time NHLer, even if I wasn't in the lineup every night, just trying to be positive and let everyone know how good we have it here and just trying to embrace it all."
So far through training camp, Chorney has gotten ice time with Johansen and Jonas Siegenthaler, two prospects that he has gotten to mentor and work closely with. Overall, he believes that he can be someone who helps them adjust to the NHL game.
"I think that anything you can do to help and just of give them a few pointers here and there and just make them feel more comfortable, I think that that's part of my job now."