It's hard to believe the month of December has come already in what has been a turbulent 2020. December brings with it the anticipation of a fresh new year, a reflection of the year passed, and most importantly Christmas and a visit from Santa!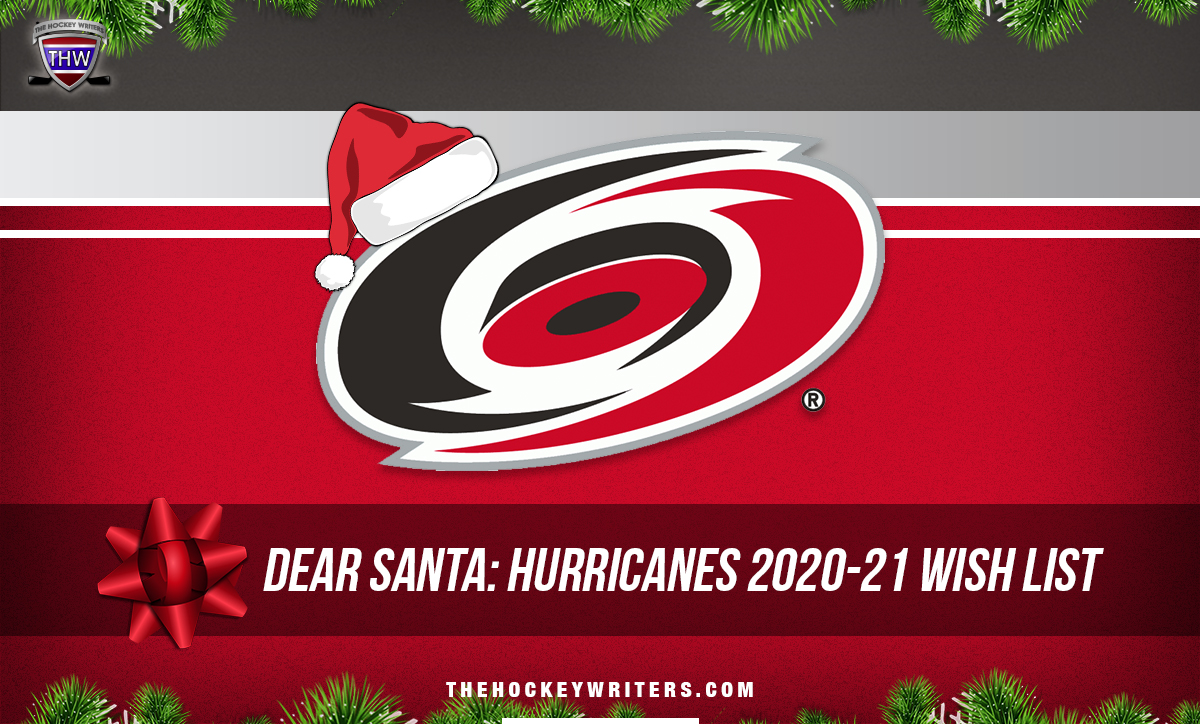 The Carolina Hurricanes have been well deserving of getting everything they want from Jolly Ole' Saint Nick. Looking at the team going into the 2020-21 Season, it doesn't seem like they're missing much. But here are a few things the Hurricanes could ask for on their Christmas Wishlist.
A Promise of a Season to Come
Tentatively set for January 13, 2021, a 2020-21 season is looking more and more likely. This is good for the Hurricanes even if it is an abbreviated season. The team is set up to be exciting this season. If you think about all the firepower they have and the exciting up-tempo style they possess, it would be a shame if they couldn't showcase their talent in the 2021 Season.
Contributions from the Middle Six
The Hurricanes have a very promising goal scorer in Martin Necas. Necas did well in 2019-20, scoring 16 goals, which were third on the team last season. Continued contributions and additional scoring from former 20 goal scorers would be a nice gift from Santa. Two former 20 goal scorers of note on the Hurricanes squad are Ryan Dzingel and Vincent Trocheck.
Dzingel has come under some pressure for his lack of offensive output, so he will seek to re-establish himself as a productive forward this upcoming season. He was placed on the top power play unit last season, so if he's able to keep that assignment, he should be able to produce more.
Trocheck is a solid top-six-level forward who has been nagged by two ankle injuries. The first being in 2018-19 while a member of the Florida Panthers, coincidently, while going into the boards with Dzingel who was on the Ottawa Senators at the time. The second came in the 2019-20 season against the Nashville Predators while blocking a Ryan Ellis slapshot. Trocheck will be healthy going into the 2020-21 Season, which means he'll be eager to get back to his highly productive ways in Carolina.
Reasons to Surge
It will remain to be seen if the Hurricanes continue their tradition of doing a "Storm Surge" after home wins without the fans there to watch. They could do it for the cameras but that may be overboard for some. But what the Surge symbolizes here is wins — whether home or away. For Christmas, the Hurricanes wouldn't mind a few extra tallies in the "W" column.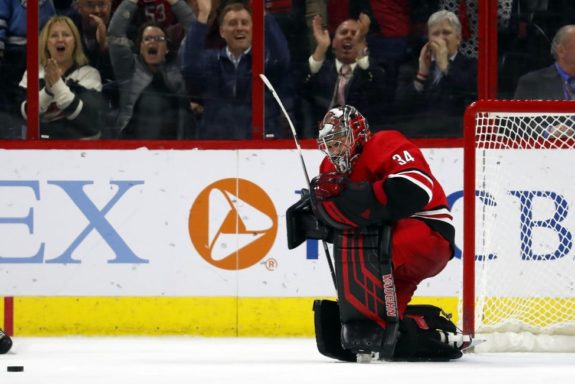 In 2019-20 they were able to add five extra wins with their undefeated shootout record. This was the difference between their sixth-place finish in the Eastern Conference and a ninth-place finish. With an even more talented team led by legend Rod Brind'amour, more wins wouldn't be a wish, they'd be expected.
An Aggressive Element to Their Exciting Style
We know that the Hurricanes are a kind team. They sent out a kindly worded tweet to all NHL teams in November 2019 for World Kindness day. The Hurricanes have been in the bottom six in penalty minutes in each of the last three seasons and the bottom three in fighting majors in the same amount of time.
To be able to compete with other contenders, they're going to need to stick up for themselves and fight. They're going to need to get in the corners and come out with the puck. Even more importantly, they need to be aggressive in front of their own net. The Hurricanes would do well with a mean streak courtesy of Santa.
An Ole' Faithful in Net
Last but not least on the Carolina Hurricane Christmas Wishlist is consistent goaltending. If things don't go as planned in the upcoming season in goal, a solid plan to get consistent goaltending will be a must. If the Hurricanes want to be true contenders, they will need a reliable and consistent goaltender that could steal a game or two regularly, especially in the playoffs.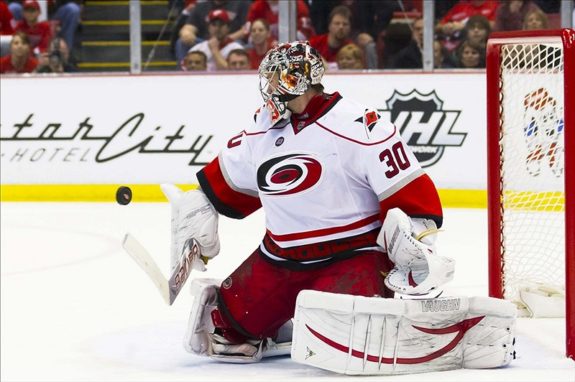 When the Hurricanes won the Stanley Cup back in 2005-06, a consistent goaltender was the key factor the franchise needed to secure the Stanley Cup; this still rings true for the franchise in 2021 and onward. If Santa could bring a number one goaltender to Carolina, that'd be the icing on the cake for a powerhouse of a team in North Carolina.
Christmas is our last hope to salvage whatever we can from 2020 and end the year on a more pleasant and joyous note. For hockey fans, 2021 couldn't come soon enough because that means the hockey season has finally arrived. Carolina will take the added perks from Santa's visit and skate into 2021 with confidence and exuberance. It'll be exciting to see a cheery Hurricanes squad this season and bear witness to their goal scoring and game winning.
---
---