Brady Skjei and Marc Staal are gone. Jacob Trouba should be better after an uneven first season on Broadway. Tony DeAngelo has been re-signed. New assistant coach Jacques Martin has replaced longtime whipping boy Lindy Ruff, and he'll try to do what Ruff couldn't: improve the New York Rangers' long-running issues with keeping opponents from so easily generating offense.
Yet the promise that surrounds Blueshirts' 2020-21 season could still be undercut by a defense corps that remains fully in flux and has the potential to be a weak link as the club looks to continue its climb out of rebuilding mode and back to consistent contention.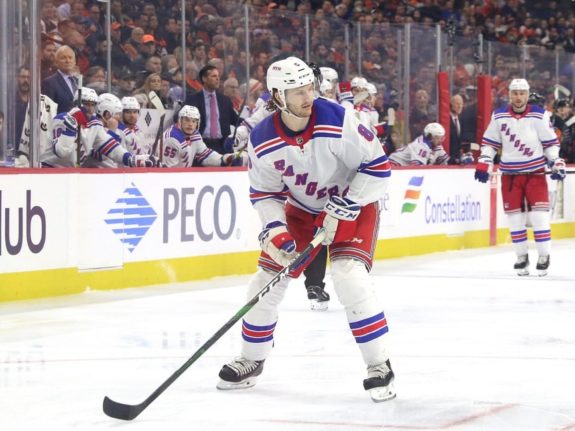 It's true that there are promising kids on the way: K'Andre Miller, Tarmo Reunanen and perhaps Libor Hajek are possible candidates to make the roster next season on the left side, and could be around for years to come. Behind them, Nils Lundkvist, Braden Schneider, Matthew Robertson and Zac Jones could be in the long-term plans. The club is unquestionably loaded with potential on the blue line.
Defense Prospects Might Not Be Ready in 2020-21
The problem is, it's very possible that none of those players prove ready for the NHL next season. The Rangers, so patient and committed to their rebuilding effort so far, aren't going to rush things now. That means not depending on any of the aforementioned prospects to make the team in 2020-21.
Should that come to pass, and the top prospects for the left side – the big area of need on the blue line – require time in the minors, what kind of defense can the Rangers put together for 2021? Well, it might not be the kind that evokes much confidence.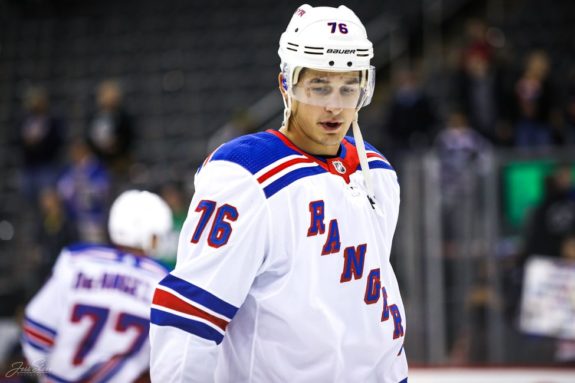 Skjei and Staal became easy targets over the past few seasons, the "bust" label attached to the former and monikers such as "traffic cone" the latter. Yet the Rangers might actually end up missing them next season.
Skjei wasn't succeeding in New York after inking a six-year, $31.5 million extension in July 2018. A minus-51 over the past four seasons, the 28th overall pick in 2012 had become known for his giveaways, poor positioning and often-soft play in his own end. Even the Rangers trading for childhood friend Trouba and pairing him with Skjei to start last season didn't work. (From 'Brady Skjei Traded By Rangers to Hurricanes For First-Round Pick', New York Post, 2/24/10)
Skjei became a poster child for an athlete needing a change of scenery, and he got it Feb. 24, when he was dealt to the Carolina Hurricanes for a 2020 first-round pick. The deal initially didn't seem to impact Skjei's fortunes, as he posted a minus-four rating in seven regular-season games.
Then came the playoffs. Skjei was a force in helping the Hurricanes to a three-game sweep of his former team in the qualifying round and went on to post a plus-six mark in eight postseason contests.
Is Skjei on the verge of figuring it out? He might never have done it on Broadway, having apparently struggled with the pressure of living up to his big contract. Should the 6-foot-4, 213-pounder emerge as the big, mobile defender the Rangers envisioned, however, it will serve as a daily reminder of what could have been on the left side of the blue line.
Much-Maligned Staal Might Be Sorely Missed
When it came to Staal, he was both beloved and often dismissed by Rangers fans, with the words "warrior" and "relic" sometimes being used in the same argument. Yet although advanced stats haven't painted a pretty picture of Staal's play recently, he was a plus player in five of the past six seasons – and there was an unseen impact as well.
Staal's consistent presence on the mercurial DeAngelo's left side over the past two seasons provided the stay-at-home stability that other partners couldn't, with DeAngelo failing to effectively mesh his offense-first game with Skjei and others.
Staal's "old-fashioned" game and veteran influence proved the perfect match as DeAngelo blossomed the past two seasons, before Staal was traded to the Detroit Red Wings in September. Will the Rangers now get the same production out of DeAngelo, whose future on Broadway is hardly guaranteed despite signing a two-year extension this offseason, after being separated from the partner with whom he performed best?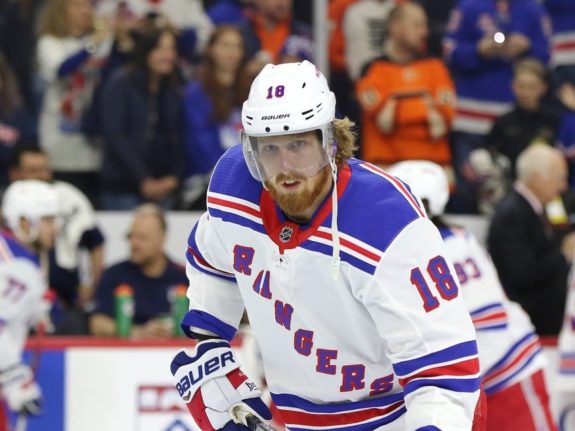 Replicating that situation for DeAngelo might not be easy. Should the Rangers opt to stay with the steady veteran theme on DeAngelo's left, their options are Brendan Smith and newly signed Jack Johnson – neither of whom are even guaranteed to make the team next season, with both having had issues of their own over the last few years.
Head coach David Quinn seems to have learned his lesson in breaking up the club's best pairing from last season, Ryan Lindgren and Adam Fox. Assuming Quinn leaves the rising players together, and none of the left-side prospects prove ready for the NHL, the Rangers need to fill two spots. Who plays with DeAngelo? Smith may be needed to reunite with Trouba, with that duo working effectively after being formed toward the end of 2019-20.
Johnson Addition a Head-Scratcher
As for Johnson, one could almost hear the howls from the fan base upon him signing with the Rangers for one year after being bought out by the Pittsburgh Penguins in October with three years remaining on his contract. Martin and team president John Davidson seem to believe in him, having had affiliations with Johnson with the Penguins (Martin) and Columbus Blue Jackets (Davidson).
However, does the need for a partner for DeAngelo mean a player who's a minus-114 over his 15 seasons, and whose game appeared to have suffered consistent decline over the past three, becomes a fixture in the lineup next season? If the Rangers can't find a suitable match for DeAngelo from among their pool of prospects, Johnson might be likely to start the season paired with him.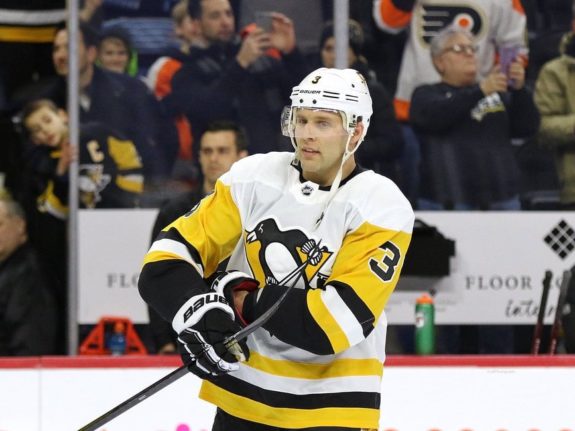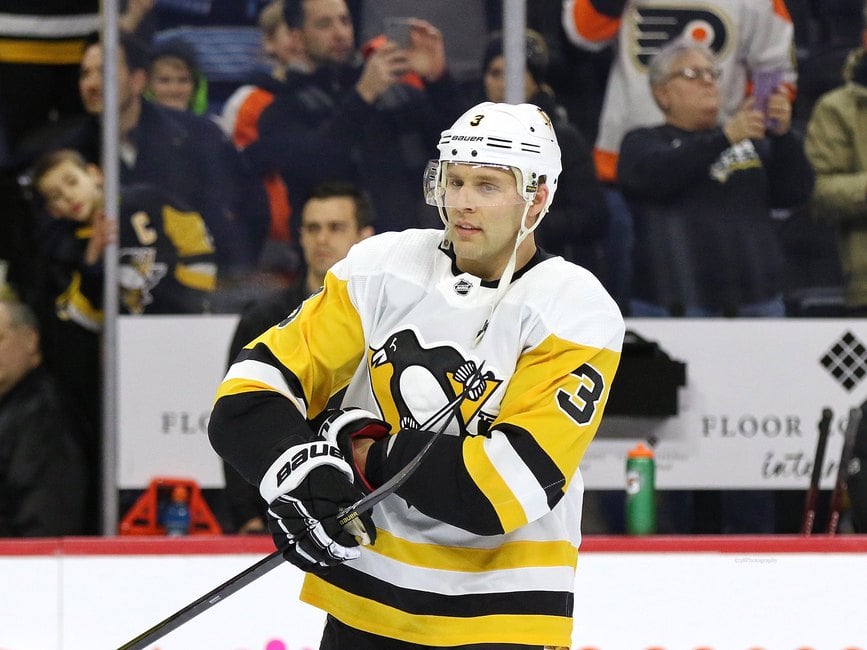 It's difficult to know what the Blueshirts had planned for Johnson when he was added on a one-year, $1.15 million contract. Ideally, he would be a veteran depth player for a unit lacking in proven options, but again, if none of the youngsters end up being ready for the NHL or they can't pair well with DeAngelo, what other choice will Quinn have?
While the Rangers will be smart not to expect too much out of their young blueliners, depending on the veteran Smith probably isn't wise. His rollercoaster tenure on Broadway has one season remaining, and the club probably knows better than to heavily bank on any potential contributions from him in 2020-21.
Smith's journey as a Blueshirt has ranged from being waived and sent to the minors, delivering multiple stretches of poor and uninspired play, reinventing himself as a forward, and then ending up as a solid partner for Trouba at the end of last season.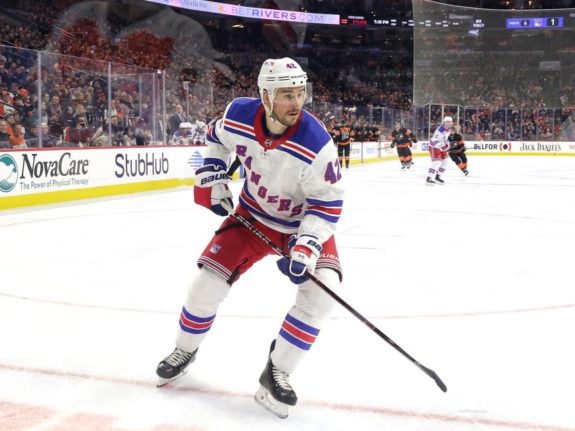 Smith's impending unrestricted free agency might inspire him to come to training camp focused, but the wild bouts of inconsistency that have defined him since inking a four-year, $17.4 million contract with the Rangers in June 2017 relegate him to wild-card status. The fact that Smith and Johnson are supposedly the club's "safe veteran" options probably doesn't give the fan base much comfort. Whether it does in the executive suite is unknown.
Martin Expected to Tighten Up Team Defense
There is also the hiring of Martin, a major X-factor in how the Rangers perform defensively. The longtime NHL assistant and head coach was a logical hire and frankly, overdue, as Quinn attempts to finally bring a semblance of defensive structure to a team that has barely attempted to adhere to any over the past several seasons.
The Rangers can't move forward while continuing to allow a nightly barrage of shots and chances, and the departure of Ruff to become coach of the New Jersey Devils probably allowed the Blueshirts to avoid a reckoning on his status after three seasons.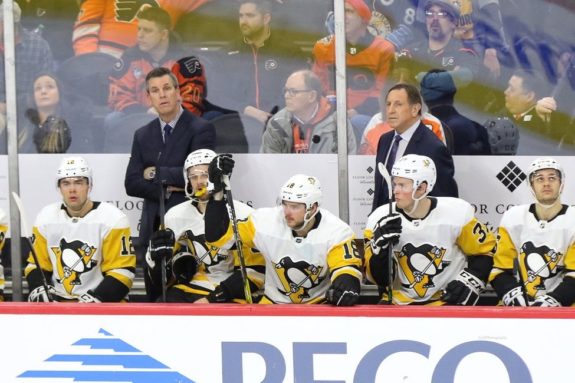 The arrival of Martin, known for his defense-first philosophy, is encouraging. He faces a tall task with this blue line as he attempts to forge a cohesive team-wide approach to keeping the puck out of the Rangers' net. Yet coaches can only work with the personnel they have. Even if Martin gets the Blueshirts focused on defending better, does he have the right mix on the blue line for such an initiative to succeed?
Fans will be expecting the Rangers to be better this season after the unexpected push to a playoff spot in 2019-20. For that to happen, the defense corps will likely need to be better than it was last season. Is that possible given the state of flux and uncertainty on the back line for this still-building club?

It won't be long now before we find out.
---
---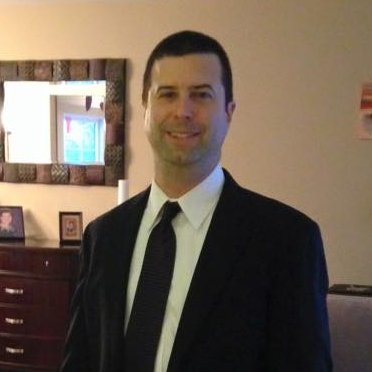 I'm a resident of the Chicago area by way of White Plains, NY. I worked for the Associated Press sports department in New York City for 10 years before moving to the Midwest in 2005, when the AP's then-internet division entered into a joint venture with STATS LLC. I worked for STATS for 11 years, until 2016. I'm very excited to be a part of The Hockey Writers.