Jordan Staal of the Carolina Hurricanes is a workhorse. He does not show up on the score sheets often with much to show for his work, but any hockey fan can see that his contribution to the team is enormous. With two games left in the 2015-16, it is Staal who can be credited with much of the team's unexpected success.
Staal to Carolina
Staal came to the Hurricanes in June 2012 in a trade that sent Brandon Sutter, Brian Dumoulin and a first round draft pick to the Pittsburgh Penguins. Jim Rutherford was general manager of the 'Canes at that time and said of Staal,
"Jordan is an elite two-way player who possesses a rare combination of speed, size, scoring ability and defensive responsibility. For his young age, he has a wealth of NHL experience, including winning the Stanley Cup with Pittsburgh in 2009. And he is obviously a natural fit for our team in joining our captain, his older brother Eric."
Rutherford, now with the Penguins as their general manager had high praise for Staal, and over time that praise has been agreed with and disagreed with by Hurricanes fans. I even wrote in September 2014 an article posting the question, "Hurricanes Fans, Is Jordan Staal Overrated and Overpaid? At that time I had a view of Staal as being a disappointment to the team.
That was before I looked beyond the score sheets and into the other parts of games that make Staal a vital part of the Hurricanes and this year's success. For example:
Jordan Staal has quietly been giving the Bruins fits all night. Sets up Patrick Brown with a beautiful chance in front, but Brown whiffs.

— Stanley Cup of Chowder (@cupofchowdah) April 6, 2016
The line in the above Tweet "…quietly giving the Bruins fits," that referenced Staal's play against the Boston Bruins Tuesday night, is an exact hit on what I am talking about. Night in and night out things like, "giving other team fits" don't make it into a box score like, but they do consistently characterize Staal's game.
In the Shadows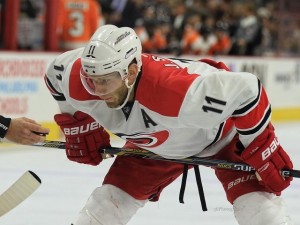 It's often things that don't get into the limelight that can make a player invaluable. For example, Staal's line has kept some of the league's top scorers at bay. Former Hurricane great and current assistant coach Rod Brind'Amour was asked by the Charlotte Observer a few weeks ago if Staal should be considered for the Frank J Selke Trophy, awarded to the league's best defensive forward. Brind'Amour said, 
"Oh, easily, no question. He plays against the best every night. Check the score sheet of the other team's best players and they're hardly ever on it or not a big factor. Why is that? Everywhere else they're playing they're putting up points but when they play us they don't. I'd put him up with any of the guys you'd mention for that award. If we got more attention he'd get more attention, but he kind of flies under the radar."
That statement embodies my point that Staal is having a great season contributing to the 'Canes in ways that often go unnoticed.
Before Andrej Nestrasil went down to injury, that line was in many ways the Hurricanes' best. There was a consistency and reliability that they brought to the ice every time out.
Scott Cullen of TSN likes the Bruins Patrice Bergeron for the Selke Trophy, but recently wrote of Staal,
"Carolina's Jordan Staal does the heavy lifting, with lots of defensive zone face-offs while facing high-quality opposition, yet he continues to push play the right way, though not to the spectacular degree to which he did it upon returning from injury last season."
Staal may not win the Selke this year, but he has established himself as an elite defensive forward.
Change
With brother Eric Staal gone and Nestrasil out for the season, Staal has had to adjust, his line now on top instead of being number two. His hot February has cooled from a scoring perspective, but his work ethic and leadership of the young Hurricanes squad has not.
In my mind, Staal is positioned to be the team leader for next season and beyond, with the question being will he get the "C" of will it go to Justin Faulk. Staal is this team's workhorse, and his contribution to its success is without question.
Mark lives in the Raleigh, NC area and covers the Carolina Hurricanes.