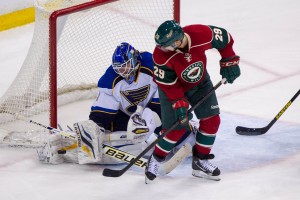 The injury bug is running through the land of 10,000 lakes. In the final stretch of games in December, the Minnesota Wild lost star forward Zach Parise and defenseman Clayton Stoner. Defenseman Jared Spurgeon has also been held out of practice because of a minor injury and whether or not he misses time is not entirely certain.
Injuries never come at a good time but the Wild have been struggling as of late. The mark of an elite team is overcoming adversity and remaining competitive in the face of challenges. The Wild desperately need to overcome these injuries and start winning games to remain competitive in the playoff race.
Yeo: "life is 10% what happens to you and 90% how you react to it." Cliche, but an accurate summary of the Wild right now.

— Anthony LaPanta (@AnthonyLaPanta) December 30, 2013
Parise Injury Creates Scoring Void
The loss of forward Zach Parise could make a bad situation worse when it comes to the Wild's scoring woes. Parise's twenty-seven points rank him third on the team in overall scoring with fifteen goals and twelve assists. Only Jason Pominville has more goals (seventeen) and Parise's twelve assists ties him for third on the team.
Minnesota has struggled in recent games losing their last five games and posting just a 3-7-0 record in their last ten games. After the club's recent loss to the New York Islanders, the Wild find themselves two points out of the final Wild Card spot in the Western Conference. A huge part of their struggles has been a lack of goal scoring. The Wild have scored a total of ninety-six goals on the year which ranks them twenty-third overall in the NHL.
Parise's placement on Injured Reserve leaves an offensive void on a team that could make a bad situation worse. Parise's goals represent 15.6% of the Wild's total goals scored this season. Minnesota's other forwards will need to step up while Parise is out of the lineup in order for the Wild to keep pace in the playoff race. It is uncertain how long Parise will be out of commission but the Wild will need to find its offensive touch in his absence.
Forward Nino Niederreiter did his best to fill this void in Sunday's tilt against the New York Islanders where he notched a goal and an assist against his former club. Captain Mikko Koivu had two helpers while defensemen Jonas Brodin and Ryan Suter each had a goal. All teams in the NHL deal with adversity throughout the season. It will be crucial for the Wild offense to respond to the loss of Parise with contributions from other sources. The Wild currently have a minus eleven goal differential so Head Coach Mike Yeo has his work cut out for him to move Minnesota up the rankings in goal scoring.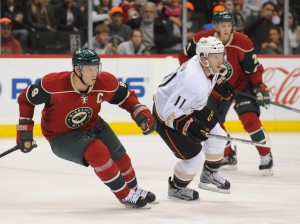 Wild Defense Takes A Hit
Wild defenseman Clayton Stoner was also recently placed on injured reserve with a lower body injury. He suffered the injury during the December 22nd game against the New York Rangers. He was held out of action and placed on Injured Reserve on December 27th. His injury doesn't appear to be too serious as his return is listed as day-to-day.
In thirty-six games, Stoner has tallied three assists and he is second on the Wild with thirty-five penalty minutes behind forward Zenon Konopka. Stoner is a -1 on the season and he averages over thirteen minutes of ice time per game.
After playing more than eighteen minutes in Minnesota's last game against the New York Islanders, defenseman Jared Spurgeon was held out of practice. It is unclear at this point what sort of injury Spurgeon has suffered but it appears to be a minor one. Should he not be ready to play in tonight's game against the Blues, the Wild have recalled defenseman Jonathon Blum from Iowa who would play in Spurgeon's absence. However, at this point it appears that Spurgeon could be in the lineup tonight.
Clayton Stoner is on the ice for the first time since sustaining his injury. So is Jared Spurgeon (testing injury) and Konopka (scratched).

— Chad Graff (@ChadGraff) December 31, 2013
Spurgeon has been playing rather well for the Wild this season. He has scored one goal, has notched eleven assists, and is currently a plus three. Spurgeon has been used quite regularly by Head Coach Mike Yeo. The twenty-four year old averages more than twenty-one minutes per game where he's contributed on the power play and in short handed situations.
Part of the reason for his success this season is due to the chemistry he has found with fellow Wild defenseman Marco Scandella. Both Spurgeon and Scandella were drafted in the 2008 NHL Entry Draft. The Wild drafted Scandella with the second overall pick while Spurgeon was drafted sixth overall by the New York Islanders. My colleague, Tony Dean, wrote a great piece analyzing defenseman Marco Scandella and his pairing with Jared Spurgeon – check out his analysis by following the link below.
[See Also: Scandella Realizing his Potential Creating Calm for the Wild]

While preliminary indications suggest that Spurgeon may not miss time, an absence would offset a defensive pairing that has brought stability to the Wild blue line. Jonathon Blum will get an opportunity should Spurgeon be held out of tonight's game against St. Louis. In twenty-nine games with the Iowa Wild this season, Blum has three goals and thirteen assists.
Final Thoughts
Injuries are a fact of life in the NHL. They usually come at very inopportune times but they are a big part of the game. The ability to battle through this adversity and still be successful is a hallmark of an elite team. Will the Wild be able to overcome these most recent injury hurdles or will they contribute to the nose dive that the Wild have taken in their recent games?
Yeo: "All good teams go through these things, but they react the right way and they get better because of it." #mnwild

— Michael Russo (@RussoHockey) December 30, 2013
Head Coach Mike Yeo will need to do everything in his power to restore winning and goal scoring in the state of hockey despite these injuries – his job depends on it. The Wild had a great start to the season but this has been negated by a lack of wins in recent weeks. The club desperately needs wins and this is a tall order with some key members of the club on the mend. However, it will need to happen or else some winds of change may sweep through St. Paul should the Wild fail to qualify for the playoffs this season.
Check out our partners at TiqIQ for the best deals on Minnesota Wild tickets for all 2013-14 games.