Norway may not be a veritable hockey superpower at the moment but, despite that, they are still a very proud nation.  Players in that country are improving every year and they are finding themselves on the upswing in all levels, both professional and junior.  There is obvious camaraderie among several players, not just because many of them are consanguinely related but because of the love of the game.  These bonds are hard to break, even when a player graduates to a higher and better league in another country, and they are fortified even more when a player needs a boost of confidence.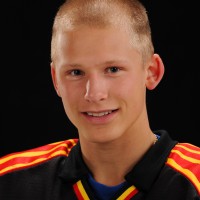 I learned this firsthand this year when I heard about the sudden retirement of Kristian Nervik Nilsen.  When Kristian announced his retirement in February, it seemed like a shockwave went through Norwegian junior hockey.  Here was a veritably healthy 16-year-old, considered one of the best 1995-born players in Norway, who had to stop playing due to a genetic heart condition, one that many of his friends did not even know existed.  Kristian accepted his diagnosis with class and professionalism, traits that belied his years.  Due to this, and since Kristian is such a dear friend of mine, I feel obliged to tell his story.
*
To begin, one must go back even before Kristian was born.  His father, Odd Nilsen, played in the late 1980s and the early 1990s with Trondheim IK, winning two championships with his twin brother Roald.  After both brothers retired, they found themselves becoming husbands and fathers, each having sons who would follow their dads' footsteps in hockey.  On April 8, 1995, Odd and his wife Lise (née Nervik) welcomed their son Kristian; he was their second child as daughter Stine, who is currently a figure skater, was born on July 27, 1992.  (Roald's son Niklas Unger Nilsen — who currently plays for Rosenborg in the Get Ligaen — was born on April 7, 1992.)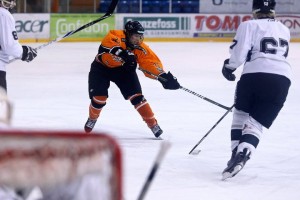 At the age of four, Kristian began skating and playing hockey.  He joined his first team at the age of seven.  His hometown of Heggedal, Norway, is quite small so he had to travel to Oslo to play.  Kristian thrived at an early age and, in time, he was becoming one of the best young players in the Asker municipality.   He knew what lied ahead of him as a teenager, something that he looked forward to, as well as the possibility of advancing far enough to make it to the big leagues.  Kristian found himself playing with and against players older than himself and, despite the age gap, he held his own.  His talents definitely got him noticed and, by the time Kristian reached adolescence, he was on his way to junior hockey stardom.
*
1995-born players in Norway have one of the deepest talent pools of any country with that birth year.  While he played, Kristian was considered one of the best forwards, joining the likes of Markus Søberg, Sander Lunde Boroczky, Daniel Karlsen Stensrud and Jens Henrik Tønjum; other players born in 1995 with significant renown include defencemen Tobias Gabrielsen, Andreas Klavestad, Mattias Nørstebø and Frederic Viggen, and goalies such as Daniel Jørgensen, Theodor Hestnes, Dennis Valentin Tschudi and Andreas Strudahl.  Kristian recognized that, due to this depth, he had to stand out and show that he was one of the best players in Norwegian junior hockey.
Did he ever.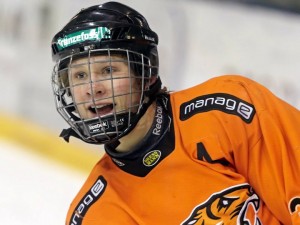 By 2009, Kristian, by this time only 14, was playing for the under-17 team of Frisk Asker, a new junior affiliate of one of the top teams in the Get Ligaen.  He joined the team in only its second year of existence and he had an incredible season despite being the youngest player on the roster.  The talented right winger scored 27 points (18 goals, nine assists) in only 28 games during the regular season; he followed that up with seven points (five goals, two assists) in seven games in the playoffs.  He helped them win the Norwegian under-17 league's silver medal, losing gold to Manglerud Star Ishockey's under-17 squad.
Despite his youth, Kristian also found himself to also be one of the biggest players on his team.  At 6'1″ and 168 pounds, he was one of the tallest forwards on the team.  He was not the tallest player of them all, though; that distinction belonged to defenceman Elias Andreassen Thøgersen who, then only 16, was already 6'9″.  His size made him hard to contain since most of his opponents were still in the growing process.
In 2010-11, Kristian returned to the Frisk Asker U17s.  Despite yet again being one of the youngest players on the team, he continued to be one of their most offensively gifted.  In only 29 games with the under-17s, Kristian scored an incredible 87 points (37 goals, 50 assists) to lead the team in scoring.  That year, they won the silver medal once again; just like in 2010, they lost the gold to Manglerud U17.
The amazing totals Kristian accumulated during the 2010-11 regular season gave him 114 career points at the under-17 level, the second most in the team's history, trailing only Herman Sagfossen who scored 119 points.  His 55 career goals also trailed Sagfossen, who had tallied 65 goals.  Kristian, however, did gain a statistical record of his own; his 59 assists are a team record.
2010-11 was a busy year for Kristian.  He appeared in six playoff games for the U17s, recording 11 points (five goals, six assists).  In addition, before even turning 16, Kristian was even given the opportunity to play for Frisk Asker's under-19 team.  He played well for them, too.  He scored 19 points (11 goals, eight assists) in only 18 games and he even played in one playoff game for them.  On May 20, 2011, only 42 days after his 16th birthday, Kristian signed with the J18 team of Brynäs IF Gävle, the same organization that has developed players such as Nicklas Bäckström, Jakob Silfverberg and Ludvig Rensfeldt.  (Brynäs actually won the Elitserien championship this past season.)  Before Kristian left for Sweden, he traveled to Minnesota with the Norwegian under-18 team to play at the 2011 Bauer National Invitational Tournament, an event held at the Xcel Energy Center which also has players from several high schools from Minnesota, Massachusetts and other states.
*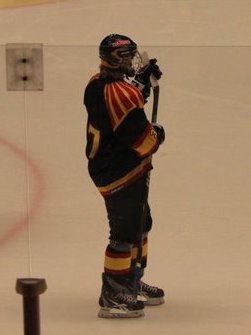 In 2011, Kristian finally moved to Sweden to play for Brynäs in both the J18 Allsvenskan and the J18 Elitserien.  He was not the only Norwegian player to make the transfer; defenceman Mattias Nørstebø also arrived, joining the team after playing for the U17 and U19 teams of Rosenborg the year before. In ten games with the J18 Allsvenskan team, he scored 14 points (seven goals, seven assists).  It was his tenure with the J18 Elit squad, though, where Kristian really shone.  He appeared in 20 games and scored 31 points (19 goals, 12 assists). He finished second only to Adam Brodecki in team scoring; Brodecki had 37 points (18 goals, 19 assists) in 22 games.  Kristian was even given the opportunity to play in one game for Brynäs' J20 SuperElit team; he did not record any points but the experience was unmatched.  Brynäs also made the J18 Allsvenskan playoffs but, before their playoffs were about to start, fate had other plans.
That brings us back to where this story began.  In February, Kristian went to see a doctor for a checkup.  He underwent an electrocardiogram and the results were not what he had anticipated. Kristian was diagnosed with hypertrophic cardiomyopathy, a genetic heart condition that affects one in 500-1,000 people.  In fact, a year before, his father Odd went to a doctor after suffering significant chest pains as well as incredible fatigue.  Mr. Nilsen was also diagnosed with the disorder, which causes the heart muscle to rapidly expand until it bursts.  Upon consultation with a doctor in Gävle, as well as in Oslo, it was determined that Kristian could not play again for risk that he would aggravate the rapid expansion of the heart muscle.
Kristian's hockey playing career was over; he was only 16 years old.
Remarkably, Kristian is not the only hockey player to be afflicted with hypertrophic cardiomyopathy.  That being said, though, two of the three most well-known cases have ended in tragedy.  The condition has been attributed to the death of former NHL player Sergei Zholtok on November 3, 2004, and the death of Windsor Spitfires captain and Calgary Flames prospect Mickey Renaud on February 18, 2008.  Happily, the third well-known case has not ended in such a way.  David Carle, the brother of Philadelphia Flyers defenceman Matt Carle, was diagnosed with the condition during the 2008 NHL Entry Draft and was immediately forced into retirement; despite the setback, he was chosen 203rd overall in that draft by the Tampa Bay Lightning, his scholarship at the University of Denver continued to be honoured, and he was even named an assistant coach on the Pioneers.  Recognizing Kristian's dedication to the Brynäs program, he was named an assistant coach with their under-16 team, joining Björn Danielsson as an assistant to head coach Niklas Gällstedt.  The team won the U16 SM gold medal for their new assistant coach.  Kristian is expected to return to the position again in 2012-13.
*
In my opinion, Kristian can be viewed as an inspiration.  He has taken a diagnosis which could have made him crawl into a corner and cry, and he has turned it into a chance to pay it forward, imparting his wisdom onto future generations of hockey players, even ones not that much younger than he.  The news of his retirement, like I said, shocked many in Norway, especially since most players are such good friends of his.  I remember a Facebook conversation I had with one of our mutual friends, another 1995-born forward named Steffen Ratejczak, who actually played three games with Rosenborg's Get Ligaen team with Kristian's cousin Niklas. We talked about how this was a tragedy, how it was not fair that a young man so full of potential and kindness had to be given such a fate.  I assured Steffen that Kristian's retirement is actually for the better; it is, instead, saving his life.  It was a better conversation than what we could have been talking about.
We could have been talking about our late friend.