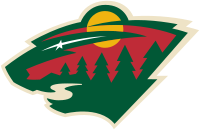 With NHL preseason underway, a new AHL season is just around the corner. But this new season brings a big change. Due to a deal gone sour, the forty year old Houston Aeros team is packing their bags and moving to Des Moines, changing their name to the Iowa Wild. And although everyone is excited for the home-opener on October 12th, some of us are feeling just a bit of awkwardness in the air.
Welcoming a new team to the league can be a tad tricky, but welcoming a team for the third time might just be a bit more difficult. Looking back on Des Moines's four year AHL history, it hasn't been a story of great success. Starting in 2005 Iowa's first team, the Iowa Stars, was an affiliate of the NHL Dallas Stars for just three seasons before Dallas found a new affiliation with the Texas Stars. After Iowa switched affiliates to the NHL Anaheim Ducks, the team, now renamed to the Iowa Chops, only lasted one more year before the franchise was suspended after breaking AHL rules when the team was pledged as collateral. Not exactly ending on a high note, Iowa's time in the AHL was cut short in 2009. That is, until now at least. As if losing two teams within four years wasn't bad enough, the new team Iowa is gaining is off the loss of another team. Ironic…
The transition from Houston to Des Moines hasn't gone over easy, and for some, not at all. Compared to the NHL, the AHL tends to see many more players and coaches come and go with each new season. That being said, saying goodbye to your former assistant captain, captain, assistant coach, and head coach in one offseason before a big move is a bit too coincidental. And as if Houston fans flying to Des Moines to watch their former team just to see that half of the team they knew is gone isn't bad enough, the new head coach is another story in itself. Kurt Kleinendorst is the man taking the head coach position, which is great considering his successful coaching history in the AHL, one that lead to a Calder Cup victory back in 2011. But wait…that would also be the year that the Aeros (now the Wild) also made it to the Calder Cup finals…and were the losing team. Well, this is really awkward now. Imagine the conversations between player and coach.
"Coach, I don't think this play will work."
"Oh, it worked just fine when I won the Cup against you."
All in good fun, Kleinendorst is a good coach (obviously) and seems a good fit for the uprooted team. And as for the uprooting, well business is business and Iowa deserves another shot at the AHL. Things may be awkward at Wells Fargo Arena as Aeros fans sit next to Wild fans watching the coach they lost to take the helm, but eventually we'll all adjust. Fans can even make light of the awkwardness with chit-chat over business owners that caused them to lose their team…Just as long as we avoid talking about the Photoshop jersey situation.
With my love of hockey born in the AHL, I aim to cover my former team the Houston Aeros, now the Iowa Wild, in their first season since the move. My goal is to help gain AHL teams the attention they deserve. Other hockey writings can be found at my blog, bombshellhockey.blogspot.com