On Saturday morning, the Washington Capitals announced they will play in their second NHL Winter Classic, which left every hockey fan not wearing a Caps #8 jersey asking… "Why Washington?"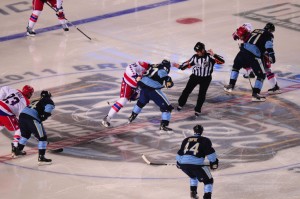 Why Somewhere Besides Washington Should Be Hosting The Winter Classic
For Starter's the Capitals – while not bottom dwellers – are a team that hasn't made it out of the 2nd round of the playoffs since 1998. Not exactly up to snuff with the other teams that have played in two Winter Classic's (Penguins, Flyers, and soon to be Red Wings).
The Capitals also lack some of the heated and classic rivalries that fans want to see in the Winter Classic. Their rivalry with the Sidney Crosby and the Penguins is the only one that appears big, and that's already been done (Heaven forbid they play the Penguins again).
Sure Washington D.C. has one of the leagues most dynamic and marketable players in Alex Ovechkin, and granted an outdoor game in America's Capital on the 1st of the new year seems pretty sweet, but aren't there a few teams and cities more deserving of a Winter Classic? There are at least three that come to mind.
Criteria: Team has never hosted a Winter Classic. Team has an exciting rival to host. Location has a venue capable of supporting an outdoor game. Venue is far enough North to host an outdoor game. Host city is in the United States (For best marketing).

MetLife Stadium
Host: New Jersey Devils
Location: East Rutherford, New Jersey
Sport: Football
Tenants: New York Giants & New York Jets
Capacity: 82,566
Why: Despite the recent departures of of Kovalchuk and Parise, the Devils are still a team with a competitive roster. They may have missed the playoffs during last years shortened season, but they also made it to the Stanley Cup Finals in 2012, and are currently a team reloaded. New Jersey is also a storied franchise with the type of competitive reputation deserving of a Winter Classic. A New Years Day rivalry match-up against a team like the New York Rangers would be a treat for all hockey fans.
Yankee Stadium
Host: New York Rangers
Location: South Bronx, New York City, New York
Sport: Baseball
Tenants: New York Yankees
Capacity: 50,291
Why: What's not to love about an outdoor hockey game in the middle of the Big Apple? The event would be a marketing/PR dream for the NHL. The Rangers may have already played in one Winter Classic, but their status as a competitive original six team also makes them very deserving of playing in another at home in New York City. A match-up against any one of the other five original six teams, or against a rival like the Devils, or even the Islanders, would certainly put the classic in Winter Classic. Currently, their is speculation that the Rangers could be the Capitals opponents in Washington in 2015.
Target Field
Host: Minnesota Wild
Location: Minneapolis, Minnesota
Sport: Baseball
Tenants: Minnesota Twins & Minnesota Golden Gophers Baseball
Capacity: 39,02
Why: The question shouldn't be why Minnesota deserves a Winter Classic, but why hasn't there been a Winter Classic in the state of hockey already? For an event that's been held exclusivley in the United States – for obvious marketing reasons – it's blasphemy that the Minnesota Wild have yet to see a Winter Classic. With the additions of Parise, Suter, and Pominville, the Wild have become a very competitive team, and being located in America's largest hotbed for hockey makes them perhaps the most deserving of a Winter Classic in 2015. A match-up against the Boston Bruins would be an interesting Winter Classic, reminiscent of old college hockey rivalries between the two areas of the country.
For better or worse, the Washington Capitals will host the 2015 Winter Classic in D.C., with the venue still to be decided upon. In their first Winter Classic the Capitals traveled to Heinz Field in Pittsburgh, Pennsylvania, where they defeated the hosting Penguins 3-1. Their 2015 opponent has yet to be decided.
Here's to hoping the Capitals, or their opponents, somehow acquire Ilya Bryzgalov before the 2014-15 season and before HBO's 24/7 starts.
Comment below if there's another team or location that should've made the list but didn't.