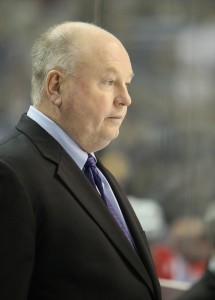 By now, everyone knows the story. Ducks mired in a horrible losing streak, finally win a game against Montreal, and fire head coach Randy Carlyle immediately after the game. Yes, that same night. Enter Bruce Boudreau. The Washington Capitals had just given Boudreau his walking papers on Tuesday, by Thursday he is in southern California as the new coach of the Ducks.
Anaheim GM Bob Murray proclaimed "Bruce is a proven winner with a great track record, and we are optimistic we can turn this season around under his leadership".
Uh, okay. Let me start by saying that yes, Carlyle needed to go.
My question is whether or not Boudreau is really the answer. Let's take a closer look at this "Proven winner".
The 3 most recent seasons as head coach of the Washington Capitals :
2008-09, in Bruce's first full season behind the bench, Caps win division but lose to Pittsburgh in 2nd round of playoffs. That's okay, because Caps were a young team, and nobody would beat the Cup winning Pens that year.
2009-10, Caps again win the division, but also lead the league in scoring, with a whopping 318 goals, while allowing 233. That's a goal scoring differential of + 85. Result: Presidents' trophy, and a heart-breaking first round playoff exit courtesy of the Montreal Canadiens.
2010-11, Vowing to play better defensively, the Caps again win the division, but only score 224 goals, while allowing only 197. That's a goal differential of + 27. Result, bounced in 2nd round of playoffs, an embarassing 4-0 sweep by Martin St Louis, Vinny Lecavalier and the Tampa Bay Lightning.
Prior to being bounced from last year's playoffs, Boudreu was roundly praised in many media outlets, for the team's commitment to playing a defensive style, despite a roster filled with gifted offensive players, lead by Alex Ovechkin.
I was always a bit puzzled by what actually was the engine of the Caps' hype machine.
By the numbers, yes they did allow 36 fewer goals in 2011 than in 2010, but to do that, they scored 94 fewer themselves. Also, they were only a + 27 goal differential on the season, as opposed to a + 85 differential the year before. They also had fewer wins (down from 54, to 48) on the season.
When one takes a good hard look at all the numbers, at the end of the day, all Boudreau succeeded in doing, was creating a much less entertaining version of the same team.
There is no equation in which the Caps were truly a better team last year. They had fewer wins than the previous year, while sacrificing more than 20% of their offense. Last but not least, they again failed miserably in the playoffs.
Yes they did lose in the 2nd round instead of the first, but truth be told, had the New York Rangers shown even an ounce of courage, the Caps would have gone out in Round one again.
The real question for the Anaheim Ducks is, "Which Bruce Boudreau did they hire" ?
The Bruce Boudreau who oversaw a wide-open offense in 2009-10, which provided lots of thrills, followed by playoff dissapointment, or last year's version, which forced his offensively gifted team into a boring,restrictive style of play, and yet still fizzled in the playoffs ?
Bob Murray did his due diligence in selling his new coach to the masses, but the Ducks' fans should not be placing expectations too high.
A run to the Cup final is unlikely, based on Boudreau's unrevised track record.
It is really just a matter of how entertaining the team will be on a nightly basis for the rest of the season.
If it is the 2009-10 Boudreau, then win, lose or draw, the Ducks should be quite entertaining.
If it is last season's Boudreau, Ducks' fans may need to pound a few Red Bulls to get themselves through the games.
Bruce seems like a good guy, and his ascent to the NHL coaching ranks is a great story, but in my book, "Proven winners" are made in the postseason, and Boudreau simply has yet to do it.
Coaches do evolve, and perhaps Mr. Boudreau has not yet plateaued.
Maybe this change is the answer for both the new coach, and his new team.
Only time will tell.
The Hockey Writers is:
1) a top tier emerging media hockey resource
2) a collective of some of the best hockey writers on the Internet
3) a radio show
4) one of the best NHL Prospects resources on the net
4) a source for an in-depth look at the NHL
5) your first destination for 'meatier' hockey information