Mired in one of their worst slumps of the season, and with injuries piling up, the end of Boston College's season – and thus, Colin White's collegiate career – couldn't have come at a better time for the Ottawa Senators. Losers of four straight and eight of their last 10, the Sens have stumbled their way to the second wild card spot and need a win in the worst way.
Enter White, BC's second- and third-leading scorer in 2015-16 and 2016-17 respectively and a standout at last year's world juniors. Although there was originally some reluctance on the part of Senators brass to sign White to his entry-level deal and risk burning the first year of the contract, they eventually relented and brought him up.
Senators Slumping Scorers
The attributes of White's game are plentiful and obvious, and the Sens are hoping they'll make an immediate impact, too. During these treacherous past few weeks the Sens have struggled to score even more so than usual – they were already tied for 19th in league scoring as of March 14 – registering more than two goals just twice in their last 10 games.
Colin White scored his first pro goal in a 4-2 #BSens win 🚨

1G, 1A, 2 PIM and 3 shots in his first 2GP. pic.twitter.com/nlHgQq2PHu

— Sens Prospects (@SensProspects) April 1, 2017
Thanks to their recent struggles the Sens have fallen to 23rd in league offence, but fortunately scoring is something White has made his name off of early in his amateur career. In two seasons with the Eagles, he scored a combined 35 goals and put up 76 points in 72 games, to go along with 10 goals and 15 points in 14 games at the last two World Junior Championships.
With what was once a near-certain playoff berth now in question, the Sens are no doubt hoping White's presence can help spark the team in his debut against the Detroit Red Wings. But it would be unfair to expect he alone can turn things around for them, with only three professional games of experience with the Binghamton Senators for him to draw upon.
Granted, he did notch his first professional goal and also picked up a couple of assists in his brief stint in the minors, but as we all know the NHL and AHL are two very different leagues. For his part, head coach Guy Boucher is doing his best to help ease the transition, putting White on the fourth line and making a public plea for the 20-year-old to take his first game in stride.
ICYMI: Colin White makes his #Sens debut and Craig Anderson gets the start in goal in Detroit.

Here's a look at the projected line-up… pic.twitter.com/JOmtg1eb7Z

— Ottawa Senators (@Senators) April 3, 2017
Patience Is a Virtue
Given the Senators' current predicament – they're just three points up on the Tampa Bay Lightning with five games remaining (and a game in hand) – the timing of White's recall is more than a bit odd. Despite his coach's attempt to downplay the situation, it will be tough for White to relax with the threat of the Sens falling out of the playoffs looming ever larger.
That fact alone could put an abundance of undue stress on White who, as a developing player, would benefit more from a mid-December game than the baptism-by-fire of early April. The last thing the Sens need is another Curtis Lazar – a player with great potential who was inserted into the lineup too early in his career and paid the price for it.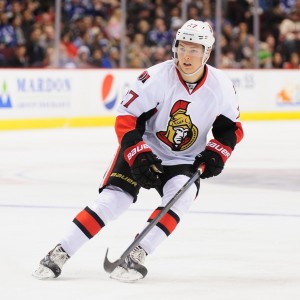 The smarter move would have been to call up one of Phil Varone, Casey Bailey or Mike Blunden (each of whom has made an appearance in Ottawa in 2016-17) from Bingo. Though none packs the kind of offensive punch offered by Zack Smith, who was recently ruled out until the postseason, each has plenty more experience than does White and would be far less intimidated by the situation.
(Though it likely wouldn't have played much of a role in their decision making, the Jimmy Vesey saga of not too long ago could have entered the minds of Pierre Dorion et al.)
Depleted D-Corps
More concerning for the Sens than their already concerningly anemic offence is the fact they are missing their top three defencemen – Erik Karlsson, Marc Methot and Cody Ceci. They've looked out of sorts without their captain in the lineup, especially so on the power play, and could be in trouble with a projected first pairing of Fredrik Claesson and Chris Wideman tonight.
The other two pairings don't look too intimidating either, with Dion Phaneuf, Mark Borowiecki, Jyrki Jokipakka and the recently recalled Ben Harpur rounding out Ottawa's defensive unit. The Senators also reportedly tried recalling top prospect Thomas Chabot from Saint John but were unsuccessful due to the fact his team is still participating in the QMJHL playoffs.
Sens prospects – CHL playoff stats

Thomas Chabot – 3G, 7A
Logan Brown – 4A
Filip Chlapik 1G, 3A
Filip Ahl – 3A
Max Lajoie – 3A pic.twitter.com/cx8VbcCb37

— Sens Prospects (@SensProspects) April 1, 2017
With defence the hallmark of Guy Boucher's system, Ottawa's current lineup formation is incredibly concerning. The team's forwards have done a great job helping their teammates on the back end to limit the opposition's chances – the Sens are a top-10 defensive team in terms of goals against – but this challenge is much greater than any they have faced this season.
White's addition to the roster could end up working wonders – and for the team's sake, let's hope it does – but unless he can play Selke-like defence it won't be quite enough to help the ailing Senators.