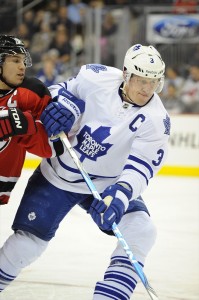 The Edmonton Oilers have speed. They have skill. They have guys who can move the puck. What they don't have is size and stability, especially on the back-end. They don't have that minute-munching veteran defenseman who can pump a few slap shots from the point as well as destroy the oppositions forwards with a big hit. Those guys aren't always easy to find. The Oilers can try to draft one, but their years of constant developing and -rebuilding is starting to wear thin on the fanbase. So there's always a possibility of a trade.
The Toronto Maple Leafs got things going by acquiring Los Angeles Kings back-up goalie Jonathan Bernier yesterday. They obviously aren't shy about letting the hockey world know they want to improve their roster. It seems like most of their players are available, and that includes much maligned captain, Dion Phaneuf.
Phaneuf was drafted in 2003 by the Calgary Flames, but didn't crack the NHL until 2005 when he was nominated for the Calder trophy. He looked like he was going to become a star in the league. He had a physical presence, skated well, and contributed with 20 goals in his rookie season. He scored 17 goals per year the next two seasons, and had a career high in points with 60 in 2007-08. He was nominated for the Norris trophy in 2008.
But his numbers started to dip, he suffered a few injuries and his defensive play left much to be desired. He appeared to fall out of favor in Calgary and was traded to Toronto in 2010. A few months later he was named team captain, but his offensive numbers never really recovered. He became somewhat of a whipping boy among Maple Leafs fans, especially after he was voted the most overrated player by his peers.
Phaneuf's career hasn't panned out the way everyone expected. The promise he showed with the Flames is long in the rear-view mirror. But being the team Captain, and assumed to be his team's best player hasn't helped his on-ice performance. Perhaps a change of scenery to place where he doesn't have to the focal point might resurrect the best of him. He's only 28. That's prime age for a defenseman.
Phaneuf only has a year left on his contract that pays him $6.5 million dollars. Enter Edmonton. The Oilers desperately need a big body and defense, and Dion is exactly that. He isn't afraid to throw his weight around. He's got a lot of experience, and he would not have to be the star for the Oilers. He might be able to find his game that made him so successful at the start of his career. You don't lose skill. You might lose a step, your body might wear down, but skill doesn't go away, especially for a guy who's still under 30 years old.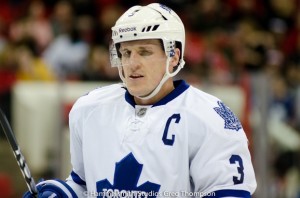 Phaneuf has been rumored to be a tough guy to get along with. But as long as he isn't named team captain, his veteran presence may end up being an asset for the young Oilers. Obviously, you don't want to give up too much for him, but with just a year left on his contract, he might be worth the risk. The most interesting factor in this situation? Phaneuf is an Edmonton boy. A little home cooking might be exactly what he needs.
The Oilers will be aggressive this off-season, that's for certain. Phaneuf fills a need. He wouldn't saddle them with a long-term contract. Might be worth exploring. After all you know what they say: you can always go home again.