When you think of  Winnipeg Jets defenseman Jacob Trouba the first word that should come to mind is potential. And after that, perhaps names of other NHL players such as Erik Karlsson, Duncan Keith and Drew Doughty.  Trouba has a dynamic skill set, he can play a style similar to Karlsson, Keith and Doughty. It doesn't mean he can be as good as those elite defenders in the immediate future, but he has the potential to down the road.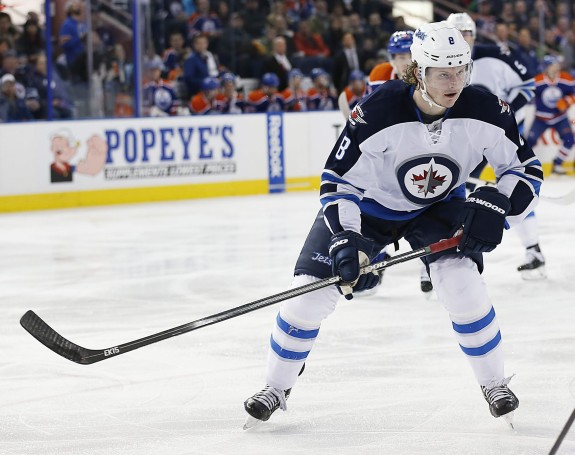 Trouba was drafted ninth overall by the Winnipeg Jets in the 2012 NHL draft. It's only been two years, but it's possible a couple of teams drafting ahead of the Jets are regretting not selecting the Michigan native.
Trouba stands 6'2″ and weighs 200 pounds. He's already capable of playing a strong shutdown game in a top-four role. He could quickly work his way onto the top pairing with smart positioning and quick outlet passes from the defensive zone, similar to Keith. He also has the ability to transition with or without the puck up ice with speed. With more experience he should develop a sound ability to read the play in all three zones, like Doughty. And finally, he's already honing his offensive abilities. With a great pass and a strong, accurate shot, he should soon be eating up minutes on the power play, like Karlsson.
That's something he addressed in a training camp interview with Paul Friesen of the Winnipeg Sun. When asked about his role with the team this season, Trouba had this to say.
"As big as I can get it. I want to play on the power play this year, for sure. That's something you've got to earn. Playing in big spots is something I want to do. That again is something that's earned, from your teammates and your coaches."
Trouba was limited to 65 games in his rookie campaign last season because of injuries. However, he still managed to put up an impressive 10 goals and 19 assists for 29 points, along with a plus-four rating and 121 shots. At age 20, Trouba seems to be in great shape at camp and is pushing himself hard in the preseason. Finding some consistency this season is also key, as Trouba noted in speaking with Friesen.
"That's something I really want to focus on, is showing up every night and being the best I can. Taking another step on this team to become more of a significant player and play in different spots… I want to have a big impact this year."
His impact, especially statistically will depend on who he plays with. Last year Zach Bogosian and Mark Stuart often worked the blue line alongside Trouba. Bogosian could, and probably should push to play on the top pairing, while Stuart should see most of his ice time on the third pairing. Trouba may fit in somewhere in the middle, perhaps alongside Grant Clitsome. The 29-year-old veteran isn't an all-star, but he gets the job done each shift. He plays a sound defensive game, is a strong skater and could help generate offensive with Trouba. At least more so than Stuart.
Can we expect more heroics from Trouba, as well as a solid two-way performance every game?
It's certainly possible.
He has his flaws, which can be worked out as he gains more experience. Most notable is his tendancy to get caught out of position up ice after attempting to deliver a huge hit. While he often succeeds in leveling the opponent, it can lead to odd man rushes.  But, overall, the positives far outweigh the negatives.
Look for Trouba to make small improvements in all areas and surpass the 35-point mark in 2014-15, his sophomore season.