1. Minnesota Gophers
The Gophers come into the year as the favorites by general consensus once again, and for good reason. In Hannah Brandt and Rachael Bona, they have two preseason Patty Kazmaier candidates and better than point-per-game players. With Maryanne Menefee, Dani Cameranesi, Meghan Lorence, and Kate Schipper, they'll boast a more than adept top-six. They've also got plenty of depth up front, and a defense that will move the puck well, led by Rachel Ramsey and Milica McMillen. The Gophers are also bringing in a good incoming class, with forwards Nina Rodgers and Kelly Pannek and defensemen  If Amanda Leveille doesn't rebound from a less-than-stellar performance at last year's Frozen Four, there could be some headaches in goal, but for the most part, Minnesota should be able to handle it.
2. Boston University Terriers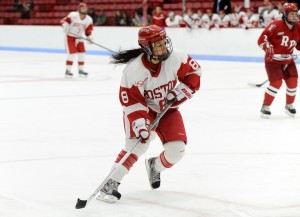 The Terriers have the best player in the world in Marie-Philip Poulin, as well as a productive surrounding group of forwards in Sarah Lefort, Maddie Elia, Samantha Sutherland, and Kayla Tutino. Incoming freshmen Victoria Bach and Rebecca Leslie should also be factors in some regard right away, and BU will have three competitive lines. Shannon Doyle returns to the blue line after missing the 2013-14 season with injury, and Lillian Ribeirinha-Braga and Sarah Steele will help stabilize the Terriers' defensive corps. They'll be starting over in goal with Kerrin Sperry now graduated, and will very likely look to freshman and U.S. Under-18 World Championships team alum Erin O'Neil to take over the starting role. Several BU players gained some valuable experience in more important roles last season, and that'll come in handy as the Terriers chase the national title.
3. Boston College Eagles
In terms of a dynamic offensive core, the Eagles are right up there with Boston University and Minnesota. Led by 2014 U.S. Olympian Alex Carpenter, BC's other weapons include Haley Skarupa, Andie Anastos, Emily Field, Dana Trivigno, and Kate Leary, so they should have one of the most productive offenses in the country. Emily Pfalzer and Lexi Bender will lead the way on defense, and though BC's offense isn't especially strong in all areas, they are making a couple of key additions there. In fact, the Eagles will have perhaps the best freshmen class in the country between forwards Tori Sullivan and Kenzie Kent, defensemen Megan Keller and Toni Ann Miano, and goaltender Katie Burt, all of whom played on the U.S. U18 team. Burt in particular could have the biggest impact with BC's crease suddenly empty with the graduation of Corinne Boyles and the transfer of Megan Miller.
4. Harvard Crimson
The Crimson lack a true all-star up front like the teams ahead of them, but they still should have a very sound offense with forwards like Lyndsey Fry, Miye D'Oench, Hillary Crowe, Samantha Reber, Mary Parker, Kalley Armstrong, and Dylanne Crugnale. They also have the country's best returning goaltender in Emerance Maschmeyer, and big things will be expected out of her this year after she fell off a bit towards the end of last season. Harvard is a little thin on the back-end, but the return of 2014 U.S. Olympian Michelle Picard should help matters there, while Sarah Edney and Marissa Gedman are also capable defensemen. The Crimson also have a solid trio of incoming forwards in Danielle Krzyszczyk, Karly Heffernan, and Lexie Laing.
Our new home #HH pic.twitter.com/7LokUAYrAr

— Harvard W Hockey (@HarvardWHockey) September 29, 2014
5. University of North Dakota
North Dakota boasts one of the country's strongest defensive corps heading into the year. Halli Krzyzaniak, Gracen Hirschy, and Tanja Eisenschmid are all top-pairing players, while Jordan Hampton, Sam LaShomb, and Tori Williams give them plenty of top-four options. Goaltending should also be a strength, with both Shelby Amsley-Benzie and Lexie Shaw capable of starting for the team. Up front, UND has a couple of go-to scorers in Josefine Jakobsen and Meghan Dufault, as well as a very solid surrounding group of forwards. They might not have a powerhouse offense, but they've got very competitive top-six and several key veteran forwards who can provide quality minutes in all situations.
6. Clarkson Golden Knights
The defending national champions are losing several key players, the two biggest of which are 2014 Patty Kazmaier Award winner Jamie Lee Rattray and goaltender Erica Howe, who had consistently been one of the nation's most dominant goaltenders over the course of her career. Incoming freshman Shea Tiley of the 2014 Canadian U18 World Championship team will try and solidify things in net, but they'll still have to replace a significant amount of scoring. The development of Genevieve Bannon, Shannon MacAulay, Cayley Mercer, and Olivia Howe should help matters there, while Erin Ambrose and Renata Fast will anchor what is still a pretty solid blue line. This will be a less-skilled line-up this year, but the Golden Knights have a few players who are poised to step into bigger roles, which would greatly help them transition this season.
Make sure you stop by Cheel Arena next Saturday as we get to celebrate one more time. #RaiseThatBanner #NattyChamps pic.twitter.com/D76w2Oiwsx

— Jamie Lee Rattray (@ratt26) September 29, 2014
7. Cornell Big Red
It's hard to rank Cornell this low when they have two star forwards like Patty Kazmaier finalist Jillian Saulnier and 2014 Canadian Olympic gold medalist Brianne Jenner, but offense isn't the concern for this Big Red Team. With Jenner and Saulnier, as well as Emily Fulton, Taylor Woods, and Hanna Bunton, they should ice a very productive top-six. But depth is a little bit of a concern, among both the forwards and defensemen. Cassandra Poudrier should be able to take full control of Cornell's defensive corps, but the team is lacking dynamic players behind her as well as blue-liners who are dominant defensively. Goaltending could also be an issue with Lauren Slebodnick graduated, though Cornell will hope to find an answer between returner Paula Voorheis and incoming freshman Amelia Boughn.
8. Wisconsin Badgers
It's just as hard to rank the Badgers this low, but they have a few questions that need answering heading into the season. They don't have four lines of firepower offense, but I would still expect their forwards to be a competitive group, led by Brittany Ammerman and incoming freshman Annie Pankowski. Seniors Blayre Turnbull and Karley Sylvester and sophomore Sarah Nurse should also provide reliable scoring and they should be able to count on three lines consistently. Their problems lie on the defensive end, though. Courtney Burke will lead the team on the back-end, but Wisconsin has some losses to make up for and is lacking defensemen who can be relied on in all three zones. They'll also have to adjust without Alex Rigsby in net, though Ann-Renée Desbiens had an impressive rookie year and should take control of the starting role.
A balanced attack and solid goaltending led the #Badgers to a 6-0 win over Lindenwood http://t.co/vyQkSK3tUa pic.twitter.com/XjsQCIJUiJ

— Wisconsin Hockey (@BadgerWHockey) September 28, 2014
9. Minnesota Duluth Bulldogs
The Bulldogs have a couple of proven top-line players up front in Jenna McParland and Ashleigh Brykaliuk, while Zoe Hickel, Meghan Huertas, Michela Cava, Michelle Lowenhielm, and Marie Lindh should provide a wealth of secondary scoring. It also appears that defenseman Lara Stalder will see time at forward this year. Even so, Minnesota Duluth rosters a very deep defense, led by Brigette Lacquette, whose two-way game is matched by few across the country. Sidney Morin, Tea Villila, and Demi Crossman will also help lead the defensive corps, while newcomers Jessica Healey  and Linnea Hedin should make a positive impact right away. They'll need a strong defense with some instability in the crease, as Kayla Black has yet to prove that she can consistently perform at a high level.
10. Northeastern Huskies
As a team that's continuously been in the hunt for the Hockey East title, it's difficult to call the Huskies a dark horse, but I think they are in the sense that their ceiling is much higher than where they're ranked. With Kendall Coyne, Paige Savage, and Hayley Scamurra, they shouldn't have any problems scoring, while additions Denisa Krizova, Shelby Herrington, and Taytum Clairmont should make an immediate impact up front. Colleen Murphy and Heather Mottau should make for an excellent top-pairing, while transfer Jordan Krause and freshman Ainsley MacMillan should also step into the top-four right away. They've also got very reliable goaltending in senior Chloe Desjardins. Northeastern is bringing in a lot of talent, but that talent is still fairly young; while that gives them a lot of room to grow, they'll still have to prove that they can perform against the country's top teams every night.
Freshman Taytum Clairmont has been named the Pro Ambitions Rookie of the Week in @hockey_east! #GoNU pic.twitter.com/JvtmpHP8Yi

— Northeastern Women's Hockey (@GoNUwhockey) September 29, 2014
Gabriella Fundaro also provides coverage of the women's game over at At Even Strength.