Our season preview ends here with asking the 5 questions that will help decide how the 2014-2015 season will go for the Columbus Blue Jackets.  In Part 1, we chatted with Rob Mixer.  In Part 2, we spoke to Alison Lukan.  If you missed either Q&A, click on their names to read.  This time, we had the chance to talk with Blue Jackets radio play by play announcer Bob McElligott.  We got to speak about a variety of topics.  In the midst of that conversation, we got to hit on a lot of the questions the Blue Jackets are facing.  Ultimately, the answers to these questions will go a long way in determining if Columbus can continue the success that was realized last season.  There is optimism, but that doesn't come without questions.
Ryan Johansen, The Aftermath
The 1st question that I believe has to be asked can be worded differently, depending on what ultimately happens with Ryan Johansen.  If he doesn't sign before the season, the question will be, "How will the Blue Jackets do without Ryan Johansen in the lineup?"  If he does sign (at this point, it appears to be a long shot), the question will be, "How ready is Ryan Johansen to start the season?"  Enough has been made of the current negotiations.  Our focus here is to ask about the aftermath of these negotiations, since there will be an end to this at some point.  The Blue Jackets are preparing to start the season without him.  In that sense, they will not be unprepared.  But, if Johansen is not signed, the lineup will look much different.  The lineup will be one in which a 30 goal scorer will be missing.  Those aren't the easiest thing in the world to replace, even if the organization has good, young prospects in waiting.  Current players will be shuffled around in the lineup to make up for his loss.  Younger players at training camp now have a better shot of making the team as well.  How the Jackets play without Johansen will go a long way in determining how the season will go.  But that's not all.  Assuming a contract is signed prior to 12/1, Johansen will be playing for the Blue Jackets this season.  You have to wonder, what is going through his mind right now?  Will he be able to put this summer behind him and focus on hockey?  That will be the story worth monitoring early once the games finally begin.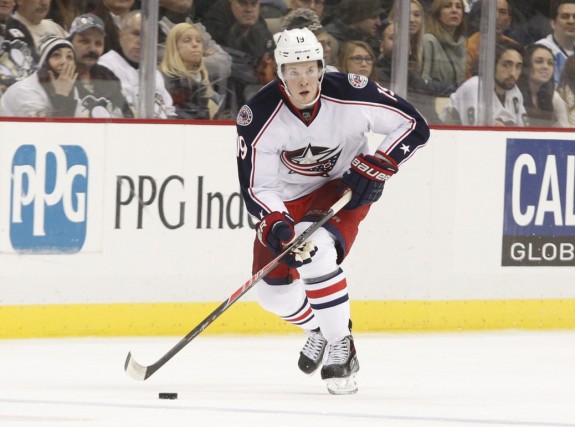 Nathan Horton's Health
Throughout the course of the summer, reports were out that Nathan Horton was getting close to 100% after dealing with a shoulder injury for the majority of last season.  Fans and the media alike viewed this as very positive news.  But then, almost out of nowhere, news broke that Horton is dealing with a back injury.  This injury has forced him to miss training camp to this point.  The question now has to be asked, "Which Nathan Horton are we going to see this season?"  The Blue Jackets cannot afford to be without his services for any great length of time.  I asked Bob McElligott about training camp story lines to watch.  One of the things he said that is turning out to be very interesting is the attitude of the young prospects if they don't make the team from camp.  "They have to have a positive attitude no matter where they are, they gotta play hard and be ready.  You never know when an opportunity will arise."  Given this injury to Horton, someone will have the chance to step up in his place.  The production that comes from this position, whether it is Horton or someone else, will also help determine how successful the Blue Jackets will be this season.
RT @FamousLoserKids: @Aportzline do u see horton in lineup at all this year? / Can't possibly guess how his back will respond to treatment.

— Aaron Portzline (@Aportzline) September 26, 2014
Jack Johnson's Consistency
We finally saw it in the playoffs, and it was a long time coming.  Jack Johnson played like a man possessed in the Penguins' series.  He was aggressive.  He was motivated.  He was a force to be reckoned with all series long.  This begs the question, "What can we expect from Jack Johnson this year, and has he turned the corner?"  I asked this exact question to Bob.  "Jack has turned the corner.  I'm not sure if it was Team USA, but he definitely played with a chip on his shoulder.  He played with an "I'm gonna prove you wrong" attitude.  That said, in seeing him this summer, this is the most relaxed that I have ever seen him.  He was very edgy before, but now, he feels comfortable with his situation.  Coach Todd Richards is setting the right environment.  Players know what to expect now."  This is so true.  If a player doesn't know what to expect, no matter how good he is, their game may look out of sorts.  As time wore on, Johnson's play improved.  He got more acclimated with the system.  I think we are on the verge of finally seeing the potential Jack Johnson has always had.  Can he be consistent though?  That is the question.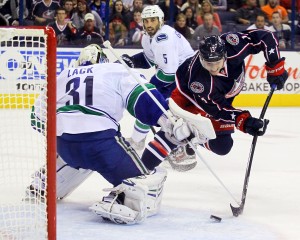 The Pressure Is On
The next thing we discussed with Bob was which player had the most to prove this season.  I mentioned 3 upcoming FA's in Nick Foligno, Cam Atkinson, and Matt Calvert.  "To me, it's gotta be Cam Atkinson.  He has the most to prove.  He has previously been a healthy scratch.  He has plenty of potential.  He can play both sides, offensively and defensively.  He doesn't take any shifts off.  He is willing to pay the price.  Kind of reminds me of Derek Dorsett.  But Cam is an upgrade from Dorsett, because he can score."  Cam Atkinson also has extra pressure on him this season, because the young guns are pushing hard to get a spot on the team.  In my mind, Cam is in a weird spot.  He is a restricted free agent after this season.  I can actually see a scenario in which he could be on the move, almost no matter what this season brings.  If he under performs, the Blue Jackets may not extend another contract.  If he exceeds expectations, he could be due a nice raise, which could price him out of Columbus.  He will definitely be worth monitoring this season.
Jackets Quest For The Stanley Cup
Many fans in Columbus are super excited for this season.  The bar has certainly been raised.  But, the question remains, "Are the Blue Jackets a serious contender, now?"  I asked Bob about how other fans and those outside of Columbus view the Blue Jackets now.  "Certainly different now than just 3 years ago.  There is a level of respect now compared to the time the Jackets finished 30th in the league."  Seems that many at least believe that the Jackets have progressed to a point in which they are a contender.  In fact, Bob shared a funny family story in regards to the Blue Jackets/Penguins playoff series.  Pens fans thought the series would be a pushover.  It was anything but.    As a result, a family member mentioned to him that the Jackets series was the beginning of the end for Dan Bylsma in Pittsburgh.  That 1st round showing sure did open the eyes of many around the league.  That said, according to Bob, "You don't make the playoffs by just showing up.  The Rangers still have Lundqvist.  The Flyers finished ahead of the Blue Jackets last season.  Tampa Bay looks good on paper.  I could see them finishing 2nd in the division.  But, the thing that matters is just getting in the top 8, then see what happens."
We appreciate radio voice of the Blue Jackets Bob McElligott sharing his thoughts with us.  You can follow his coverage of the team on Twitter @bobbymacsports.