Its been no secret that the Colorado Avalanche and Ryan O'Reilly have had their differences over the years. All of it has been well documented. From O'Reilly holding out for more money until a Calgary offer sheet was submitted, to holding out yet again until just minutes before an arbitration hearing. Things just haven't gone smoothly like they should have. It's been bizarre to say the least.
There's no doubting Ryan O'Reilly's abilities or dedication though. He is a very unique player. Always the first and last player on the ice at practice. Still striving to improve every day of his life. Who wouldn't want him on their team?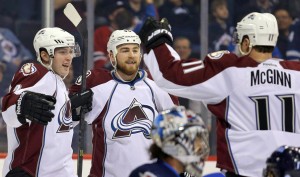 Nothing But A Rumor?
Adrian Dater, formerly of the Denver Post, tweeted this out the other day. Which leads to the question, is Ryan O'Reilly Being Shopped? Dater sure seems to think so. Though Adrian Dater no longer works for the Denver Post, that doesn't mean he has lost his connections. However, I cannot say how much stock to put into his opinions, so I'll let you, the reader, decide on that.
People might publicly deny it, but O'Reilly is definitely in play again on the market

— Adrian Dater (@adater) December 28, 2014
O'Reilly being offered around the league for a good D-man. Florida and Winnipeg. Pondering, Toronto and Montreal too — Adrian Dater (@adater) December 28, 2014
It was inevitable that the Ryan O'Reilly trade winds would start blowing sooner or later. Even if all this is just rubbish with no truth to it at all, come January, it was going to happen whether anyone likes it or not.
To Trade Or Not To Trade?
There can be a case made on both accounts. Colorado is desperate to find that defensive partner for Erik Johnson. On the other hand, Ryan O'Reilly is a part of a very talented and unique forward core.
Many would argue that Ryan is dispensable if it fixes the defense. The problem with that is he is NOT dispensable, even with the young talent around him, especially since the departure of Paul Stastny.
Ryan O'Reilly is now one of the only players in the top six that can play both sides of the ice at an elite level. He is also taking some shifts at center, his natural position, so Nathan MacKinnon can learn on the job. If Ryan O'Reilly were traded, I would bet that it would be a very costly mistake.
A Trade Colorado Would Regret
If Ryan O'Reilly is truly being shopped around the league, the Avalanche better come out of it with smiles on their faces. Meaning they would have to pull off the perfect hockey trade in order for them to not screw the team up. O'Reilly always seems to be in favor of staying in Colorado, but he also seemingly wants the big bucks. However, I don't see any reason why O'Reilly and the Avs can't come to a mutual agreement on a contract extension.
Ryan's career development so far has pretty much all been positive, constantly improving year after year. Ryan is one of the best two-way forwards in the league who has grown up on this team with these teammates. The forward core of Landeskog, MacKinnon, Duchene, and O'Reilly is very unique. All four of them bring something a little different to the team and all of them seem to love playing with each other.
As of late, with the new defensive system coach Roy implemented about a month ago, Colorado's problems haven't been on defense. They have improved dramatically since they scrapped the man to man coverage in the defensive zone. The problem now is the forwards are not playing up to their potential. If Colorado trades O'Reilly, not only would that make the current offensive troubles worse, they would just be filling a hole while creating another.
There are other ways to go about fixing the defense. Through free agency, some sort of trade involving a different player, or look to the prospect pool. Currently the Avalanche have some nice prospects on defense that could make the team next season. Chris Bigras, Duncan Siemens, Will Butcher amongst others, could all surprise Avs management and make the jump to the big boy team.
So I am calling for patience, the team is very young with some nice pieces coming through the system. No need to try and dangle one of your cornerstone players unless the Avs get an offer that not even Mike Milbury would turn down.
Sebastian Noble is currently in his third year with The Hockey Writers covering the Colorado Avalanche and Florida Panthers. Liverpool, England, and of course Colorado Avalanche & Florida Panthers supporter. You can follow him on Twitter @SebastianHNoble