Even with their third-straight loss on March 7 against the New Jersey Devils, the Buffalo Sabres have to be happy with their recent results in the Ron Rolston era.  Since Rolston took over behind the bench for the Feb. 21 game against the Toronto Maple Leafs, the Sabres have gone 3-3-0-2. While this is not spectacular, it does mean that the team has earned points in five of their last eight. They also had a nice little string of three straight wins. It has definitely been a better stretch, which prompts the question is this the start of better times in Sabreland?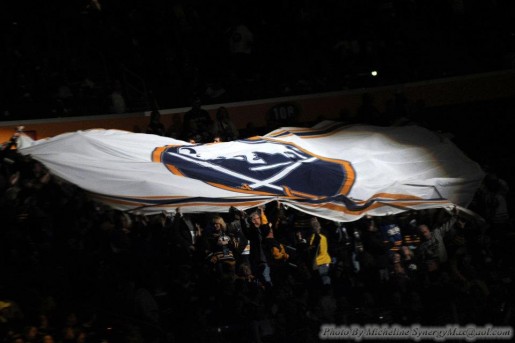 Focusing on the positive
The three-game win streak was definitely what the doctor ordered. Especially since they won a pair of those games on the road helping them improve to 5-7-2 away from the First Niagara Centre where they are 4-6-1. The other thing to consider is that even though they are playing just about .500 (depending how you want to classify the shootout/overtime loss points) they are getting points even in losing efforts. With all that said, the Sabres are still 14th in the Eastern Conference but are only five points back of the New York Rangers for the final spot, as of March 10.
When looking at NHL teams stats, another positive for the team is that in that stretch they have risen out of the basement in faceoff per cent. Buffalo is now up to 46.1 per cent, which ties them with Edmonton and puts them ahead of New Jersey. If they can continue to improve in the draw they should improve in the standings.
Buffalo also throws the 10th most shots on opposing goalies. Wayne Gretzky once said, "You miss one hundred per cent of the shots you don't take." The Sabres seem to have that philosophy in mind and if they continue to shoot they should see their goals for, ranked 19th with 62, improve. They need to see that number improve because they still allow, on average, 3.12 per game, ranked 27th.
Special teams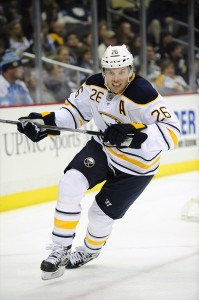 There is no doubt that the Sabres need to improve their special teams specifically their power play that ranks dead last in the league at 12.2 per cent. However, some positives to take away from their recent man advantages is that they have scored power-play goals in back-to-back games as Thomas Vanek netted one versus New Jersey on March 7 and TJ Brennan got one against Carolina. In both games the power play unit went 1-3 and if they can find away to maintain this, again they should work their way out of the basement.
As for their penalty kill they ranked 19th at 79.4 percent. However, another positive to take away is that the team is ranked second in the league in short-handed goals (4), proving that opponents need to stay vigilant on their power plays or the Sabres will make them pay. Three of those four shortys have come since the coaching change. Cody Hodgson got one against Carolina, Nathan Gerbe scored one against New York and Jason Pominville did it against New Jersey (March 2). Staying with the penalty kill, the Sabres need to work on staying out of the box since they have been short 102 times, tied for second most in the league. While it is nice to see them score while short, and a compliment to how Rolston has them playing a looser brand of hockey, they are getting too many opportunities to practice scoring those short-handed goals.
Up front
On forward, the top line has continued to produce. Hodgson has six points in the last eight games (three goals, three assists), Vanek has four points  (a goal and three assists), but did miss two games in that stretch and is still seventh in league scoring, and Pominville also has four (two goals, two assist) points in the last eight.
As much as the Sabres don't want to have Vanek out, missing him for a pair of games may have helped spur the secondary scoring. In the last eight games, Tyler Ennis has four points, Gerbe has three, including that short-handed goal, Mikhail Grigorenko has two and Drew Stafford for as much as he has struggled scored a goal against New York. While the stats are not mind-blowing by any stretch, it does show that the secondary guys are starting to come around and if they can reach their potential while the top line continues to produce, the Sabres could have one of the better offenses in the league.
The blue line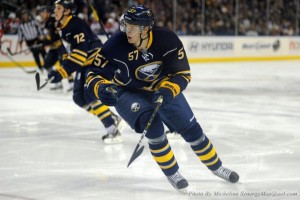 While production from the back end has not been what the organization was hoping for, the positive that jumps out from the defensemen is the fact that prominent players are plus players or at least have been recently. Christian Ehrhoff leads the way for all players at plus five on the season. Considering he also spends an average of 25:06 on the ice for a 14th place team, that stat is amazing. Tyler Myers continues to be a minus six, but is a plus one in the last eight. He scored the game winner against Tampa and that combined with his more consistent play under Rolston should have his confidence improving. Mike Weber is also a plus two in that stretch and has contributed a pair of points.
If the Sabres could just get Robyn Regehr to improve his plus/minus and get Jordan Leopold and Alex Sulzer back from injury more production and stability should come from the back end.
In net
Goaltending has not been the issue for this team, and during this most recent stretch, Ryan Miller has continued to be good. He has kept his save percentage above .900 in six of the eight games he appeared in and has had a respectable goals against average of 2.57 during that time.
Another positive had to be the effort that Jhonas Enroth gave the team in his start on March 7 against New Jersey before leaving the game due to cramps in his leg. Enroth had not started a game in over a month, yet stopped 27 of 29 shots and was named second star of the game.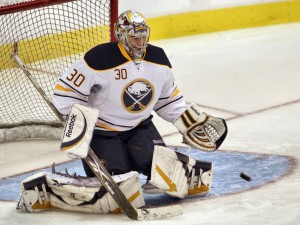 So while the Sabres continue to sit out of a playoff spot and underachieve this season, they can hang their hats on things that they are doing well. By building on these areas and continuing to work on the major areas that they struggle in, the team still has the chance to turn it around. The Sabres have 23 games on their schedule left heading into their tilt with Philadelphia (March 10), but they will have to continue to get points and use their strengths if they want to have a chance at the playoffs.