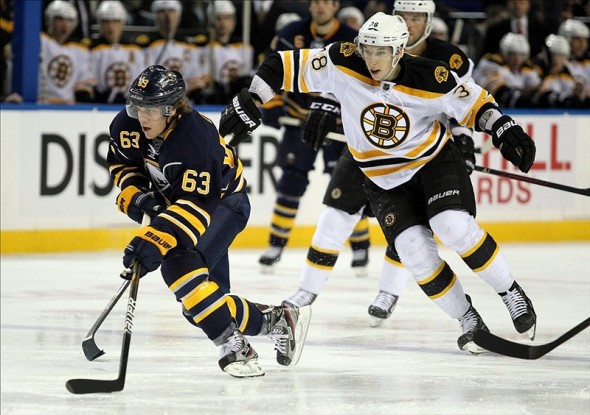 The Boston Bruins opening-season successes have come in spite of an absence of depth scoring – specifically on their once vaunted third line.
In a single offseason, what was a strength developed into a weakness. Rich Peverley's per-game production has declined by more than half. Chris Kelly has scored nearly fifty percent less frequently. Newcomer Chris Bourque only managed four points in eighteen matches.
While fans and analysts focused their disdain on one player – Bourque – the overall struggles of the Bruins third line have more than one culprit. Following a season which saw the B's other two primary third-liners produce at a top-six level – (along with Bourque) their 15 points in 59 games marked a significant step down.
Enter Jordan Caron, former first-rounder and an off-and-on denizen of Boston's roster for the past three seasons. Caron, whose production with the soaring Providence Bruins was decidedly un-inspiring (though marred by an upper-body injury), returned to Boston and paid immediate dividends.
Jumping into the NHL lineup for the first time in 2013, Caron meshed well with both Kelly and Peverley and helped the pair to just their second score in seven games in Boston's 3-0 victory over the Philadelphia Flyers.
Trading Bourque for Caron on the third line seems counter-intuitive at first glance (considering their disparate AHL résumés) but provides additional size and forechecking capabilities for the trio. Caron is the superior defensive player and net-front presence. His puck skills might be a step (or several) behind Bourque's, but Caron can grind-out opportunities and plays a game stylistically similar to his linemates.
Caron's return could lead to several interesting outcomes.
First-up, it opens the door to the possibility that the Bruins wouldn't make a play for any of the big-name forwards in the trade market. Caron (if he continues to provide a decent fit) is profoundly less expensive than the multitude of assets it would require to secure an Iginla or Alfredsson. It would allow them to focus entirely on depth-level acquisitions.
Caron is on the final year of his entry-level deal and will be a restricted free agent this offseason. The Bruins will likely find themselves up-against the diminished salary cap in 2013-14. A solid performance from the young forward might give the Bruins confidence to insert him into their bottom-six going forward and use the cap savings elsewhere.
However, if Caron rises to the occasion he provides the Bruins another chip (a NHL-ready young player) to play in trade talks. Combined with one of their top-flight prospects and a pick, he'd bring them very close to any of the exciting rentals on the market.
Indeed, many in the Boston Bruins community felt that his recall was as much about showcasing him for potential deals as finding a fit for the third line.
If Caron had entered into this season as a Calder-eligible prospect (he surpassed the games-played eligibility requirements), he would have started number-two on my big board of Boston Bruins prospects – behind Hamilton, but ahead of Spooner, Khokhlachev and all the rest.
He's not a high-upside player. Caron's potential upside likely rests somewhere between a low-end second-liner and a high-end third liner. His skating game is pro-average but as a no-nonsense north-south type, he fits the role as a hybrid two-way/power forward.
His performance and expectations took a hit this season in Providence. Injuries complicated matters and by Valentine's Day he had just eight points (three coming in the P-Bruins third game of the season) in thirty-five games.
But in the past three weeks he equaled those totals in ten games spread between both leagues.
Follow Bob Mand on Twitter at @HockeyMand