Kenny "KJ" Jonsson quickly established himself as a stalwart defenseman for the New York Islanders during his tenure with the team. The Swedish native was drafted 12th overall in the 1993 NHL Entry Draft by the Toronto Maple Leafs. Jonsson spent two seasons with the Maple Leafs before being traded to the New York Islanders in the middle of the 1995-96 season as part of the Wendel Clark trade. Little did Islanders fans know, he would become one of the most important pieces in franchise history. Jonsson spent over nine years with the organization and played in 597 career games. He was as reliable and steady of a defenseman as they come.
Related: Islanders Need Explosive Season From Barzal
---
Latest News & Highlights
---
In 1999, Jonsson was named the eighth captain in franchise history. He was a key part of the Swedish Olympic Men's team throughout his career as well, winning two gold medals in 1994 and 2006. He was a very quiet and humble defenseman who played consistently well throughout his career. When Jonsson joined the Islanders, they were a bad team and he sat through some dark years. During the 2001-02 season, the Islanders finally made the playoffs after a seven-year drought. Jonsson scored a memorable goal at the famous Nassau Veterans Memorial Coliseum to help them clinch their first playoff berth in a long time. There were many special moments for Jonsson throughout his career and, in Feb. 2012, he was inducted into the Islanders Hall of Fame, maintaining his place in the organization's legacy forever.
Model of Consistency
The big, 6-foot-4, Swedish defenseman was a smooth skater on the ice and had a ton of offensive upside. He played in all situations for the team, including the power play and penalty kill. He logged more minutes than any other Islander blueliner throughout his career. Famous hockey writer, Stan Fischler, took a quote from author Karl Samuelson of Hockey Digest Magazine who rated Jonsson, "One of the NHL's Ten Most Underrated Players of His Era." He compared him to Hall of Famer Borje Salming and earlier Islander Stefan Persson. "Kenny was a steady player with great mobility. He was relied upon by the Islanders as much as any of the other top defensemen in the league." Jonsson finished his Islander career with 57 goals, 232 points in 597 games. His best season on the Island was 1997-98 where he tallied 14 goals and 26 assists for 40 points. 
He played four times in the postseason and finished his career fourth all time among Islanders' defensemen for points before former Islander Nicky Leddy eventually passed him on that list. He was one of the most reliable defensemen in the organization's history. His teammates said Kenny was all business and so dependable on the ice.
Hockey historian, Andrew Podnieks, raved about Jonsson and his ability to play in all situations. "Jonsson was a top NHL defenseman. He logged more time than any other Islanders blueliner. His ability to play in all situations and at both ends of the ice made him so important to the team."
"Never before or since did a player have the season Kenny had," added Podnieks. "He became a member of one of the rarest groups of players in history when he played at all three international tournaments within a span of weeks, winning medals at each."
The best part about Jonsson was that even though he was so quiet and reserved, he truly loved being an Islander. "I really enjoyed my time on Long Island," Jonsson said. "The fans were great. And Mike Milbury treated me really well. He helped me become a better player." 
Jonsson unfortunately had his career shortened due to some injuries and the NHL lockout, but there is no doubt he left his mark in Islander's history forever. Islander's fans from the 1990-2000s era, like myself, will always remember him as one of the most underrated players in their franchise history.
Retired at a Young Age
Unfortunately for Islanders fans, Jonsson ended his NHL career at only 30 years old. The NHL lockout was going on, and he had just wrapped up his contract with the Islanders. He was staying in Sweden during the lockout and chose not to return to the United States or the NHL at that time. There is no doubt he definitely still had more in the tank to give, but he wanted to spend more time with his children.
Jonsson wound up signing a contract to play for his local team in Sweden, Rögle BK. He also suffered a few injuries during his NHL career that had an impact on his decision. The most famous one being during the 2002 Playoffs first-round series against the Toronto Maple Leafs where he took a cheap shot from Leafs forward Gary Roberts, ending the series for Jonsson and costing the Islanders. He was up against the boards retrieving the puck when Roberts came charging in and slammed Jonsson's head against the boards. He suffered a concussion and was out for the remainder of the series.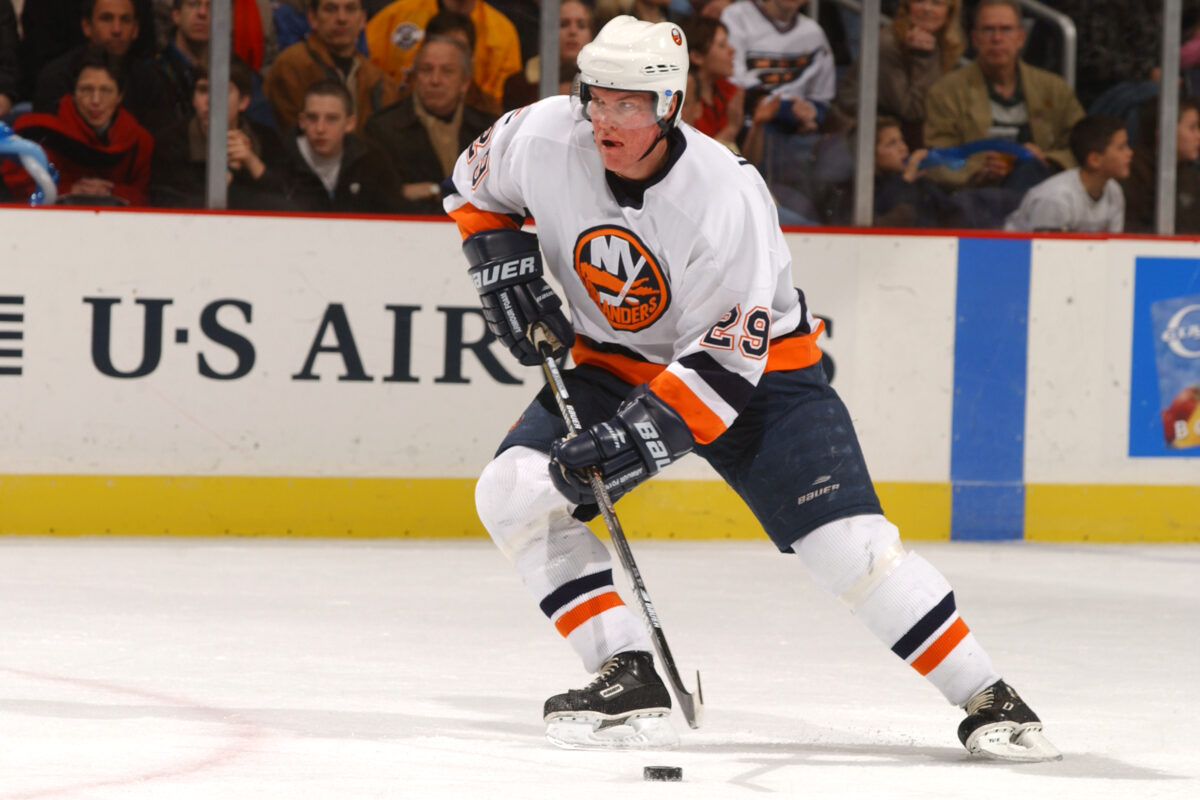 In 2006, the Swedish Olympic team won the gold medal and Jonsson was a big part of that team. As a matter of fact, he was named best defenseman of the tournament despite being out of the NHL the past several seasons before. He still never lost his consistency with his play and that carried over into Sweden.
Related: 4 Stretches of Islanders Schedule That Will Define Their Season
In 2008-09, at 34 years old, Jonsson decided to hang them up despite still playing at a high level. Although his career ended earlier than expected, he has no regrets. "I lost my motivation to practice — playing hard every night, putting in all the hours, summers like winters, airplanes, bus rides, punishment to my body," Jonsson said. "I was done. I had 19 full seasons of beautiful hockey." 
Indeed, it was "beautiful hockey" as KJ described it. He was as smooth and humble as any hockey player. It's a shame that he didn't play longer and enjoy more team success with the organization, but there is no doubt he is still remembered today as one of the most underrated players in Islanders' history. As a fan who grew up during this era, he is undoubtedly my favorite Islander of all time.
---

---