Hey @penguins, why can't we be friends? pic.twitter.com/uLHssrUNl5

— Philadelphia Flyers (@NHLFlyers) April 1, 2015
@NHLFlyers pic.twitter.com/Q2QwbU3HE1 — Pittsburgh Penguins (@penguins) April 1, 2015
It's no April Fool's joke.
It's Rivalry Night
Once again the Pittsburgh Penguins do battle against their arch-rival, cross-state enemies, the Philadelphia Flyers. The Pens have played the Flyers twice so far this season, and both ended in Flyers victories.
Their first match-up was on October 22nd in Pittsburgh, where the Flyers scored three 3rd period goals (including an empty netter) to exit the Consol Energy Center with a 5-3 victory.  Losing to the Flyers at home has been a disturbing trend for the Pens.
The Penguins have lost 73 times in five seasons at Consol. Twelve of those losses (16.4 percent) have been against the Flyers.

— Josh Yohe (@JoshYohe_Trib) March 31, 2015
They met a 2nd time this season on January 20th, in Philadelphia. A penalty against the Penguins in overtime directly led to Claude Giroux scoring the decisive goal.  This 2nd game was a penalty-filled contest that came to resemble what fans of both teams expect from the rivalry.  Zac Rinaldo was ejected in the 1st period for his dangerously dirty hit against Kris Letang, and the game devolved from there.  A total of 17 penalties were issued during the 2nd period, including fighting majors and 10 minute misconducts.
Tonight's Game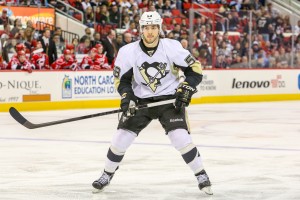 There will be no Letang tonight, as he is still suffering from another concussion after a late hit by Arizona Coyotes captain, Shane Doan.  The good news is that Letang was seen in the building today.  
Kris Letang is in the building. — Josh Yohe (@JoshYohe_Trib) April 1, 2015
The Pens also will still be without Christian Ehrhoff, but after skating by himself today, he's closer to returning.
I expect the format of tonight's game to follow the template of previous contests, where the Pens are able to get to their game early until the Flyers manage to get into their heads.  Once that happens, the Pens will either keep their cool in a close checking game or they will decide to battle blow-for-blow; and the game will devolve into slug-fest devoid of skill and overflowing with brutality.
For a preview of tonight's game, enjoy this video from NHL.com:
Lee is a contributor here at The Hockey Writers as well as at Pens Initiative. A graduate of Pennsylvania State University, he worked an internship at VH1 Radio in NYC and served as Editor-in-Chief of the Penn State – New Kensington campus student newspaper, The Nittany Pride. You can visit Lee's website here: leecjsobotka.com.