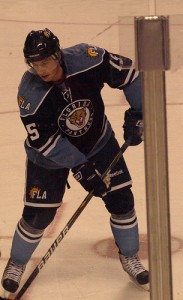 Florida Panther's, right winger, Jack Skille is scheduled to play in his 100th career NHL game this evening.  That's an achievement reached by fewer than half of all NHL players.
The 24 year old, 6'1″, 219 is in his second season with the Panthers and his sixth season in the NHL.  Skille was drafted by the Chicago Blackhawks in 2005 in the first round, while being the seventh over-all pick.   That team was also managed by (current Panthers GM) Dale Tallon.
Within a year, Skille became one of Tallon's first acquisitions in Florida.  He joined the team in February 2010.  Upon signing Skille, Tallon said "Jack is a high character, big, strong player who will add a physical presence to our line-up and also possesses the ability to score goals."
Skille did bring a physical presence to the team, as he was at the top of the roster with 132 hits (95 of those with his former Blackhawks team).
Skille re-signed with the Panthers at the end of May 2010.  Again, Tallon sang his praises: "We are pleased to have Jack return for the next several seasons…he is a high energy and hard working player who made the most out of his opportunity with our team, despite missing 12 games due to injury.  We look forward to Jack's continued contributions to our organization both on and off the ice."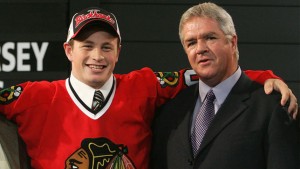 Tallon has already made it clear that he wants to keep players who are performing around, while bringing his Championship blue-print to South Florida.
Jack Skille has played in all 7 of the Panthers games this season, but is still looking for his first goal.  It would be nice to see him get it on this special night.  The Panthers will be taking on the, struggling, Montreal Canadiens.