Call it "Making Lemonade From Lemons." If you're a Monty Python fan, you can "Always Look on the Bright Side of Life." For the Dallas Stars, perhaps the most apt proverb is "one man's injury is another man's opportunity."
Midway through the preseason schedule, the Stars are fighting to stay healthy…and they're losing. Tyler Seguin (fractured heel), Radek Faksa (concussion) and Ales Hemsky (groin) were all injured at the World Cup of Hockey, while Cody Eakin (knee) and Devin Shore (ankle) went down at training camp in Cedar Park.  In addition, prospect Jason Dickinson continues to recover from offseason hip surgery and veteran AHL pivot Travis Morin is battling illness.
Faksa was cleared to play and scored twice in a 4-2 loss to the Colorado Avalanche Wednesday night. That glimmer of hope was cast into shadow when Stars General Manager Jim Nill handed down more bad news Friday morning: Mattias Janmark has a congenital condition called osteochondritis dissecans (OCD). As a result, a small segment of bone became detached and lodged in his knee. Janmark had surgery Friday and will be out for a minimum of five-to-six months. The 23-year-old forward has an 80 percent chance of full recovery, said Nill.
Though the news is grim, the regular season is still two weeks away. While the versatile, smart Swede will be sorely missed, the Stars have no choice but to press on. Said Head Coach Lindy Ruff, "I think it's really important that we look at the pieces here and make sure we're ready to go. You know, you can't look behind you. You [can't] spend too much time looking back and feeling sorry for the guys that are out of the lineup. Our focus now is the guys that are going to be in the lineup, the guys that may play, and make sure we have them ready."
Roster Spots up for Grabs
Seguin, Hemsky and Shore are expected to be ready for opening night, but the absence of Eakin (out until early November) and Janmark (April) means two roster spots are wide open. "It's definitely an opportunity now…guys that maybe wouldn't have gotten as strong a look are going to get a good look," Ruff stated.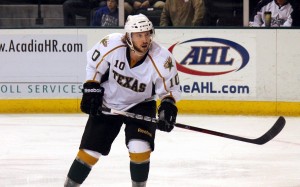 Even with the aforementioned trio healthy, what the opening night forward lines will look like is anyone's guess. Shore could play left wing on Spezza's line or the fourth line…or he could center the fourth line. Where the former Maine Black Bear lands depends in part on his fellow prospects. A strong performance from Gemel Smith, for example, could earn him the fourth-line center role and bump Shore to the wing; the same could be said for AHLer Justin Dowling or NHL journeyman Adam Cracknell.
Shore could find himself playing in the middle if a left wing steps up. Curtis McKenzie, who tallied 24 goals and 55 points in 61 games with the Texas Stars last season, could be the one. If not, maybe Stars 2013 draft picks Cole Ully or Remi Elie will answer the bell.
As Ruff said, "…it's an opportunity for some names that may not have been on the radar…" One man's injury is another man's opportunity. The Hockey Gods have placed each of these players in control of his own destiny. It's up to them to make the most of it.