The 2016-17 NHL season will say a lot about just how sustainable the Los Angeles Kings' system really is. When Dean Lombardi became the Kings' general manager back in 2006, he had the long term goal of sustainability in mind. Now, a decade later, and two Stanley Cups, we've been conditioned to expect surprises. However, the upcoming season's only surprises may be no surprises at all.
There are more than two ways to build a sustainable franchise that makes the playoffs year after year. One of the more simple ways is by losing for a few years, getting a lot of high draft picks and building your team up. Another is to perfect the art of scouting hidden gems, find them at an exceptional rate, and then produce high-calibre talent consistently.
A third option is to implement an unpredictable system. This system utilizes a blueprint and assigns a specific role to each position. For example, both wingers are to do this, while all centermen are to do that, and so on and so forth.
Los Angeles Kings' System: Player Identity & Role
Since winning two Stanley Cup Championships so close together, the Los Angeles Kings have become a trendsetting team. The practice of scouting for hidden gems was perhaps their first identifiable trend. Another was their style of play, which is also referred to as "the Kings system."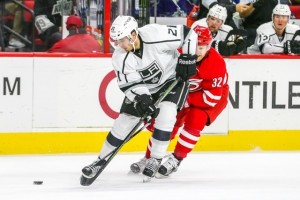 Jason Lewis, a blogger with Hockeybuzz, who tracked 60 games of zone entries and exits with the Kings over the course of a year, discovered patterns among their system, approach, and individual player roles.
His data included the identification of players who excel at certain aspects of the game, such as the success rate each player had when entering the attacking zone via passing, carrying, and dumping the puck. Lewis' definition of a dump in is:
A chip play into the corner with the intention of finding another player in the corner on entry, and would be counted as a controlled entry if it finds its target since it is a designed play.
He discovered that Nick Shore chooses to dump the puck in 50.8% of the time, versus 17.8% pass in, and 31.4% carry in. His carry in success rate is 82.8%, which is higher than Anze Kopitar's (81.1%). However, when Shore dumps the puck in, he's only successful 57.3% of the time. Lewis learned that for Shore, any type of entry would have been more successful statistically than constantly dumping in the puck. So the question is, why does Shore choose to dump the puck in so much when he should see that he's better at carrying it in?
[Related: Time for the Kings to Get Younger]
This is where the Kings' system may reveal inefficiencies, and lack the ability to adapt. If the development coaches really wanted to get the most out of Shore, they'd assign him the more specific role of carrying the puck into the opposition's attacking zone because that's what he does best. Perhaps he's not carrying the puck in as much as he'd like because that's not his assigned role. Perhaps it's because it means more skating, and more skating makes him too tired. Perhaps it's something else. Whatever the reason is, though, it tells us that the Kings are not optimizing their assets as much as they could be.
Will the Kings Stay Relevant?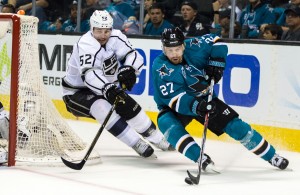 One of the things that make entering the 2016-17 season so interesting for the Kings, is how their system is going to change. The last two NHL seasons have proved to be unfruitful for them in terms of winning the Stanley Cup, and perhaps this has to do with other teams catching on to their systematic approach to playing hockey.
They originally implemented this approach in order to stay competitive since they didn't have a lot of high draft picks, but it's become predictable, and opposing teams are learning how to combat against it. For example, there's evidence that suggests the San Jose Sharks have identified the penalty kill as one of the Kings' weaknesses, because they scored five power play goals against the Kings during the first round of the 2016 playoffs. If the Kings don't adapt to the NHL's ever changing demands by having diversified styles of play, as well as implementing a non-predictable system, it's unlikely they're going to get another Stanley Cup.
If the Kings don't adapt to the NHL's ever changing demands by having diversified styles of play, as well as implementing a non-predictable system, it's unlikely they're going to get another Stanley Cup.