If there's two things that can be learned from Winnipeg Jets' general manager, Kevin Cheveldayoff's four-plus seasons in that role it's that he rarely presses the 'panic' button and he likes draft picks.
Since being appointed general manager to the relocated-from-Atlanta Jets in June, 2011, Cheveldayoff has made twenty transactions. Of those 20, just three consisted of at least one NHL contract going each way. Meanwhile, seven involved the acquisition of one or multiple draft picks. Breaking down to: one first round pick acquired; one second round pick; two third round picks; two fourth round picks; and five picks from the fifth through seventh round. Eleven total.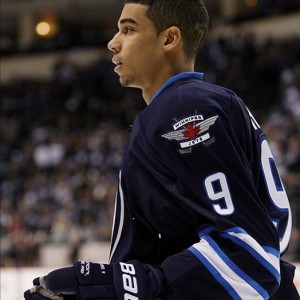 The most notable player-for-player transaction was completed last season when Cheveldayoff dealt left wing, Evander Kane to Buffalo in a seven-player swap that brought defenseman, Tyler Myers and forward, Drew Stafford back the other way along with others. And while the Jets' recent six-game losing skid (including five straight regulation losses) is concerning, Cheveldayoff's track record suggests the team will weather the storm before making any moves.
Still, it shouldn't be ruled out that the Jets will eventually make a move. Unlike the last few seasons the team has two important players in the final year of their contract in left winger and team captain, Andrew Ladd and defenseman, Dustin Byfuglien. This presents Cheveldayoff with perhaps his biggest challenge since assuming the role of general manager. It might make sense to deal both. That might not be something fans in Winnipeg want to hear, but there's some reasonable arguments to be had for dealing both:
Winnipeg's Future
Yes, Cheveldayoff likes his draft picks but more importantly, his staff uses the picks well. Since his reign began in Winnipeg, three of its drafted players have played in 99 or more games, including 2011 picks Mark Scheifele (first round) and Adam Lowry (third round) and 2012 first round pick, Jacob Trouba.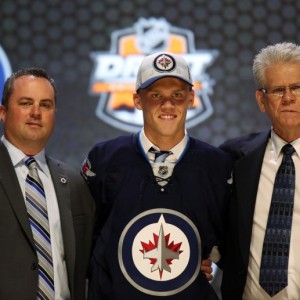 This season, another crop of young Jets-made draft picks are seeing consistent playing time including  2013 picks Nic Patan (second round) and Andrew Copp (fourth round) as well as 2014 first-rounder, Nikolaj Ehlers. Others including Josh Morrissey (2013-first round), Jake Glover (2014-second round) and Chase De Leo (2014-fourth round) along with goaltending prospects, Connor Hellebuyck (2012-fifth round) and Eric Comrie (2013-second round) highlight one of the NHL's most-stocked farms. Added appeal when looking to trade significant assets.
Financial advantage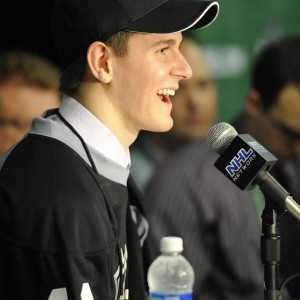 In addition to Ladd and Byfuglien, the team will have four important players up as restricted free agents in Scheifele, Lowry, Trouba and goaltender Michael Hutchinson. Collectively, the four make up just a shade over $3.16 million dollars and are all due for raises far beyond their entry-level amount. According to Hockey's Cap, the Jets would have roughly $43.16 million on the books for 2016-17, not counting any pending UFAs or RFAs. If the salary cap were to stay at $71.4 million, that would leave the Jets with approximately $28.2 million to spend.
That's a reasonable enough amount of cap space to assume Cheveldayoff could sign all free agents (restricted and unrestricted), minus Grant Clitsome whose career appears to be in jeopardy. But, the Jets have been among the league's lowest payrolls and remain a small market team. It could be difficult to find comparable numbers for Ladd and Byfuglien financially that make sense for the economic structure for that market, especially considering the abundance of talent on the way.
The harsh reality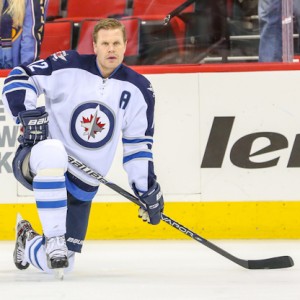 It might be hard to hear but let's remember something: This is Winnipeg. That being said, no decision made by Cheveldayoff involving player personnel can be overlooked. The Jets, while on the rise, simply do not offer the same appeal as other markets and have struggled to lure big name free agents. Mathieu Perreault, Alexei Ponikikarovsky and Olli Jokinen highlight the free agents who signed with Winnipeg on the open market. It's clear the organization must develop its roster through trades and drafting, which could offer the most compelling reason to trade the pending UFA duo.
If traded individually, both could reel in a heck of a return. Teams might not be eager to trade first round picks right now but if Cheveldayoff is patient (which there's no reason to think he wouldn't be), he could fetch a significant return for both players, that includes high-end draft picks to go along with prospects and roster players with controllable years.
Consider teams in need of defense: might the Philadelphia Flyers consider Byfuglien as an upgrade to a rather pedestrian-defense? Brayden Schenn's 24 years old and a pending RFA–he's also in the doghouse with new head coach Dave Hakstol. Defenseman Robert Hagg (2013 second round draftee) could be an interesting name from the Flyers' prospect pool.
Ladd will intrigue teams as well. If Anaheim can manage to erase a horrid start and press on to a postseason berth there might be a nice fit there. The Sekac experiment hasn't been great. He's 23 and a restricted free agent this summer. Coveted prospects such as Nicolas Kerdiles or  Stefan Noesen (acquired by ANA in B. Ryan deal from OTT) could be had for a player like Ladd, especially for a team in Anaheim who looks to contend regularly and doesn't have any major cap issues.
Such returns could strengthen or even increase depending on desperation ahead of the Feb. 29, 2016 NHL trading deadline, but it's not at all unreasonable to think the Jets could exit that day satisfied with its team and budget.
Winnipeg sits sixth in the ultra-competitive Central division with an 8-9-2 record. They're only three points out of the final wild card spot, occupied by the Blackhawks as of Nov. 18. Even if his team might make a run at the playoffs, the organization might reap greater rewards via trade than on the ice for the remainder of the season.