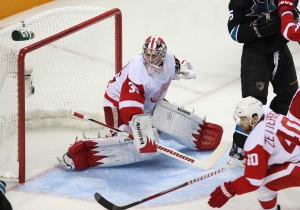 Boasting an 8-4-1 record and a tied-for-league-best 3 shutouts, Jimmy Howard is attracting attention from around the league much like he did during his rookie campaign 2 seasons ago, and at just $2.25 million a year, many would argue that he's a bargain. With top-notch starters around the league making triple (or even quadruple in the case of Flyers' netminder Ilya Bryzgalov) his salary this season, Howard's numbers certainly don't reflect his pay. In fact just a quick look at the NHL's statistical leaders finds the 3rd year player in the top 5 of all 4 major goaltending categories, and while this may come as a surprise to many, it doesn't to anyone in the Detroit Red Wings franchise.
"I would say everybody in our organization – going back to a year ago when he was (nominated for) Rookie of the Year – we all knew that we had a real good, bona fide No. 1 goaltender," General Manager Ken Holland told WJR-AM 760 last May during the 'Wings 2nd round playoff series with San Jose.
Is Jimmy Howard the No. 1 Man?
A bona fide No. 1? In Detroit? Goaltending greats are not something the Red Wings have seen a lot of  in recent memory. Sure there was the brief stints in Motown from Cujo and the Dominator, and the likes of Chris Osgood and Mike Vernon had successful seasons while wearing the winged wheel, but one has never really held the kind of secure starting spot that the Rangers' Henrik Lundqvist or Sabre's Ryan Miller enjoy. However, after 2 consecutive 63 game-37 win seasons, and a 2011-12 effort that has seen him start in all but 3 Red Wing contests so far, it appears as if Jimmy Howard's place at #1 is as good as gold.
That's very good news for the Red Wings and their fans (perhaps excluding back-up netminder Ty Conklin), who are looking for consistency in what has so far been an incredibly streaky 2011-12 season. Howard has been one of the only reliably sturdy pieces of Hockeytown's foundation so far this season, not once giving up more than 3 goals in a game. The regularly stellar play will need to continue for Detroit to succeed as well, at least until team leaders Pavel Datsyuk and Henrik Zetterberg find their game along with the rest of the Red Wings', who have managed just 2.69 goals per game thus far. Luckily Jimmy Howard's performance has held Detroit's goals against average at just 2.19, 4th best in the NHL.
A Penchant for Quality
High quality play is nothing new to Jimmy's career. A runner-up in the 2010 Calder race, Howard holds NCAA records in both GAA and SV% from his time with the University of Maine Black Bears. What is new is the level of consistency Howard has brought to the table, despite the streaky play of his teammates. If the relentlessly sound play between the pipes continues, the Detroit Red Wings will once again be a serious Cup contending team, and with the 27-year-old now in his 3rd season, lack of experience wont hamper his efforts. 2011-12 looks like it could see the rise of Jimmy Howard into the category of goaltending elite, and while there will surely be bumps along the way, the Red Wings' and their fans alike would be wise to stick behind their young goalie. With a .935 SV% and a 1.69 GAA, that shouldn't be much to ask for now.
Andrew is a passionate hockey fan at heart, and has been since a very young age. Residing in Michigan, he grew up with the team he currently covers at THW, the Detroit Red Wings.