Jonas Røndbjerg
2016-17 Team: Växjo Lakers HC
Date of Birth: March 31, 1999
Place of Birth: Rungsted, Denmark.
Ht: 6'1'' Wt: 194lbs (Combine)
Shoots: Left
Position: Wing
NHL Draft Eligibility: 2017 first-year eligible
Rankings
NHL Central Scouting: 19th (European)

Future Considerations: Not Ranked (Final)
ISS: Not Ranked (May)
Bob McKenzie: Not Ranked (Mid-Season)

Craig Button: 53rd (March)

The Hockey News: 119th (Final)
A forward prospect who priorities a dependable two-way game might not always get hearts pounding at the draft. Yet Jonas Røndbjerg, who has consistently performed in both men's leagues and youth teams across Scandinavia, might just buck the trend.
Singled out as a young star in his native Denmark, Røndbjerg was fast-tracked into his country's top division just after his 15th birthday. After two years in the Danish senior league, Røndbjerg moved to Sweden, signing with Växjö Lakers HC, with whom he would spend the majority of the 2016-17 season in the SuperElit. Whilst his numbers in his first year (31p 42gp) at under-20 level might not be astronomic, they were good for 49th in league scoring, seventh amongst rookie players and second on the Växjö roster. Moreover, Røndbjerg continued to dominate in International play, scoring nine points in five at the World Juniors with a resilient Denmark team. 
Joachim Blichfeld taps in a beautiful feed from Jonas Rondbjerg. 3-0 Denmark! @CanadianTire #BigPlay #WorldJuniors https://t.co/JLvAqi0ZFz pic.twitter.com/FVYJepqJOP

— TSN (@TSN_Sports) December 27, 2016
Due to the speed with which he entered the men's game, some might have expected Røndbjerg to explode in Sweden. Yet, his average production this season is not a regression. He is definitely not a sniper, nor playmaker by trade. Rather, Røndbjerg is a remarkably well-rounded forward, playing a responsible, clean defensive game, which sees him eat up ice time in all three zones. This versatility means Røndbjerg's offensive talents are most noteworthy in transition, and he plays extremely creatively through neutral ice. Considering the variety of situations he is deployed in, Røndbjerg's numbers are promising, and scouts will hope that he can translate his dependable play to the professional leagues. To adapt his two-way game to the top level however, he will need to develop a more physical approach when dealing with tougher forwards. 
Røndbjerg was dressed for the Växjö Lakers five times in the SHL last season. Although he will likely start in the SuperElit in 2017-18, he will aim to secure a permanent place with the Växjö senior team.
NHL Draft Projection
Røndbjerg is a two-way talent who will interest NHL teams due to his ability to contribute intelligently in all three zones. However, he is unlikely to be a priority whilst prospects with higher upsides are available. Consequently, his name will be likely called in the fourth, or fifth round.
Quotables
"[A] top Danish prospect who has a high hockey IQ and excellent instincts. Røndbjerg has few weaknesses, and he skates with a powerful stride, excellent balance and strong lateral maneuverability. His body and stick are always positioned properly within the defensive zone, and he keeps his head on a swivel to steal pucks for quick transitions up ice. Make no mistake —Røndbjerg is an offensive force with soft hands and excellent vision. He can handle the toughest of passes while operating at fast speeds, and can make sharp directional changes immediately after puck receipt." – Steve Kouraimos, The Draft Analyst 
"I'm very good in the defensive zone for my age … I think I have pretty good offensive instincts and those come in handy when taking care of business in my zone and moving forward in the other direction." – Jonas Røndbjerg, interviewed by Hockey's Future
Statistics
Strengths
Good Hockey IQ

Transitional Play
Under Construction (Improvements to Make)
Physicality and frame

Shooting
NHL Potential
Røndbjerg projects as a dependable two-way option for an NHL team, who can chip in with a useful amount of offence. A realistic expectation would be a third-line winger, who could contribute on special teams. Fellow Dane Jannik Hansen, currently playing for San Jose, would be a good role model.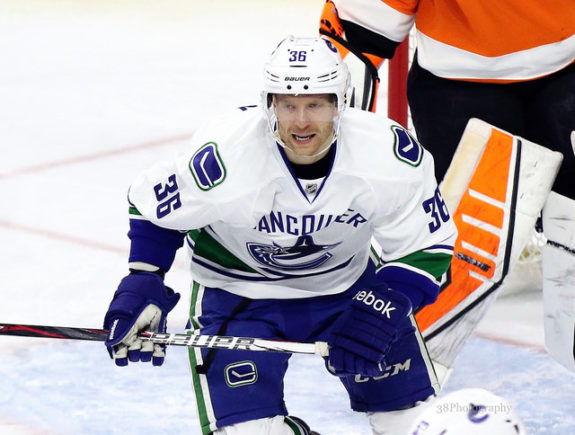 Risk-Reward Analysis
Risk – 2/5, Reward – 3.5/5
Fantasy Hockey Potential
Offense – 7/10, Defence – 7/10
Awards/Achievements
Røndbjerg notched a division championship title with the Växjö Lakers under-20 team after a successful SuperElit season in 2016-17. He also earned a silver medal with the Lakers during their long postseason run this year. Individually, Røndbjerg was selected as Denmark's U18 most valuable player after the 2016 World Junior Championships.
Interviews / Profile Links
Matthew lives in Brighton, UK and covers European Hockey leagues and the Vancouver Canucks. He is a big Canucks fan, and often sets an early alarm to tune into their matches.