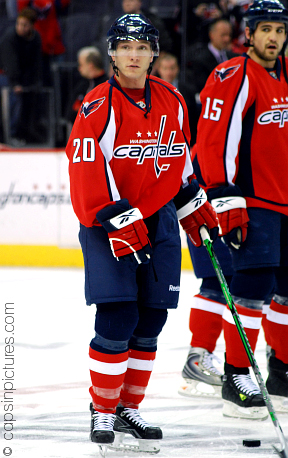 Take one look at Caps' fourth-line center Keith Aucoin, and it's hard to believe that he's a superstar. At 5'9, Aucoin is making noise after being undrafted out of Divison III Norwich College and bouncing around a few different AHL teams.  Aucoin has held a comfortable lead in the AHL scoring race the whole year, and currently leads teammate Alexandre Giroux with 25 goals, 69 assists, and 94 points in just 69 games.  But Aucoin is ready to give up AHL stardom for a chance to be a role player for a Washington team that desperately needs more energy and grit to finish the season strong.
At age 30 and just 60 NHL games under his belt, Aucoin is not really a bust because, well, he was never a prospect in the first place.  After playing in the CHL, ECHL, and with three different AHL teams (including a 74-point season with Providence in 2003), Aucoin was finally making a name for himself.  In 2005-2006, Keith put up 85 points in 72 games for the Lowell Lock Monsters and was rewarded with making his NHL debut for the eventual Stanley Cup champions, the Carolina Hurricanes.  But a 1.18 points-per-game ratio with Lowell only earned him seven games and then it was back to the AHL for another season.
Keith Aucoin Sets River Rats Record
In 2006-2007, Aucoin set an Albany River Rats (now the Hurricanes affiliate) single-season franchise records with 70 assists and 99 points.  Once again, his reward: a measly seven games with the 'Canes.
Last year is when Aucoin begain seeing significant time with the parent club.  Keith spent 38 games in each league, registering 45 and 13 points, respectively.  But why the big dropoff?  Why is Aucoin averaging 1.05 points-per-game in the AHL and .30 points-per-game in the NHL?  Nerves?  Maybe.  Better opponents?  Maybe.  But the key for Aucoin is actually seeing enough ice time to get into a groove and adjust to playing at the highest level of competition.  In the seven games he's been in Washington, he's averaged 11:03, or about the same amount of time as Matt Bradley.
Aucoin might need a little more time than that to get adjusted to playing with the big boys.  But the Caps don't need a first or second line center, they need someone to go into corners and come out with the puck, they need forecheckers, and they need two-way players.  Aucoin can, will, and does all of these things, another reason that he's sticking around while the Capitals' regulars get healthy.  Come playoff time, one can only assume Aucoin will find himself playing for a different Cup, but Aucoin is one of those guys you hate taking out of the lineup because it's hard to replace all that he brings to the table.
After receiving the 'Hard Hat' for a gritty performance in the Capitals' win last night, Coach Bruce Boudreau has the last word on Aucoin's play:
"He has been really good," Boudreau said. "He's a spark plug. You guys see it out there, he works very hard. He wants to stay in the NHL and he's making a good account of himself."