Gone are the big three.
Now it's all about the next three for the Kelowna Rockets.
The big three — Cal Foote, Dillon Dube and Kole Lind — are graduating to the pro ranks this fall, be it the NHL or AHL.
The next three — Nolan Foote, Kaedan Korczak and Lassi Thomson — are entering their draft year as potential first-round picks, each projected among the top-50 prospects for 2019 on a variety of preseason rankings.
"They're going to be high-end talents, they're going to be NHL players in the future," Rockets general manager Bruce Hamilton raved of the next three.
They are trending in that direction, with Nolan Foote becoming the go-to guy for Kelowna's offence — a sniper who will start on left wing but is also capable of playing centre — while Korczak and Thomson, a new import from Finland, are forming the Rockets' top defence pairing to start this season.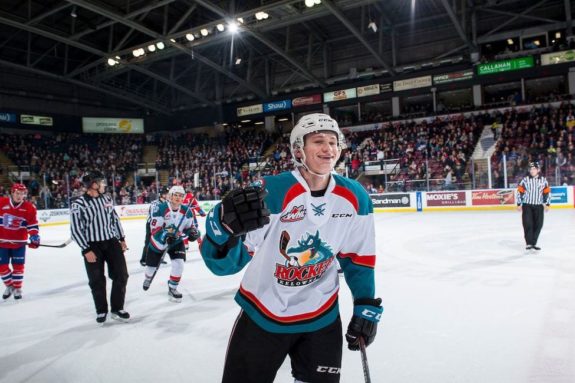 "It's exciting when you have this much up-and-coming talent on one team," said Korczak, who won gold this summer with Canada at the inaugural Hlinka Gretkzy Cup after Nolan Foote did the same last summer as the lone underager on Canada's roster at the 2017 Ivan Hlinka Memorial tournament.
"I think it'll be fun and it'll be a good year for all three of us," Korczak added of going through their draft year together. "We'll grow as a group for this team, and I think it'll be a good experience for the three of us."
RELATED: Rockets' Nolan Foote Gearing Up for Draft Year
The future appears bright for that trio and should be for Kelowna as well, with the Rockets among three finalists — and considered the favourite — to host the 2020 Memorial Cup. Bidding against the Kamloops Blazers and Lethbridge Hurricanes, that decision will be announced at the WHL's board of governors meeting on Oct. 3.
If Kelowna wins those hosting rights, the Rockets should have a pretty stacked team for next season with Foote, Korczak and Thomson returning as drafted players and the possibility of adding two more high-end forwards in Ethan Bowen and Trevor Wong — their top bantam draft picks from 2017 and 2018, respectively.
Building Year
In the present, without those household names from last season and now without any players who are currently NHL property, many pundits are dubbing this a rebuilding year for the Rockets.
Kelowna's brass would prefer to label it a transitional year — transitioning from the big three to the next three.
"I don't think we rebuild, we retool . . . and we'll find some guys that we'll add in," Hamilton said. "But, to me, we've got a team that's got quite a bit of depth, and now this is a real good challenge for the coaches to make something out of this team and find a different way to win.
"We've had some pretty elite players here for the last three or four years, so you could count on those guys to be the difference. Now we've got to win with four lines instead of winning with two lines. We have to play as a unit instead of depending on Dillon to do one thing or Kole to do one thing and Cal to hold the fort. . . .
"We're just in a time here where we don't have a bunch of stars, but we've got a bunch of guys that have to come together and be good as a team."
Pressure on Coaches
Hamilton didn't hold back in putting the onus on the coaching staff — comprised of Jason Smith, now in his third season with Kelowna, and his three returning assistants in Kris Mallette, Travis Crickard and Adam Brown, along with Kim Gellert in his longtime skills development role.
Together, they will have their work cut out for them — as evidenced on opening weekend of the regular season when the Rockets fell 4-1 and 3-1 to the rival Blazers in a home-and-home set.
"This is a good challenge for our coaching staff, to show us what they can do," Hamilton reiterated. "Our coaching staff has to find a way to make this team better as a group, and that's the way we're going to have success. It means a lot of fundamental, hard, hard-working hockey."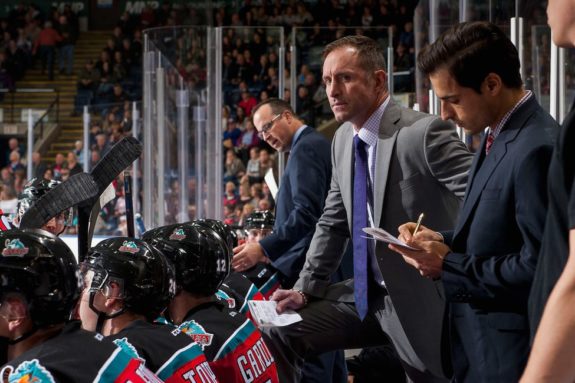 Pressure on Players
Of course, the players still have to go out and execute the plan.
"Some other guys are going to have to step up and do more now than they did last season," Hamilton said. "Some of these players that thought they should play more (last season), they have to show now that they can play more and be productive, and that's what we're looking for."
The returnees are confident that they can grow into bigger roles and pave the way for Kelowna's retooling to prevent a full-on rebuild.
"We're a young team, but we do have a lot of guys coming back, over 10, so we have to show the younger guys how it's done here," said Korczak, a sophomore who will gradually replace Cal Foote as the team's No. 1 all-situations defender — already logging around 30 minutes of ice-time during Saturday's home opener and quarterbacking the top power-play unit.
[miptheme_quote author="Kaedan Korczak" style="text-center"]"We're just going to work hard in practice and play to our systems, and I think we'll be fine. I think it'll be a good year for us again."[/miptheme_quote]
Scoring Concerns
Hamilton also plans to be proactive in finding reinforcements as the season progresses. For now, though, he wants to evaluate the current roster and specifically see what the 19-year-old forwards are capable of.
That includes Kyle Topping, Leif Mattson, Conner Bruggen-Cate, Jack Cowell and Erik Gardiner, with those five combining for 82 of Kelowna's 280 total goals — contributing just 29 per cent of last season's offence.
By contrast, the big three combined for 96 goals — Lind had 39, Dube 38 and Cal Foote 19. Carsen Twarynski, an overager last season who has also turned pro, led Kelowna with 45 goals as Dube's wingman.
Do the math and those four accounted for a whopping 50 per cent of Kelowna's offence — 141 of 280 goals.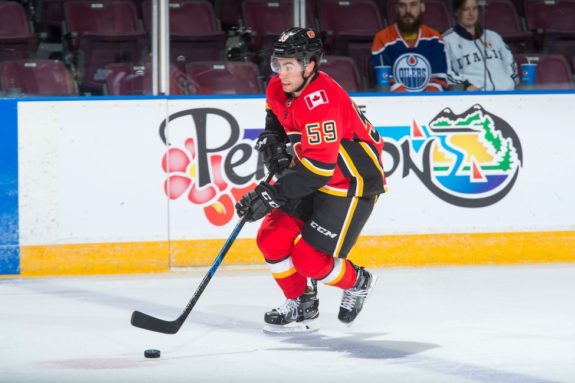 So it wasn't shocking to see the Rockets struggling to score against the Blazers and their NHL drafted and signed goaltender in Dylan Ferguson.
Mattson, who netted a team-high 25 goals amongst the returnees, got off to a good start by scoring both of Kelowna's goals. But two goals as a team through two games is concerning, especially since the Rockets were blanked through two periods in each game.
Mattson's markers came in the final frame and rounded out the scoring on both nights — spoiling Ferguson's shutout bids when Kelowna was already trailing 4-0 and 3-0, respectively.
Preaching Patience
Hamilton won't be panicking based on those initial results, but the reality is only five of Kelowna's returnees reached double-digits in goals last season — the others being Topping (22), Bruggen-Cate (18), Nolan Foote (13), and Cowell (10).
Foote's production dipped after debuting with 19 goals as a rookie, while Gardiner was on pace for 16 goals over a full season but was limited to seven in 31 games after being sidelined by a concussion.
Liam Kindree, who finished with eight goals, also battled injuries last season and got hurt again in an exhibition game at Kamloops earlier this month — forcing him to miss opening weekend with a minor shoulder ailment. Kelowna's only player on the shelf to start this season, Kindree should be back in the fold within a couple weeks and is expected to slot in as a top-six forward for his sophomore campaign.
However, Hamilton's focus is on those aforementioned 19 years olds.
Topping is Kelowna's top returning scorer and was a point-per-game player last season, with 65 points in 66 games — primarily playing alongside Lind. Topping was paired with Nolan Foote in the preseason and for Friday's regular-season opener in Kamloops, but they didn't display instant chemistry and were separated for Saturday's rematch.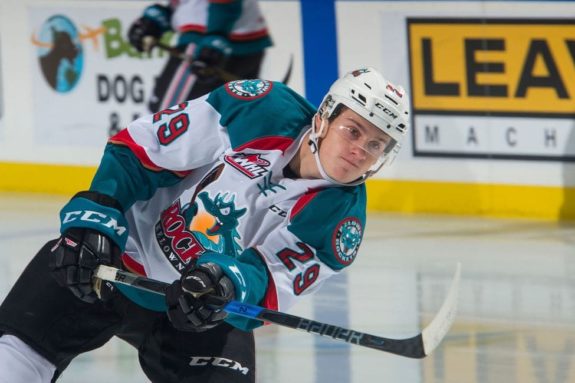 Topping was instead flanked by Mattson on Saturday and they seemed to have a better connection, which wasn't surprising since they spent significant time as linemates last season.
Bruggen-Cate moved up to play with Nolan Foote and rookie centre Kyle Crosbie, but that thrown-together trio didn't accomplish much at even strength or off the rush.
Cowell and Gardiner were paired on the third line — joined by new overager Ryan Bowen, Ethan's older brother — but they didn't get anything done either.
"The 1999 group that we got here, a lot of them we traded for their rights because it was a bad draft on our part," Hamilton admitted. "The guys that we did get (in the 2014 bantam draft) just didn't turn out, so we had to fill those spots. Now I think we have five guys that are capable, but is anybody going to jump out? I'm waiting to see Mattson and Cowell and Bruggen-Cate, they have to give us a little bit more here as we get going."
If not, Hamilton will need to make some moves to spark the offence.
"We're not going to make changes just to make change, it's got to make our team better," Hamilton said. "We're bidding on (the 2020 Memorial Cup) and that's going to dictate some things that go on with our hockey club too in the future. But we'll see what's available and at what cost."
Adding Overager
The Rockets have room on their roster for another 20-year-old, with the elder Bowen and big blueliner Braydyn Chizen serving as the two overagers for the time being. By league standards, they would be considered below average.
Hamilton was hoping to fill that open spot with a steady defenceman rather than a scoring forward, though that addition may not come until after the Oct. 10 deadline for teams to declare their three overagers since other clubs are still carrying more than the maximum.
[miptheme_quote author="Bruce Hamilton" style="text-center"]"There's going to be lots of 20 year olds around that we can look at. I'm just hoping the guys we've got can get going and get their game in order."[/miptheme_quote]
Chizen is moving up the depth chart on defence, attempting to replace the presence of last season's overagers Gordie Ballhorn and James Hilsendager in the top four.
"I still think we need to add another defenceman here, probably an overage defenceman," Hamilton said. "When you lose the three guys that we did (counting Cal Foote), that ate a lot of minutes up, you're going to ask guys to eat time now that aren't capable of doing it yet. So we probably need to add an experienced defenceman and there's going to be guys around."
Need a Lefty
Look for that addition on the back end — overager or not — to be a left-handed shot.
In the NHL, right-handed defencemen are more of a rarity, but the Rockets have an abundance of them this season.
Six of the eight defenders on Kelowna's roster are righties, including five of the six that dressed for both games against Kamloops.
The lone lefty in the lineup was rookie Cayde Augustine, who doesn't turn 17 until next month. And the only other lefty is Kyle Pow, a swingman who played more forward than defence last season while taking on the enforcer role.
The two imports — Thomson and Czech sophomore Libor Zabransky — were tasked with playing their off side on opening weekend. Both performed admirably, with Thomson having previous experience on the left side back in his homeland.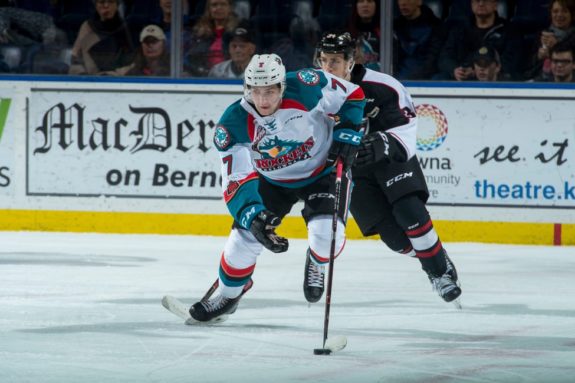 Korczak, Chizen and newcomer Devin Steffler played their natural side as righties, while fellow righty Kelvin Hair was the other healthy scratch with Pow.
"We're in a really strange situation here, and our coaches are scratching their heads about it," Hamilton said, "so we're going to need to round up a left-handed guy."
In the meantime, Smith — a former NHL defenceman who shot right-handed but played both sides during his 15-year career — and Mallette, who oversees Kelowna's defence, are doing their best to deal with that dilemma.
It's a predicament that requires extra teaching — and plenty of patience.
"They just have to work at learning the game from that side of the rink," Smith said of Thomson, Zabransky and whoever else ends up on their off side. "It's different to handle the puck, it's different to pass the puck, and when you're retrieving the puck on breakouts in your own end, it's about getting in the right position and it's all based on footwork and vision."
Despite the issue of handedness, Smith quite likes the makeup of his defence corps. Even with the amount of turnover from last season, that position could emerge as a strength for Kelowna again.
"To see the three guys with offensive upside and the ability to move the puck, it is definitely positive," he said, referring to Korczak, Thomson and Zabransky. "We've got a mix of guys and it's about putting them together in partners and letting them practice together and get better. The partner-work part of it is a huge part of a tandem having success."
Goaltending in Good Hands
Speaking of tandems, the Rockets believe their pair of young goaltenders should continue to develop into another strength.
They split the opening weekend, with James Porter Jr. getting the first start in Kamloops and Roman Basran taking the net back in Kelowna. Both lost, but through no real fault of their own.
Porter stopped 34-of-38 shots to begin his sophomore season and Basran made 31 saves after recovering from a lower-body injury that prematurely ended his rookie campaign after only 10 appearances.
"It's great that he's gotten back. It's a credit to him, to go through the injury that he went through, and the timeline that he got back to being 100 per cent healthy. That's the sign of a motivated player," Smith said of Basran, who is also embarking on his NHL draft year and looked sharp in a couple preseason tune-ups.
With all that talk of the big three, Twarynski's impact really made it a "big four" last season.
And now that the spotlight is on the next three, some feel Basran warrants mentioning among a "next four" as the faces of Kelowna's franchise going forward.
Scouts think Basran could have pro potential, but Smith and Brown — the goaltending coach and a former Rockets starting netminder — are in no hurry to hand him the crease on a full-time basis.
"(Porter) has been really good to this point and it's great to have competition in the net," Smith said. "Competition amongst your own team leads to success. If we've got guys pushing each other to be better and to earn ice-time, we'll be a better team.
"We're not at the point where we're naming a No. 1 goalie or a No. 2 goalie, we're going to have 1A and 1B, and they're going to push each other to be the best goalies that they can be and to earn the ice-time that they're going to get."
No Drafted Players
This season is largely going to be about development for the Rockets — especially if Kelowna gets the Memorial Cup for 2020 — and they will want to showcase those next three or four for the 2019 NHL draft, taking place in Vancouver next June.
The Rockets were surprisingly blanked at the 2018 NHL draft in Dallas, with Topping, Zabransky and Kindree getting overlooked as first-time eligibles, while Mattson, Bruggen-Cate, Gardiner and Cowell were passed over for a second time.
Chizen, who had been drafted back in 2016 but went unsigned by Minnesota, was also disregarded as a re-entry in 2018 and is now a free agent.
As a result, for the first time in franchise history — since relocating to Kelowna from Tacoma, Wash., in 1995-96 — the Rockets don't have any players on their roster who are NHL property.
That means everybody has something to prove this season.
"It's a year where there's some frustration and disappointment from some guys, but it's a learning tool," Smith said of the draft snubs, with Porter also among that group after he faltered in Kelowna's first-round playoff exit — a four-game sweep at the hands of the Tri-City Americans — despite backstopping the Rockets to a B.C. Division banner in the regular season.
[miptheme_quote author="Jason Smith" style="text-center"]"Sometimes it doesn't happen, for whatever reasons, and it's how you deal with it. The guys that went through it last year and didn't get drafted, I think they're out to prove people wrong, and our young guys who are going into their first draft year are looking to open eyes and make an impression."[/miptheme_quote]
That combination should have the Rockets playing with a chip on their shoulder.
"It's all motivation," Smith insisted. "Having things not go your way is part of life, and dealing with some adversity and some disappointment is what everybody goes through. It's how you deal with it, how you react to it, and it's about what you do from that day forward.
"It's not about dwelling on what happened in the past, it's about embracing that challenge and moving forward."
Always Next Year
Looking forward, not back, will be a big part of the Rockets' mindset in approaching this season.
Hamilton echoed Smith in calling last season a learning experience for the players, the coaches and the organization as a whole.
Hamilton believes Kelowna's players went undrafted simply because they were out of sight and thus out of mind.
"To me, Topping should have been a draft pick. All along he was a third- or fourth-round pick in the rankings. He deserved everything that he worked for all year, but our team was done early and he got forgot," Hamilton said of Topping, who continued to perform well in Kelowna's short-lived postseason — producing two goals and five points over those four playoff contests.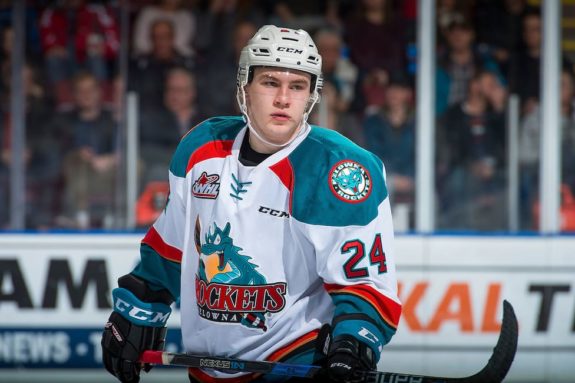 Following the draft, Topping was invited by the San Jose Sharks to their development camp in July and returned for their rookie tournament earlier this month but didn't do enough there to earn a contract before getting released back to Kelowna.
"In the past, when we've had these long runs, guys get picked that normally wouldn't get picked," noted Hamilton, alluding to the likes of Chizen, who was selected in the seventh and final round (204th overall), along with then-teammate Calvin Thurkauf (185th as a second-time eligible) in 2016 when the Rockets reached the third round — the conference final — for the third of four straight years.
It was an impressive streak that came to a screeching halt this past spring and hindered the draft stock of several Rockets' hopefuls who presumably would have benefitted from an extended playoff and additional exposure.
"Those other guys probably could have worked themselves into maybe a late-round pick (in 2018), or at least an opportunity of a tryout," Hamilton surmised when asked about Zabransky, Kindree and Mattson in particular.
[miptheme_quote author="Bruce Hamilton" style="text-center"]"When you have success, teams want winning players, and we didn't have that. So we're starting over again and these guys learned a little bit of a lesson."[/miptheme_quote]
It's hard to fathom — scouring Kelowna's roster and not seeing a single drafted or signed player — but Hamilton remains bullish on the talent level of his team.
"We had an off year (at the draft), but we've got some pretty dynamic players here still," he said.
Larry Fisher is a senior writer and head scout for The Hockey Writers, having been an at-large contributor for THW since August 2014. Fisher covers both the NHL and the WHL, specializing in prospects and NHL draft content, including his annual mock drafts that date back to 2012. Fisher has also been a beat writer for the WHL's Kelowna Rockets since 2008, formerly working as a sports reporter/editor for The Daily Courier in Kelowna, British Columbia, Canada from 2008-2019. Follow him on Twitter: @LarryFisher_KDC.