Admit it, Winnipeg Jets fans: there was a moment there where you began to lose faith in the plan.
From the day he took over as Jets general manager, Kevin Cheveldayoff preached a draft-and-develop approach that required both faith and patience on the part of the fans. Three years of missing the playoffs tested both. Judging from the raucous crowd that packs the MTS Centre floor to ceiling every Jets game, many fans passed the test. As Cheveldayoff's plan continues to roll along and the wins start to roll in, the crowd will only get louder.
There was some grumbling among Jets fans this offseason about letting the kids take roster spots away from veterans after the first ever playoff run for the new Jets. Fans were disappointed, and not without cause, to see Lee Stempniak, Jiri Tlusty and especially Michael Frolik exit stage left. If the youngsters keep playing as they did against Calgary on Thursday, however, the grumbling will stop in a hurry.
Cheveldayoff Vindicated
Cheveldayoff could have been forgiven for feeling just a trifle smug after the win over Calgary. After all, it was the players he brought in who did the bulk of the leg work. People scratched their heads when Cheveldayoff and company took Mark Scheifele ahead of Sean Couturier and Dougie Hamilton at the 2011 draft, but there's a lot less head scratching now, as Scheifele looks increasingly more like a bona fide scorer.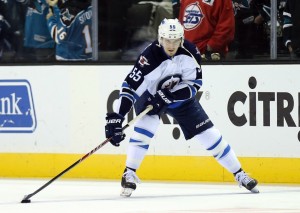 It's the new kids, however, the ones drafted after Scheifele, that have no doubt left Cheveldayoff and his scouting staff feeling vindicated. Nikolaj Ehlers scored a beautiful goal in the first period, displaying the patience and skill that has Jets fans so excited about him. He absorbed some punishing physical play, but never shied away from it. All in all, he left fans and Jets brass alike smiling about his potential.
Nikolaj Ehlers notched his first goal of the pre-season tonight! 🚨https://t.co/U5dFWCpWWr

— Winnipeg Jets (@NHLJets) October 2, 2015
Nic Petan, meanwhile, who'd had a quietly successful preseason before the first round of cuts, was anything but quiet against the Flames. He had some truly memorable shifts, showing he could play with the Jets best and proving he belonged.
It was encouraging to see Petan fight for the puck along the boards (and win) as his size has been a constant question mark. As impressive as that was, it paled in comparison to his masterful assist on Scheifele's goal. Petan has impressed everyone so far, and many feel he's nearly secured his roster spot.
The Plan Is Working
After three years of relative mediocrity and only the occasional glimpse of the better days to come, Cheveldayoff's five-year plan is starting to round into form. Last year was just a tantalizing taste of what the Jets will be able to do in the near future, and with the Jets earning the top ranking in THN's Future Watch issue you have to think the best is yet to come. Thursday's performances from Petan and Ehlers proved that future is getting closer all the time.
Which brings us to this coming season, and the likelihood of the future being sooner than later. Ehlers has shown skill throughout the preseason, but has really taken off in the last two games. According to some insiders, Ehlers is virtually guaranteed a spot on the big club this coming season. The odds of him starting with the Jets, according to Gary Lawless?
99 per cent https://t.co/3QPhrZF1Sw

— gary lawless (@garylawless) October 2, 2015
Having watched Ehlers play, it's hard to argue. The same goes for Petan, who has virtually cemented his roster spot. This has to excite Cheveldayoff and his scouting staff, as well as Paul Maurice, for that matter. Not only did the Jets not really have players with the offensive potential of either Ehlers or Petan in their lineup last year, these are homegrown players. For a GM, there's something terribly satisfying about winning with your own homegrown talent.
For the Jets and their fans, a few bad years have given way to a promising future, something that never seemed to happen to that Atlanta Thrashers squad, despite quite a few bad years. This can be attributed to shrewd drafting on Cheveldayoff's part (a few choice free-agent signings like Mathieu Perreault haven't hurt either), and the results of that drafting are finally starting to show after years of hype and praise.
Ehlers and Petan represent a chance for the Jets to show their fans what their patience has bought them, so you could forgive them for wanting to get those two in the lineup ASAP. So far, it doesn't look like any excuses will need to be contrived to get the two of them in this season. Both are going to be key parts of the Jets' offense this season and beyond.
The best part for Jets fans? This, after Scheifele and Jacob Trouba, is only the second wave of tier-one prospects. With the Jets' prospect depth, there's still more to come.
Is the plan working? It's starting to look that way.
A long time hockey fan and player from Winnipeg, Manitoba. Play-by-play man with the SJHL's Estevan Bruins. Graduate of Red River College's Creative Communications program with a major in journalism. Former PxP man for the University of Manitoba Bisons. Lover of all things Jets and Avs related and always looking for a good hockey debate.