25 Million Dollars is what CSKA Moscow spent this year to win the Regular Season title in the KHL, according to ProSport.ru, who in turn used the public information archives released by CSKA Moscow on their official site regarding their expenses. The world-famous Russian club, who is now up 2-0 in their first round playoff matchup against KHL newcomers HC Sochi, spent a total of 1.1 to 1.3 billion rubles, with the biggest single voice being Alexander Radulov's salary, which is estimated at 200 million rubles, or $3.2 million at today's rate (but about $6 million at the start of the year).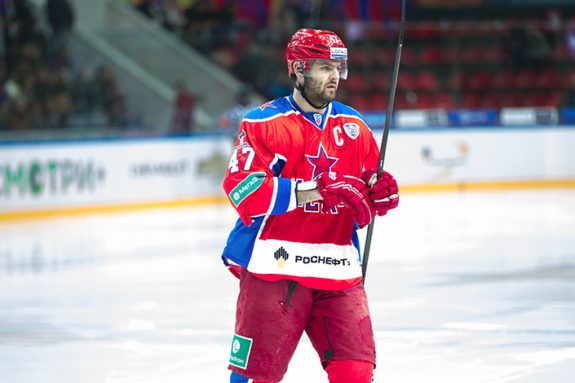 * For deeper information, refer to the original ProSport.ru article.
The salary of the rest of the team accounts for another 900 million to 1.1 billion rubles ($14.5-17.7 million). Other notable players on CSKA roster are former NHL prospects Igor Grigorenko, Jan Mursak and Stephane Da Costa, LA Kings draftee Nikolai Prokhorkin, and Russian national team regular Nikita Zaitsev. One of CSKA's alternate captains is Evgeny Artyukhin. Let's remember that in any European league, players' salaries are not publicly available information. CSKA Moscow, however, is not the team with the biggest payroll as SKA St. Petersburg is rumored to be the most-spending franchise of the KHL.
Another important voice in the team balance is represented by the arena maintenance: CSKA spent almost 3 million dollars on new ventilation and conditioning system, new lifts, and other arena-related expenses. The Red Army plays their home games at the CSKA Ice Palace, with a capacity of 5,600 seats, but will move to a new bigger arena in Moscow in the next couple of  years. That may be good for the team, as they are now struggling with attendance and a new arena can be a good way to increase the number of spectators and gain some rubles more. Let's remember, however, that CSKA Moscow is currently supported by the majority state-owned Rosneft oil company, therefore it's unlikely that they actually need more money, at least for the next few years, even if the oil price on the market will stay the same or decrease.
Another $320,000 (20 million rubles) were spent on game expenses: security, cheerleaders, ticket control system, and other expenses.
The team spent about $200,000 (12.2 million rubles) for two pre-season camps in Switzerland and Finland, about the same amount for medical services, and a little bit more for players' special sport food and beverage. Another 100 million rubles ($1.6 million) have been spent on hotels and other travel-related services.

60 million rubles (a hair less than a million dollar) were necessary for "miscellaneous expenses", such as the organization of visits of official delegations, motor transport systems, and other.
The most unexpected expense? CSKA spent $3,200 to put their logo on their jersey. Another $15,000 were spent on new exercise bikes.
These numbers may be not the same as the NHL, but are significant amounts for any European country, especially for a niche sport like hockey.
A professional hockey writer and translator. Loves Russian culture, language, and hockey. Reachable on twitter @AlexSerenRosso