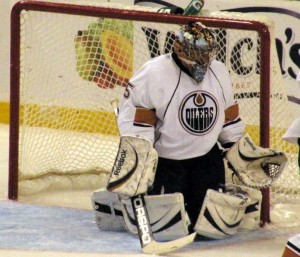 Despite his strong start to the season, there has been some discussion as to whether Ryan Nugent-Hopkins would stay in the NHL or return to junior for the season. Going into Saturday's game against the New York Rangers, the rookie led the team in scoring, and had already notched his first career-hat trick. However, thanks to some curious comments by head coach Tom Renney, Nugent-Hopkins' home this season was put into question.
The 18-year-old was benched late in the Oilers 2-1 loss to the Minnesota Wild last Thursday, and coach Tom Renney sent the Edmonton media into fits with his comments about looking at a line-up without Nugent-Hopkins in it. Although Renney later said it was a joke, it still started quite a debate as to whether the rookie would be sent back to junior or stay up with the Oilers for the entire season. But he continued to make his case to stay in the NHL with a dominating performance against the New York Rangers.
After neither team scored in the first period, Nugent-Hopkins went to work, scoring his 5th goal of the season from Taylor Hall and Jordan Eberle midway through the second, and then setting up Corey Potter's first goal on the powerplay early in the third. Although all the talk of him possibly being scratched may have been on his mind, Nugent-Hopkins didn't let it show in another big performance on Hockey Night in Canada.
"It was nice to get the call from (Renney) to reassure me," admitted Nugent-Hopkins, who had played only 13 minutes against the Minnesota Wild on Thursday. Renney didn't tell Nugent-Hopkins he was an NHLer for the season, so the nine-game trial period is still in effect — at least publicly. "He didn't put it out there, so I decided not to ask him," said Nugent-Hopkins, who has figured in seven of the Oilers' 12 goals. – Montreal Gazette
The team has played 7 games so far, which means Nugent-Hopkins can only play two more before a decision has to be made. A few other rookies around the league have already been sent back to their respective junior teams, and that's usually in order to help further their development, and not waste a year on their entry level contracts. Some players, despite being high draft picks, are not physically ready for the NHL. No one is doubting Nugent-Hopkins' skill, but playing against boys and playing against men in the NHL are two totally different things. Last year's first overall pick Taylor Hall always seemed like a lock to stay in the pros because there was nothing left for him to accomplish at the junior level. In the case of Nugent-Hopkins, however, the Oilers are using these games to see whether or not he would benefit more from another year of developing physically at the junior level. There's a strong possibility a decision has already been made, and was made from the beginning, but the Oilers like to keep their cards close to their chest, and keep the media guessing.
The 2-0 victory over the Rangers marked the 44th career shut-out for goaltender Nikolai Khabibulin, who is having a great season so far. The 38-year-old currently leads the NHL in goals against average, a remarkable feat considering how terrible the Oilers' stats were last season. The veteran is obviously pleased with his start, but isn't taking anything for granted.
"I didn't expect anything. I just expected effort from myself and to fight for playing time," said Khabibulin. "It's nice when it happens this way. It's nicer to start well than to have to try to catch up." – Edmonton Journal
If the Oilers continue to get strong goaltending, and key contributions from their stars, this team might start accomplishing a lot more in the standings than expected.
Marcy, a former hockey player, is a hockey correspondent on CTV News and TSN radio. She began her career as a Sports Journalist in 2009 and has been part of The Hockey Writers since 2010, where she is currently a senior writer and editor.