2008 Pittsburgh Penguins:
Eastern Conference Quarterfinals: Win, Win, Win, Win
Eastern Conference Semifinals: Win, Win, Win, Loss, Win
Eastern Conference Finals: Win, Win, Win, Loss, Win
Stanley Cup Finals: Loss, Loss, Win, Loss, Win, Loss
2012 Los Angeles Kings:
Western Conference Quarterfinals: Win, Win, Win, Loss, Win
Western Conference Semifinals: Win, Win, Win, Win
Western Conference Finals: Win, Win, Win, ?
I won't dare write the next round for jinx purposes.
The 8th Seeded Los Angeles Kings are winning in the playoffs at a rate that many cannot even manage while playing the easiest mode of EASports' NHL '12 video game.  After a 2-1 win in Game 3 over the Phoenix Coyotes, the Kings have become only the 6th team in NHL history to win 11 of their first 12 playoff games.  They are currently on an eight game winning streak as they start to make a push for the NHL record of 11, held by the 1992 Chicago Blackhawks and 1992 Pittsburgh Penguins.  They are also vying to become the first 8th seed to make the Stanley Cup finals since the 2006 Edmonton Oilers and they hope to be the first 8th seed to ever win the Stanley Cup as well.  Here's a look at the Stanley Cup winners by seed (add Boston as a 3rd seed from last year).
A run like this was last seen from the 2008 Pittsburgh Penguins, who also stormed out to a 3-0 series lead in each of their first 3 series'.  The Penguins' playoff run ended in heartbreak, however, as they lost in the Stanley Cup Finals to the Detroit Red Wings in six games.  There are many similarities between the '08 Penguins and '12 Kings, but does that mean the Kings may be doomed to the same end?  Though the Kings still do need one more victory to lock up a spot in the Stanley Cup finals, let's compare those two teams anyways.
Goaltending
The 2008 Penguins entered the playoffs with a young franchise goalie in Marc-Andre Fleury, then 23 years old, who had very little playoff experience.  Fleury may not have turned heads during the regular season; but he was hot when it mattered the most as the playoffs began.  The ascent to the top may have been a little quicker than he was ready for as the Cup Finals began though:  http://www.youtube.com/watch?v=Oc7kryvcOYo.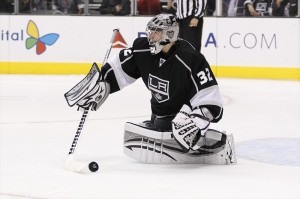 Meanwhile, the 2012 Kings have a goalie entering his prime years as 26 year old Jonathan Quick put together an amazing regular season from start to finish.  He is a Vezina finalist and received at least a few votes for the Hart trophy as well.  Quick lacks playoff experience much like Fleury did, but he has been a steadier goaltender with better numbers throughout his team's magical run.
Edge – Kings
Defense
The 2008 Penguins had an impressive mix of experience and skilled youth as they trotted out 2 veterans (Sergei Gonchar and Hal Gill), 2 players in their prime (Rob Scuderi and Brooks Orpik), and 2 younger, but highly skilled guys (Kris Letang and Ryan Whitney).  There was a strong mix of offense and defense in this group and they gelled together incredibly well through their playoff run.  Armchair general managers would dream of putting together a defense that mixed this well.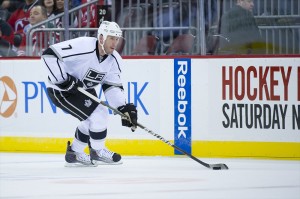 It appears that the 2012 Kings have followed that model very closely, though with a little more youth involved.  They had signed one of the Pens' defenders in Rob Scuderi, who is now a wily veteran on the team along with Willie Mitchell.  Matt Greene gets the nod as a defenseman in his prime at the age of 28.  Finally, star defenseman Drew Doughty leads the young future of the defense with Alec Martinez and the quickly up and coming Slava Voynov.  The three young defenders are playing well above their age bracket in the playoffs so far, especially Voynov.  It's easy to see how Rob Scuderi could certainly be the quiet leader of this group after his experience in 2008 (and winning the Cup in 2009).
Edge – Even.
Forwards
The 2008 version of the Penguins, along with every roster since, pushed the idea of three strong centers down the middle to control the game.  While no team can match up to Sidney Crosby, Evgeni Malkin, and Jordan Staal down the middle, the Pens paid for it by giving their centers limited talent to work with.  Crosby was the best off, playing with all-star winger Marian Hossa on one side and grinder Pascal Dupuis on the other.  Malkin had Ryan Malone to take care of the tough areas and Petr Sykora to do the sniping.  Staal was left with Jarkko Ruutu and Tyler Kennedy, neither of whom gave him much offensive help.  The 4th line was a strong set of penalty killers and role players as Max Talbot centered Adam Hall and Georges Laraque.  The primary scoring was off the charts, but the secondary scoring was not exactly dependable on this roster.
The 2012 Kings have set themselves up in a very similar fashion thanks to some crafty moves by GM Dean Lombardi.  The acquisition of Mike Richards from Philadelphia gave the Kings true depth at center as Anze Kopitar remained at the number one spot, while Jarret Stoll dropped to a more comfortable 3rd line role (Staal and Stoll, go figure).  Kopitar-Richards-Stoll may never get the attention that Crosby-Malkin-Staal would warrant, but there is a sizeable amount of talent and depth there that cannot be overlooked.  Kopitar's wingers consist of Dustin Brown, who contributes to every aspect of the game, and Justin Williams, who basically supports anything that Brown and Kopitar need at this point.  Richards has a big power forward in Dustin Penner on his wing, along with a natural goal scorer and former teammate in Jeff Carter.  The top 2 lines look very similar to how the Penguins had set up their lines.
The third line is where the difference comes in.  The Kings 3rd line has been phenomenal as of late, as Jarret Stoll, Dwight King, and Trevor Lewis have combined for 8 goals in the playoffs.  King especially has sparked the Kings with big hits and big goals, scoring 5 times on just 16 shots.  Not only can this line play well defensively, but they add a big offensive spark that the '08 Pens never received from their 3rd line as a whole.  Additionally, the Kings have a high energy 4th line built of Jordan Nolan, Brad Richardson, and pending health, Kyle Clifford or Colin Fraser.  This line was extremely effective in drawing penalties in the first round and continues to play a dependable shift every game.  The Kings are simply able to keep momentum no matter which forward line is on the ice due to their outstanding secondary production.
Edge – Kings
Coaching
Michel Therrien was behind the bench on his 2nd coaching stint as he took the '08 Penguins to the Stanley Cup finals.  Previously in Montreal, he had missed the playoffs, lost in the 2nd round, and was subsequently fired.  In Pittsburgh, he had missed the playoffs, lost in the 1st round, and was entering new territory as the Pens went to the Stanley Cup Finals.  Though no one can fault Therrien for the Finals loss, he was certainly facing new situations and dealing with a heavily favored Detroit team which was led by a superb, veteran coach in Mike Babcock.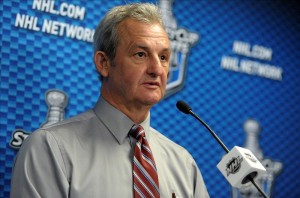 On the Kings' side, Darryl Sutter took over the reins after a coaching change in mid-December.  Sutter has over a decade's worth of experience behind the bench, including a trip to the Stanley Cup Finals in '04 when he lost to John Tortorella and the Tampa Bay Lightning.  Sutter knows the drill, he knows how to handle his team, and he understands the pressures that his team will face as they continue forward.
Edge – Kings
So all in all, while the 2012 Kings may resemble the 2008 Penguins in many ways, they appear to have an edge in depth and experience throughout the organization.  Another very helpful factor for this Kings team will be that Mike Richards and Jeff Carter are both just two years removed from losing in the Stanley Cup Finals to Chicago in 2010.  That experience, along with Scuderi's Stanley Cup victory, may prove to be priceless as this playoff run continues.  For as much as they may remind people of the 2008 Penguins, there is a decent chance that the 2012 Kings will finish their season like the 2009 Penguins instead, with Lord Stanley's Cup raised in their arms.