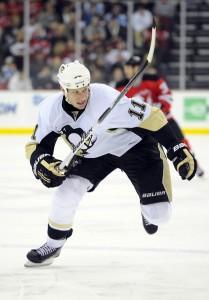 The Stanley Cup Playoffs have yet to conclude, but offseason speculation has already begun in several NHL markets.
Even though trade talks have yet to pick up considerable steam, rumors have been swirling over the past few weeks regarding the future of Penguins' forward Jordan Staal, who is on track to become an unrestricted free agent in 2013. While it's possible that the Thunder Bay, Ontario native will sign an extension with Pittsburgh, he may be on his way out of the Steel City sooner rather than later.
Penguins GM Ray Shero recently indicated that he would like all three of his star centers in tow for the foreseeable future, but Staal may not share in that sentiment. Even though there's every reason to believe the former second overall pick would continue to develop as a member of the Penguins, it may be difficult for him to reach his full potential with Evgeni Malkin and Sidney Crosby ahead of him on the depth chart. As a player capable of skating on the top line on nearly half of the teams in the NHL, it wouldn't come as a surprise if the 23-year-old wished to join an organization that would allow him to spread his wings a bit more than Pittsburgh does.
One team that would give Staal that opportunity is Carolina, which is a destination that, theoretically, would make a lot of sense.
To state the obvious, the Hurricanes' franchise player happens to be Jordan's older brother Eric, and having the two together could open the door for countless possibilities (not to mention create a fantastic marketing ploy). Jordan also possesses the level of talent necessary to fill out the Canes' somewhat hollow top-six, giving GM Jim Rutherford the type of forward he strongly desires heading into the '12-'13 campaign. Tallying 25 goals and 50 points last season in just 63 games, Jordan would immediately become one of the Canes' most valuable assets, provided he can remain healthy.
This addition would not only give the Canes the offensive force they need, but also one of the best two-way forwards in the league. While Rutherford appears to be focused on improving his team's goal-scoring first and foremost, defense was his team's true weakness last season, as it has been for quite some time. But even if Carolina chooses not to make major changes to its blueline, adding Jordan Staal to the mix would undoubtedly cut down the Canes' goals against numbers.
And even though Eric is currently the best center on Carolina's roster, Rutherford has stated that he wouldn't be opposed to sliding the captain to the wing, where he's played comfortably before. Putting E. Staal, J. Staal and Tuomo Ruutu together would have a lot of potential and would give Carolina their first legitimate "No. 1 line" in several years. Additionally, removing Eric from the center position would also relieve him from some of his defensive responsibilities, which he's struggled with considerably.
However, those that oppose a trade of this nature would likely argue it would be too risky, and they would have a good point. With Jordan only signed through 2012-13, there's no telling whether or not he would decide to remain in Carolina beyond his current deal.
But despite the inherent risk this trade would present, Jordan's contract situation would play in Rutherford's favor during the acquisition process. With just one year left until unrestricted free agency, the asking price for Staal will be less than if he was locked up long-term and far less than a comparable player on the open market.
Viewing this scenario from Pittsburgh's perspective, the Canes would be a compatible trading partner if Rutherford is willing to part with a valuable asset or two. One name that quickly comes to mind is Brandon Sutter—another 23-year-old with strong defensive skills and a nice scoring touch. While he isn't exactly an All Star-worthy player, Sutter would be able to fill Jordan's role on Pittsburgh's third line and give Shero more wiggle room under the cap. A trade like this wouldn't be simple, however, as Staal's value would force the Canes to sweeten the deal, probably with the No. 8 overall selection and another pick/prospect.
While the likelihood of such a transaction occurring remains uncertain, it never hurts to speculate. Jordan is one of the few players that the Hurricanes could reasonably sign that would make a big difference at both ends of the rink and possibly be the piece needed to return Carolina to playoff contention. Jordan's intentions should become more clear as the offseason progresses, and if he does in fact express desire to leave Pittsburgh, Carolina may just be the perfect fit.
Andrew Hirsh is a credentialed NHL writer based in North Carolina
Twitter: @andrewhirsh | Email: ahirsh3@gmail.com