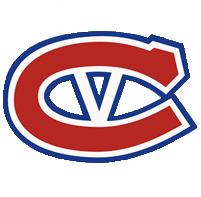 In 2011, the Kingston Voyageurs were a team looking for a new spark. Gregg and Marla-Beth Rosen, who had owned the team for five years, sold the team after Mr. Rosen, who is the vice-president of Kimco Steel, was diagnosed with cancer. The team needed new ownership or there was a possibility that they would be in danger of relocation. At the eleventh hour, the franchise was sold to Community Sports Entertainment Limited and several partners, including Colin Birkas, the head coach of the Greater Kingston Jr. Frontenacs. Birkas was eventually named the team's new head coach, replacing Evan Robinson, a sales representative at Kimco Steel, who had been the bench boss throughout the duration of the Rosen family's ownership. As well, the team also decided to part with the dual general manager system they had and instead settled for one, Denis Duchesne.
The Voyageurs were a young team in 2011-12 but they made trades to bolster their team for a stretch run that saw them just squeak into the playoffs. As the sixth seed in their eight-team division, they managed to upset the two top seeds, the Trenton Golden Hawks and the Wellington Dukes, before being swept in four straight games in the division final by the Whitby Fury, who eventually made it to the league final. That team was, happily, young enough to make 2012-13's team even stronger; 16 players on that roster are expected to return for this season, more than they had return from 2010-11. The voids left by certain veterans are going to be filled by bright-eyed newbies who are hoping to bring the team back to championship form.
The Voyageurs had a rookie camp at the Invista Centre over the weekend of June 10-11, and I took the opportunity to talk to several players. I realized almost immediately that the consensus was that this team is going to build upon the great finish to the end of last season. They feel that they have the right balance between veteran leadership and rookie excitement that will allow them to go deep into the postseason, something that could culminate in them garnering a possible berth in the 2013 RBC Cup, which will be held in Summerside, Prince Edward Island.
So what do the Voyageurs need to become a competitive team once again? How do players feel about the season that lies ahead? Let us look a little bit deeper.
*
Goaltenders
In recent seasons, the Voyageurs have employed the services of many talented young goaltenders such as Mackenzie Ball, Shawn Sirman and Joel Vienneau, among others. If they are going to be competitive again in 2012-13, their goaltending is going to have to be solid once again. The team already knows that they are losing Justin Gilbert, who they acquired in a trade with the Kanata Stallions, to graduation to NCAA Division III hockey. They will, however, need to know if their other top goaltender, Charlie Finn, will be on his way back.
Finn, a native of North Vancouver, British Columbia, was the top goaltender in the OJHL in his rookie season after leading the league with a 1.92 goals-against average. He missed many games last season after suffering a broken collarbone, an injury that prompted the Voyageurs to acquire Gilbert in the first place. Voyageurs equipment manager/play-by-play man Allan Etmanski said that he would be surprised if Finn did not receive any offers from teams in the United States because of his talent and hard work despite his smaller size (5'10", 146 pounds).
If Finn does not return, there were many skilled, yet young goaltenders at the rookie camp who could certainly secure a spot. The rookie camp did lack one goaltender in particular, though, as Swedish netminder Pontus Ribbenstedt — who had spent the last two seasons in the independent Greater Metro Hockey League — was unable to come. If the Voyageurs decide to utilize the services of goaltenders who are already known to their organization, local product Nathan Perry and Bowmanville native Aaron Cormier can be valid options. Perry already has a win at the major junior level, a playoff victory for the Kingston Frontenacs in 2011 against the Oshawa Generals. Another alternative is Cambridge native Lee Doherty, the younger brother of former Frontenacs captain Taylor Doherty, who has both junior B and junior C experience.
Local goalie Patrick Nadeau is also a very solid option. The 17-year-old, who appeared in seven games for the Amherstview Jr. C Jets this past season, noted the faster pace of the scrimmages in 2012 over the same rookie camp the year before. Nadeau also noted that he felt that the goaltenders at this year's rookie camp were better than some of the ones at main camp in 2011; the fact that many of them have junior A, B and C experience sure makes Nadeau's claim plausible.
Defencemen
The Voyageurs are going to have to fill one significant void on their roster in 2012-13 and that hole is on the blueline. Due to overage graduation, they are losing David McMullen, who had spent four seasons on the team between 2007 and 2012; he also had spent one season in the OHL with the Niagara IceDogs. A Kingston native, McMullen, who was the team's captain for the last two seasons, will be departing for the University of Lethbridge and he will be missed because of his leadership on and off the ice. There are, however, several returning defencemen who are willing to step up now that McMullen has graduated.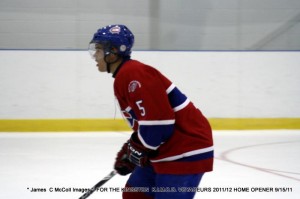 Aidan Wright is going to be one of those defencemen. A third-year player from Sault Ste. Marie, Wright is planning on being a leader on the team this year, taking the younger blueliners under his wing, much like Alex Pym did for him when he was in his first year. A possible alternate captain for 2012-13, he recognizes that the chemistry built from last year will be beneficial in the Voyageurs making a charge for a league championship. Undrafted to the OHL, Wright forwent the opportunity to play close to home in the NOJHL to come to the Voyageurs, which he feels to play in a more physical and skilled league; it paid off for him immensely last season as he was given the chance to play for Canada East at the World Junior A Hockey Challenge, winning a silver medal.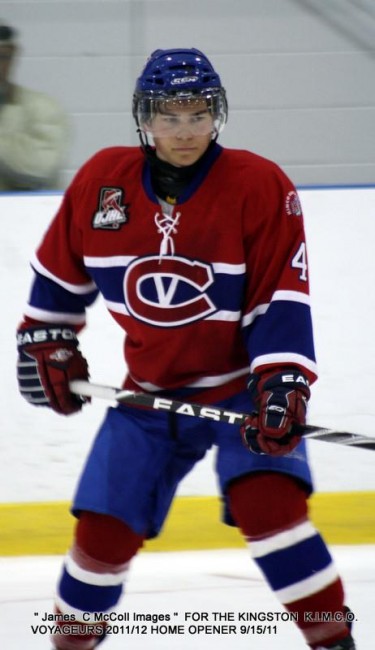 Additionally, if he does not sign with the OHL's Mississauga Steelheads, the Voyageurs could also benefit immensely from the return of 17-year-old Chad Duchesne. Duchesne recognized that he had a lot of expectations to live up to during his rookie season in 2011-12, especially since he is the son of the general manager, but he worked diligently to show that he had the talent to make the team based on merit and not his name. He was told in Mississauga that, to make the OHL, he had to get bigger and stronger, and playing for the Voyageurs surely helped him. Duchesne admits that he was surprised at the amount of ice time he was given as a rookie but it paid off as he scored 17 points, including three goals, in 41 games. He also was given the opportunity to participate in an OJHL prospects showcase where he demonstrated that he was one of the league's most promising young talents. For his efforts, he was named the team's top rookie.
The Voyageurs rookie camp also brought in a multitude of solid defencemen who could join the team and thrive. Two of them, Corey Jackson and Josh Hicks, are hoping to bring the experience from making it to the RBC Cup semifinals in 2012 with the NOJHL's Soo Thunderbirds. Both natives of Sault Ste. Marie, Jackson and Hicks hope to bring different styles of play to the Voyageurs if trades to acquire them go through; Jackson is a two-way defenceman who will put up points and take care of his own end, while Hicks is more of a stay-at-home type, not one for putting up a lot of points. A former draft pick of the Sault Ste. Marie Greyhounds, Jackson has noticed that there is a difference in speed between the NOJHL and the OJHL; as well, the OJHL seems to have more depth and structure. Hicks, who was not drafted to the OHL, is hoping to land an NCAA scholarship (Jackson is, as well), all the while showing that his 5'11" height has shown that he must be quicker and work harder than other blueliners who may be taller than he.
On the topic of smaller defencemen, one who really tried to make a case for himself to join the Voyageurs was Brandon Barrett. A native of St. George, New Brunswick, Barrett — who was undrafted by both the QMJHL and the OHL — came in from the Fundy Jr. B Cobras after participating in the Chowder Cup in Boston not too long before. He is also garnering interest from the MJAHL's Summerside Western Capitals and from the EJHL's new franchise, the Florida Eels. Standing only 5'10", Barrett feels he plays bigger than his size and, even though his height could hinder him, he is not worried about the prospect of a new challenge. As well, he has realized much difference between the league he is most comfortable with and the OJHL. According to him, the OJHL has bigger players and a lot more stick work; it is really fast-paced and some hits go unnoticed due to the quickness. Barrett also feels that his acquaintanceship of four players who have won the Memorial Cup with the Saint John Sea Dogs (Jonathan Huberdeau, Nathan Beaulieu, Aidan Kelly and Ryan Tesink) will also assist in him bringing a championship viewpoint to the Voyageurs.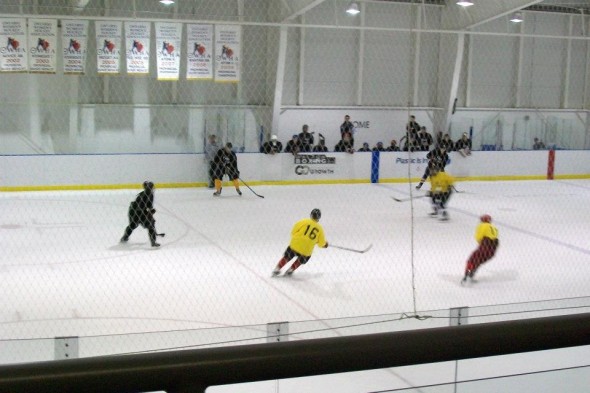 Forwards
The Voyageurs were hit considerably hard by graduation up front after the end of the 2011-12 season. Seven of their eight overage players from last season have moved on, including Kyle Wilhelm, Casey Cook and Kyle Gaskin. Happily, several key forwards can return and be expected leaders on the team, both on and off the ice, for the newer players coming in; these players include Brian Nanne, Ludlow "Junior" Harris and Graham Yeo.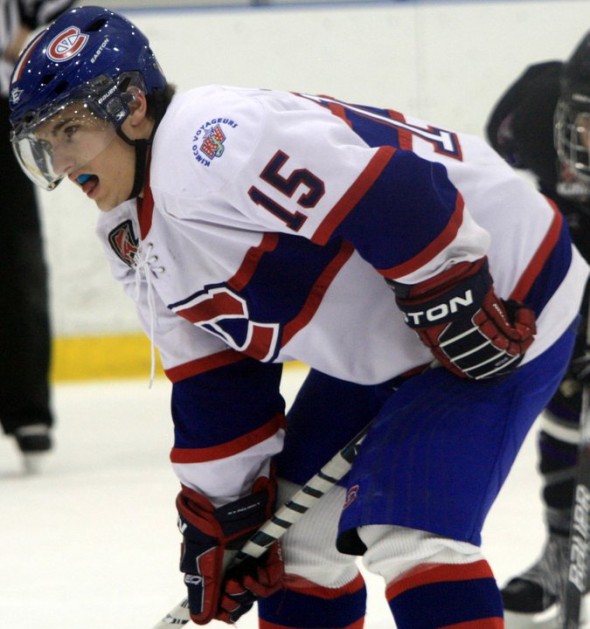 Another one of those veteran forwards is Michael Schug. A native of Sault Ste. Marie, Schug came to the Kingston Voyageurs in 2010 after making it to the Dudley Hewitt Cup with the NOJHL's Soo Thunderbirds the year before. The overage alternate captain was never drafted to the OHL but, instead of it mitigating his confidence, it actually inspired him to play better and motivated him to succeed. He even turned down an offer to attend rookie camp with his hometown Greyhounds to sign with the Voyageurs. This year, he is hoping to be a leader on the team and put up as many points as possible, hoping to land an NCAA scholarship with his junior career nearing its completion.
Gregory Trichilo and Brandon O'Quinn are two other forwards hoping to impart their veteran leadership onto the younger players. A native of Schreiber, Ontario, Trichilo played 61 OHL games with the Sudbury Wolves before joining the Voyageurs in 2011; he was loaned to the Nepean Raiders that season, as well, but he spent all of last season in Kingston. He believes that the young players coming in this year will play well and play big roles on the team. He has also brought along some wisdom he has acquired from his tenure in major junior hockey; he said that hard work pays off, keep your head up, and — if you ever have a tough game — remember that tomorrow is a new day. O'Quinn, however, found a different path to the Voyageurs. A native of Belleville, O'Quinn was acquired in a trade with the Trenton Golden Hawks, a deal that has suited the hopeful NCAA prospect perfectly. He believes that the Voyageurs have a better group of players and a better facility than in Trenton; as well, the city is very nice. He was amazed at how fast the scrimmages were over the weekend and that the younger players look really good despite their inexperience at this level.
One player hoping to make a bigger contribution this season is second-year forward Riley Devine. A native of Courtice, Ontario, just outside of Oshawa, the undrafted forward did not play much last year, only 14 games, but he did not waste his time as a scratch becoming sedentary. Devine watched the team closely in order to determine what he could do to become a better player, what he could do to make the team full time this season. As a player who was in high school hockey the year before joining the Voyageurs, Devine cites that he was playing in a summer tournament and a scout for the Voyageurs took notice of him; he was subsequently signed to an OJHL contract. He considers himself a two-way forward who tries to keep his game clean, something that league officials would approve of, considering that fighting and other truculent behaviour is coupled with an automatic game misconduct. Devine also admitted that voids left by the departures of graduating players will be filled due to the depth of talent coming up this season.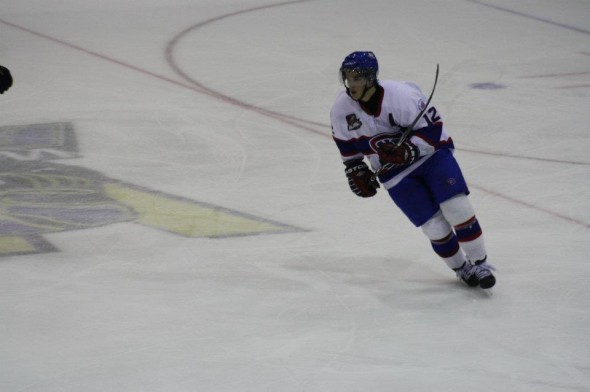 Another player who could provide an offensive punch is recently signed forward Mike Casale. A native of Stoney Creek, Ontario, Casale was a tenth-round pick of the Niagara IceDogs in 2009, and he has spent the last three years with his hometown junior B team, the Warriors. This past season, he scored 46 points (22 goals, 24 assists) in 48 games, co-leading the team with nine powerplay goals and leading with two shorthanded markers. Casale was also the team's captain in 2011-12, working his way from alternate captaincy, and he expects to be a veteran voice on the Voyageurs this coming season. Despite being only 5'10", Casale considers himself to be a gritty forward who plays a bang-and-crash style but also likes to score goals. He also admitted to what he was taught at IceDogs camps, especially by veterans such as Andrew Agozzino, Alex Friesen, Mark Visentin and Freddie Hamilton. They told him to just be himself and not waste his time being someone he is not; work hard and be consistent. Those values were also echoed by Niagara head coach Marty Williamson, who Casale found to be very encouraging.
Although he will not be returning, Schreiber native Steve McParland, who had been with the Voyageurs for two years, was also around at rookie camp to pass along his veteran experience to the younger players hoping to make names for themselves this coming season. McParland will be attending Providence College in the fall and he notes that he will truly miss "the billets and the boys" in Kingston. He noticed that the older players look bigger and stronger than the year before; additionally, the younger players look good and OJHL ready. McParland really enjoyed his time with the Voyageurs ("no regrets; that's for sure") and he does not necessarily impart any real wisdom but he does leave with advice for the younger players: Come in with a clean slate and learn as you go along.
Local Players
One thing that will make the Voyageurs stand out this season will be the possibility of having a considerable amount of local players on the roster. With the team's backup goalie a possible local product, and with Chad Duchesne possibly returning on the blueline, there is also the chance to have several others. Former Niagara IceDogs draft pick Scott Mossman and Kingston Frontenacs prospect Alexander Tonge are two players who can certainly help with that. As well, there were several players at the rookie camp from Kingston and the area who could make contributions to the Voyageurs. As well, the team has just recently signed Taylor Brown, a forward from the small town of Tamworth, to take one of the forward positions.
One local player who unfortunately will not be able to help the Voyageurs is Francesco (Frankie) Vilardi, who recently signed an OHL contract with the Sudbury Wolves, who made him their third-round pick in the 2012 OHL Priority Selection. Vilardi is excited at the chance to play major junior hockey, citing that the coaches know what they are doing and that the fans have been very welcoming. He does, however, feel that the Voyageurs will go far and have a great team; he will surely be monitoring their progress from the Nickel City. Another player who may not dress for the Voyageurs but will monitor their progress is Gananoque native Jamie McLaughlin, who played five games with his hometown junior B team, the Islanders. McLaughlin is possibly signing with the Central Junior Hockey League's Nepean Raiders as a free agent. He did, however, manage to notice some considerable differences between the level he just graduated from and the junior A system. He said that the players are bigger and better, the game has more definition, and the hits are bigger.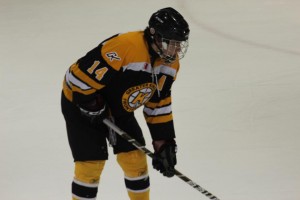 On defence, one player who could find himself with a spot unless he joins the OHL ranks is Graeme Brown. A native of Gananoque, Brown was a third-round pick of the Windsor Spitfires in the 2012 OHL Priority Selection and he is pretty excited and happy to possibly make the jump to major junior hockey. He says that the fans are great and that the arena is really nice. If Brown is unable to sign with the Spitfires, however, he will gladly accept the chance to play for the Voyageurs. Like Vilardi and McLaughlin, he feels that the team has a great group of veteran players who will help the team go far into the postseason.  Another local defenceman hoping to make an impression is 17-year-old Amherstview native Kyle Pengelly. He admits that he would bring toughness and a stay-at-home style to the Voyageurs; he will not be afraid to mix it up on many occasions and he also knows the importance of protecting his goalie. The veterans have told Pengelly to play hard and to give his all; hard work is definitely what will get him noticed.
Also on the blueline, Kevin Robinson (no relation to the former head coach) came to Voyageurs camp from Godfrey, a small town not far from Kingston. An 18-year-old blueliner, Robinson spent last season with the Frontenac Minor B Flyers. It was his first time ever trying out for a team on such a high level and he was completely intrigued at the multitude of differences between the OJHL and the league he was in. In his opinion, coaches in his league were not as sophisticated as they are in the OJHL; they did not bring the team together as well as they should have. Furthermore, players were very selfish in his league, hogging the puck and not knowing who to pass to and when. Robinson's self-analysis of his play has him as an aggressive, stay-at-home defenceman who likes to pass the puck. (Due to the fact that each team in each scrimmage used only five defencemen, Robinson had to play as a forward for his scrimmages.) Robinson is hoping to play some sort of junior hockey in 2012-13; whether or not it will be for the Voyageurs, he will be happy either way.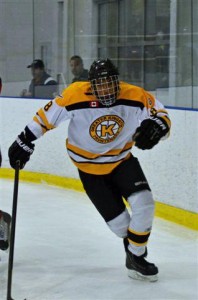 Up front, the Voyageurs can fill their local quota by possibly signing Guelph Storm draft pick Adam Moodie, who just finished a successful year at St. Andrew's College, in which he was the team's captain. One of his teammates there, Jay Mackie, a draft pick of the Kingston Frontenacs, could also bring some offensive punch. One young forward who finds optimism in his chances despite the fact that the Voyageurs have signed four new players is 16-year-old Zachary Emelifeonwu. A 2012 Kingston Frontenacs eleventh-round draft pick, he is excited that he will stay close to home when playing major junior hockey and he hopes to start that felicity early by signing with the Voyageurs. Standing 6'1" and weighing 175 pounds, Emelifeonwu admits that he is a power forward who is good along the boards and is a good playmaker, like Evgeni Malkin or even like former Frontenacs forward Chris Stewart. He recognizes that many people underestimated the Voyageurs last season because of their youth but there should be no naysayers this year.
Perhaps no one is more excited about the possibility of more local players coming and making impacts on the Voyageurs — as well as the dawn of a new season and the spark provided by newly signed players — than assistant coach Jamie McKinven. A Kingston native himself, McKinven played two seasons with the Voyageurs between 1999 and 2001. The stay-at-home defenceman eventually went on to a successful three-year stint at Clarkson University before signing with HK Partizan, a professional team based in Belgrade, Serbia, in 2006. The next year, he returned to North America, signing with the ECHL's Augusta Lynx. He spent some time with them and with the Amarillo Gorillas of the Central Hockey League before returning to Partizan in 2009. Upon the completion of the 2009-10 season, McKinven retired and returned home to Kingston, becoming an assistant coach with the Voyageurs. He has become the biggest supporter of the team's local players; his tutelage is evident in the development of players such as Chad Duchesne and Scott Mossman.
*
The Kingston Voyageurs team brass now has several big decisions on their hands for the upcoming OJHL season. Happily, they do not have to make these decisions right away. They still have the main evaluation camp on August 11-12, after which they will have a further indication of what the team will look like going forward. If the rookie camp is any indicative of what the main camp will be like, as well as if the positivity of the players remains, the 2012-13 edition of the Kingston Voyageurs is going to be one of the best teams not just in the Ontario Junior Hockey League but in all of Canadian tier II junior A hockey.
NOTE: I would like to thank all the players, as well as assistant coach Jamie McKinven and play-by-play announcer Allan Etmanski, who took the time to be interviewed for this article.
If you would like to see more stories like this, please feel free to follow me on Twitter: @MargannLaurissa.