Now before everybody goes crazy, let me explain. The Toronto Maple Leafs will still target Steven Stamkos. They will still try to sell him on "pulling a Lebron" and coming home and winning a championship. He would instantly become even more of a superstar than he already is. That being said, it won't be the end of the world should he land elsewhere.
You see, when the Maple Leafs won the 2016 Draft Lottery, things got a lot easier for Brendan Shanahan and company. With the first pick on  June 24, the Leafs will select Auston Matthews. Matthews is, of course, a center. He has drawn comparisons to Jonathan Toews. This is the type of player the Leafs haven't had since Mats Sundin. Matthews is going to be the Leafs' No. 1 center within a few seasons.
Now, bringing in Stamkos would give Matthews that buffer for the first few seasons of his career. "Stammer" would take the opposition's best defensive players, allowing Matthews to really shine. However, when Matthews is ready to become the top center, does Stamkos want to be No. 2? Now there is nothing to suggest that he wouldn't be okay with it, especially if the Leafs were competing in the playoffs a few seasons down the road.
Another thing you have to worry about is the cap situation. Stamkos is going to cost over $10 million to sign. In two seasons, William Nylander will need to be re-signed. In three seasons, the same goes for Mitch Marner (should he play more than nine games for the Leafs in 2017-18) and Matthews. If the Leafs aren't careful, they'll be in the same situation as Chicago, having to trade good players because of cap trouble. Don't get me wrong, everyone wants to be a team like the Blackhawks, but nobody wants to trade Teuvo Teravainen just to get rid of Bryan Bickell's cap hit.
Too Many Centers
With the Leafs future in mind, the Leafs look like they will have some good center depth down the line. Matthews, Nylander and Marner all play the position, although the latter two could both move to the wing. On top of those three, the Leafs then have Nazem Kadri, Tyler Bozak, Peter Holland and Brooks Laich. If you add Stamkos to that list, that makes eight centers on the Leafs' roster. Something has to happen.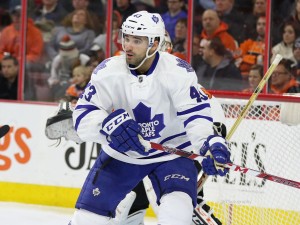 Kadri just signed a six-year deal, so you can probably bet that he will be sticking around. Bozak could be an interesting case as he will probably be pushed down to the third line. Holland is a restricted free agent on July 1 and who knows what will happen with him. Laich has one year left on his contract and looks to be the Leafs' fourth-line center.
So we have Kadri as the first-line center this year, followed by Matthews, Bozak/Holland and Laich. If the Leafs add Stamkos, then Kadri's role on the team is in doubt. Why sign him for six-years if they plan on getting a player that would make him redundant? The Leafs just can't move multiple people to the wings either, because then what do you do with James van Riemsdyk, Leo Komarov and other players.
If the Leafs want to bring in Stamkos, it accelerates the rebuild immensely. The Leafs are going to be a contender eventually even without Stamkos. If Stamkos does sign, it will just happen a little sooner. So if the Leafs get Stamkos, hooray. If they don't, again, it's not the end of the world.