The Leafs have named Lou Lamoriello the 16th General Manager in franchise history.
It is a genius move and has many ramifications, all of them excellent.
First, some background: The Leafs have a management team who's only flaw is a lack of experience. Enter Lamoriello – he's 72 and has tons of it. The move is clearly designed to bring in a Hall of Fame manager, one who's won virtually everything short of a Nobel Prize, in order to take advantage of his unique and razor-sharp hockey mind.
Nothing could be better for the likes of Shanahan, Hunter and Dubas than to bask in the glory of Lamoriello's knowledge and genius. This is a move I am 100% enthusiastic about because there is no drawback: the Leafs already have a plan and they are already executing it. To bring in an outsider with something to prove would only disrupt that, but by bringing in Lamoriello, they get a guy who has absolutely no reason to prove anything to anyone: there isn't anyone in the game (with the possible exception of Scotty Bownman) who is more respected, revered and (possibly even feared) than Lamoriello.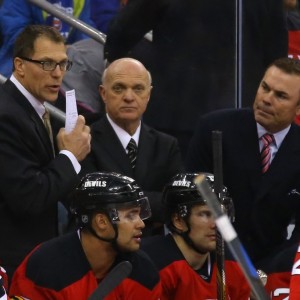 Say what you want about the Devils' recent woes, but they all started when ownership forced the Kovalchuck signing upon him. (Which, I guess I should point out has never been officially confirmed but is one of those fact-rumours no one really questions).
The recent success or failure of the Devils doesn't matter. Here is what matters:
1. Everyone on the Leafs wins by knowing, learning from and being associated with Lamoriello.
2. For much of the past 30 years, the Devils were considered the class of the NHL and the best run franchise.
3. Virtually all of Lamoriello's decisions end up working, even when they are universally derided.
Lou Lamoriello is the GM of the Leafs. How awesome is that?  I am very excited that one of my heroes has been hired by my favorite team.  From the absolute haul they took in for Santorelli/Franson, to drafting Marner, all the smart UFA signings, getting a great package for Kessel, and now hiring Lou Lamoriello, I am in awe of the things Shanahan has been able to pull off in the short time since firing Dave Nonis.
4. Lamoriello was the GM of the Devils for 27 seasons and during that time he missed the Playoffs only six times (including four of the last five years) and went to the Cup Final five times, winning three. As a fan of a team who's never been to the Finals, even once, since expansion beyond six teams, that seems INSANE to me.
This move is excellent.
Back in December, I wrote this little bio/background piece on Lamoriello because he's got such a great story – hired, basically, out of spite, he goes on to a Hall-of-Fame career –  and if you've got five more minutes, I highly recommend you check it out.
Thanks for reading.